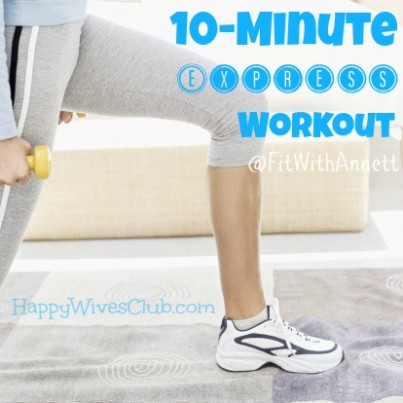 10-Minute Express Workout
Time and money are the two most common excuses given when someone is asked why they don't workout. Last week I shared tips on how to get fit without a gym membership.  This week I'm getting rid of your second excuse, not having enough time.
When I tell people that they can complete a good effective workout in just 10 minutes they look at me like I'm crazy.  The truth is, you can! There is no need to spend an hour walking on a treadmill daily.  Small bursts of exercise can help increase your metabolism and your heart health.
Don't let the lack of time stop you from exercising. My husband Byron always says, "Do what you can, with what you have, right where you are."  If you only have 10 minutes and nothing except your body, you can still workout.
In this workout plan I have included all of your major muscle groups.  A little cardio and strength training make this express workout complete so you can feel great on your busy day. This workout is not designed for you to do on a daily basis.  It is for those special days when you don't have time to do anything else.
As with any new exercise routine always check with your physician to get their approval before beginning.  If you feel pain or extremely uncomfortable at any time please stop immediately.
Annett's 10-Minute Express Workout
1 minute Jumping jacks
15 seconds rest
1 minute Mountain Climbers
15 seconds rest
1 minute Wall Sit
15 seconds rest
1 minute Burpees
30 seconds rest
(Smile you are half way through!)
1 minute Walking Lunges
15 seconds rest
1 minute Push-Ups
15 seconds rest
1 minute Burpees
15 seconds rest
1 minute Plank
For demonstrations of these exercises you can look for examples at my favorite place for learning things quickly Youtube.com.  If you have any specific questions please message me via Facebook or ask below.  
Do you have a favorite quick workout routine?  
Have a fit day,
Annett
Annett Davis is an Olympian in Beach Volleyball. She loves great food and helping people get healthy over at
GetFitWithAnnett.com
. Her favorite topics are marriage and anything fitness related. Being married to her soul mate, Life Coach and author Byron Davis for 16 wonderful years, Annett loves being a homeschooling mom of 2. She blogs over at
FitMomsFitKidsClub.com
, and inspires kids to grandmas to get in shape for life in her private accountability groups.
Latest posts by Annett Davis (see all)
Related Posts
1
By
Annett DavisAnnett Davis
March 11, 2016
How to Get Motivated to Workout
3
By
Annett DavisAnnett Davis
September 8, 2015
7 Step Tank Top Arms Workout
0
By
Annett DavisAnnett Davis
October 22, 2013
Fall 10-Minute Express Workout
Recent Posts
By
Fawn Weaver
November 12, 2017
Top 5 Regrets From the Dying: An Inspirational Article For Us All
By
Fawn Weaver
October 19, 2017
How to Protect Your Marriage During Challenging Times
By
Fawn Weaver
September 16, 2017
5 Unique Ways to Make Your Man Feel Special in 5 Minutes or Less