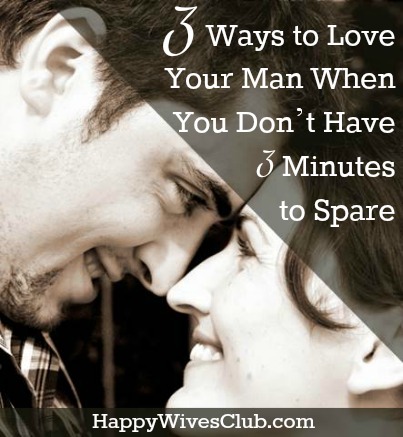 3 Ways to Love Your Man When You Don't Have 3 Minutes to Spare
I met HWC contributor, Kathi Lipp, around this time last year at a women's conference.
Her personality was infectious, her love for family was extraordinary and I quickly became exhausted just listening to her nonstop schedule!
If there is anyone qualified to give advice on how to be intentional in marriage while checking off massive to-do lists, it's Kathi.
Until tomorrow…make it a great day! 

____________
I just got off a week's worth of hotel rooms, convention food and events that started right after breakfast and didn't end until well after dinner.
Not only was I attending meetings, I was squeezing in email and phone calls and all the day to day business that doesn't stop just because you're on the road.
And I'm pretty exhausted.
This isn't the first time I've been tapped out physically and emotionally.
I think back to the days of small children and iffy sleep patterns, or the time I went to care for my mom after surgery.
I want my husband to know that he's a priority every day – whether I have time or not.  The watch word for keeping your marriage great when the rest of your life is out of control is one word: Intentional.
Do the things that matter most to your man and leave the rest for when you're not on deadline.  Determine what your husband's greatest needs are from you and then spend the five minutes it will take to do one of the following:
3 Ways to Love Your Man When You Don't Have 3 Minutes to Spare 
If Your Husband Needs to Know You're Proud of Him…
One minute phone calls Are they ideal? Maybe not, but starting the call with "I just have a minutes, but I wanted to tell you how proud of you I am about…" could change the direction of your husband's day.
If Your Husband Needs to Get His Hands on You…
Schedule Some Time on the Calendar When I've been traveling, even the promise of some couch time with my man is an encouragement to him. Letting him know you haven't forgotten how important it is, is important.
Make the Time There is no substitute for you. Instead of going out for dinner one night, could you pick up a quick bite, bring it home, and snuggle by the TV or fire? That one time swap could make a big difference.
If Your Husband Needs to Know You're Thinking of Him …
Use Amazon to Your Advantage For less than $20, I can send my husband a box of Ferrero Rocher Chocolates (or any chocolates or gifts he likes for that matter) at his office or to the house when I'm traveling.
Texting Just a note saying, "You're on my mind…" will bring a sly smile to your guy's face.
What ways do you love your man — especially, when time is limited?
For more great tips on loving your man when you don't have 3 minutes to spare, visit KathiLipp.com.  Your Life. On Purpose. 
##
JOIN THE 1,000,000 MEMBER CHALLENGE: If you haven't already done it, what are you waiting for? Join the club! It takes only a few seconds and, of course, is free.
Kathi is a speaker and the author of seven books including
The Husband Project
and
The Marriage Project
with four more books coming out in the next two years. Kathi's articles have appeared in dozens of magazines, and is a frequent guest on Focus on the Family radio where she was named "Best of Broadcast." She can be found blogging at
KathiLipp.com
. She and her husband Roger are the parents of four young adults in San Jose, CA.
Latest posts by Kathi Lipp (see all)
Related Posts
4
By
Fawn WeaverFawn Weaver
November 12, 2017
Top 5 Regrets From the Dying: An Inspirational Article For Us All
43
By
Fawn WeaverFawn Weaver
October 19, 2017
How to Protect Your Marriage During Challenging Times
35
By
Fawn WeaverFawn Weaver
September 16, 2017
5 Unique Ways to Make Your Man Feel Special in 5 Minutes or Less
Recent Posts
By
Fawn Weaver
November 12, 2017
Top 5 Regrets From the Dying: An Inspirational Article For Us All
By
Fawn Weaver
October 19, 2017
How to Protect Your Marriage During Challenging Times
By
Fawn Weaver
September 16, 2017
5 Unique Ways to Make Your Man Feel Special in 5 Minutes or Less