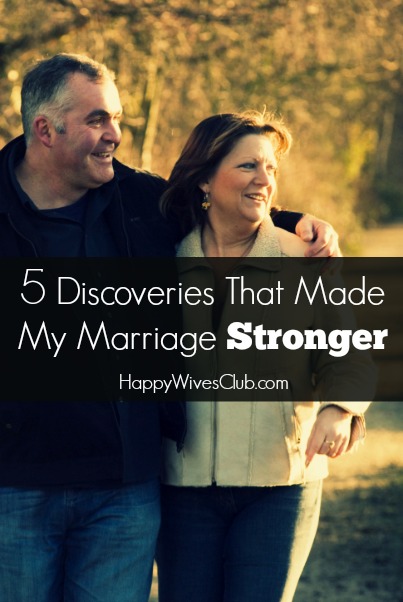 5 Discoveries That Made My Marriage Stronger
A few weeks ago, while in Minneapolis, I met a popular food blogger, Amanda Rettke.  
She was kind enough to join me for an event I hosted at the local Barnes & Noble.  While there, I searched for a copy of her recently released book, Surprise-Inside Cakes.
Now, if you know me, you know I do very little baking (unless you consider picking a dessert up from Whole Foods and popping it in my oven baking).  But her book cover really drew me in and made me want to try one of the unique recipes.
In looking at all the layers and the delicious icing on the cake, for some reason, my mind immediately went to marriage.
An odd combination, I know.  But I love serving this community so I look for great lessons in marriage just about everywhere I turn.  And if I've learned anything in my 10 years of marriage, and nearly 38 years of life, it's that there is a lesson to be learned in everything.  
Here are the 5 discoveries Amanda made about her own marriage while writing her delicious book.
Until tomorrow…make it a great day!

___________
When I wrote my recently released book, Surprise-Inside Cakes, I had no idea I'd really be the one in for a surprise.  Writing that book led me to 5 discoveries that made my marriage stronger.
Once you read my five discoveries, I challenge you to spend a couple minutes thinking about five discoveries of your own.  What are some of the things that have made your marriage stronger over the years?
1. We Are a Team:  It wasn't always this way.  As a matter of fact, it used to be 'my way or the highway'.  That (most obviously) got us into a really bad place and we eventually sought out help and support.  
One wise friend asked, "Are you two on the same page?"  Such a simple question that offered up some significant insight.  The answer was no.  But we wanted to be, and therefore we made the effort to be.
When the opportunity to write this book was presented it all happened very, very quickly.  Even though my book is about cakes, making cakes, decorating cakes, decorating the inside of cakes, sharing my love and passion for all things surprise-inside cakes… everything that my husband does NOT do, I could not have done it without him.  As a team we tackled the long nights of me working in the kitchen while he did bedtime routines.  As a team we figured out the financial sacrifices that had to be made.  And as a team we celebrated the first milestone.  (With cake of course.)
2. Leaning on Him Makes Me Stronger: This was one of the hardest lessons for me to learn, and honestly is one that I continue to struggle with. Crying into my husbands shoulder offered me no comfort, I was convinced he would see me as weak and pathetic.  But it is in his nature to want to protect me and shelter me.  He couldn't always solve my problems, but he most certainly wanted to be given the opportunity to try.
3. Having a Mutual Value System is Key: At the end of the day, after all the trials and tribulations, we needed common ground.  For us it was our faith.  We both feel so strongly in who we want to be in this world, but yet have very, VERY different approaches in how to achieve that.  I am more in-your-face, while he is a quiet (but oh so effective) leader.  Having a mutual ground, or place where our visions intertwined reminded me of my purpose when I would veer off course.
4. Listening to Him is Beneficial:  When I was making the 20th cake in 5 days and it was 11pm, and I had been on my feet for 14 hours straight, and things were not turning out, I would often turn to my husband.  I would ask him "Why isn't this cake working?" and of course he wouldn't know.  But what he did know is that I needed someone to hear me.  That I needed someone to ask me questions.  That I needed his perspective on the whole.  Thinking through him helped me regain my vision.
5. Our Time Together is Precious:  Hearing a word like DEADLINE on a regular basis can often mean that time is focused on the task at hand.  Which also meant that time with my husband was put last on the list of priorities. The book needed to be written.  The pictures needed to be taken. The kids needed support or meals or to be driven places.  There was always a need, but simply being there for my husband wasn't one of them.
But I was wrong, there IS ALWAYS a need to remain present in our love.
You have to MAKE time together and be intentional with your relationship. Even in the middle of deadlines and school functions.  Share a kiss and a grateful hug.  Make sure your spouse knows they are appreciated!  Even better, plan a date.  You would be surprised how refreshing a romantic date is in the midst of a trial!
I was reminded of a quote I heard in church.
"You will never drift together, you will only drift apart."
Having the opportunity to share my passions with the world is truly a dream come true.  I wanted to spend time on it.  I treated it like a treasure! I am so grateful for my understanding and supportive husband throughout the entire process.
Looking back I now can see that every trial that arose in the process has brought my husband and I closer together.  And for that, I am so thankful!
I am so excited to share this book with the world, and so thankful that I get to do it with my husband by my side.
Please do head on over to amazon and check out the book, it's available for Kindle (for 60% off!) and in hardcover!
##
JOIN THE 1,000,000 MEMBER CHALLENGE: If you haven't already done it, what are you waiting for? Join the club! It takes only a few seconds and, of course, is free.
Fawn Weaver is the USA Today and New York Times bestselling author of
Happy Wives Club: One Woman's Worldwide Search for the Secrets of a Great Marriage
, adopting the same name as the Club she founded in 2010. The Happy Wives Club community has grown to include more than 1 million women in over 110 countries around the world. She's an investor in real estate, tech sector and lifestyle brands. When she's not writing or working, she's happily doting over her husband of twelve years, Keith (and sometimes manages to do all three simultaneously).
Latest posts by Fawn Weaver (see all)
Related Posts
4
By
Fawn WeaverFawn Weaver
November 12, 2017
Top 5 Regrets From the Dying: An Inspirational Article For Us All
43
By
Fawn WeaverFawn Weaver
October 19, 2017
How to Protect Your Marriage During Challenging Times
35
By
Fawn WeaverFawn Weaver
September 16, 2017
5 Unique Ways to Make Your Man Feel Special in 5 Minutes or Less
Recent Posts
By
Fawn Weaver
November 12, 2017
Top 5 Regrets From the Dying: An Inspirational Article For Us All
By
Fawn Weaver
October 19, 2017
How to Protect Your Marriage During Challenging Times
By
Fawn Weaver
September 16, 2017
5 Unique Ways to Make Your Man Feel Special in 5 Minutes or Less