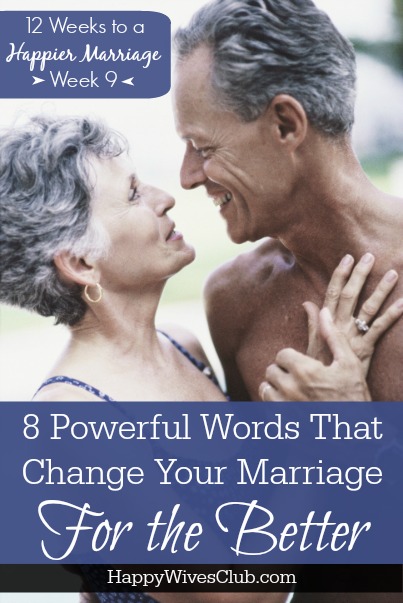 8 Powerful Words That Change Your Marriage – For the Better!
*Welcome to week nine of this 12-week series based on the New York Times® bestselling book, Happy Wives Club.  Join me each week as I share 12 principles about marriage I've learned from some of the happiest couples around the world.*
_____________________________
If there is such a thing as eight words that can change your marriage -or at least how you communicate- they are quite possibly the ones contained in this powerful yet humbling phrase:
"[Insert pet name for your spouse], I think you should consider praying about that."  
A few weeks ago, I stumbled across an old interview in which Oprah asked Iyanla Vanzant, "What is your personal prayer?"  In response, Iyanla gave three prayers she said will cover any situation, "Help!" "Help me now!" and "thank you."
Thinking about that question for a moment, I don't know that I would have been able to answer it because I have SO many prayers – daily, all day.  
"Thank you," is certainly the one I use most often.  But when it comes to my marriage, if Keith and I aren't seeing eye to eye and he uses that indisputable eight word suggestion, my go to prayer is very simple:
"Am I wrong here?  How do I quickly make it right?"
The simple suggestion of having your spouse pray about a disagreeable point rather than allowing it to escalate has the ability to preemptively end an argument before it has the opportunity to begin.  
Debating an issue is fine, even good in many cases…until it goes downhill.  And anyone married for longer than two weeks can probably attest to its ability to go downhill very quickly if there aren't some safeguards in place. 
If I don't agree with something Keith says or vice versa, but it's important enough to one of us to continue the conversation instead of agreeing to disagree, rather than belaboring our own viewpoint, we usually send each other to pray about it.
Years ago, when my little sister got married, Keith and I created a journal for she and her husband to accompany their wedding gift.  In it, we shared all the best tips we'd discovered over the years that helped us cultivate an unwavering love and peace in our marriage.  When sharing this particular tip, Keith wrote:
"Truth be told, I stole this little suggestion from Fawn and adopted it as my own.  In the early stages of our relationship we were having a discussion where I was so confident about the accuracy of my perceptions that I was unyielding.  On this particular occasion I was winning the debate or so I thought…. 
"Enter the conversation show-stopper and a great argument preventer….  Fawn calmly said, "you should go pray about that…"   What do you do with that one?  A neutral third-party that happens to be God?  Suffice it to say, Fawn won that one! 
"It's a very powerful tool that shouldn't be misused.  After all, what goes around comes around.  Having said that, if you know that your spouse is wrong (or you think your spouse is wrong), directing them to prayer can only help matters.  It certainly makes it difficult to get upset, as it is so factual and indisputable. 
"Typically, when I invoke the prayer card, I talk to the Lord as well.  Your goal should always be how you can attain a mutual understanding.  If you can't do this by yourselves, there is no better way to reconcile the issue than with God."
Will these eight words all of a sudden make you the world's best communicator?  Probably not.  But it will invite an unbiased, nonpartisan person into the conversation who loves you both and will only tell you the truth – even when you are the one that's wrong.
Until tomorrow…make it a great day! 

JOIN THE 1,000,000 MEMBER CHALLENGE: If you haven't already done it, what are you waiting for? Join the club! It takes only a few seconds and, of course, is free.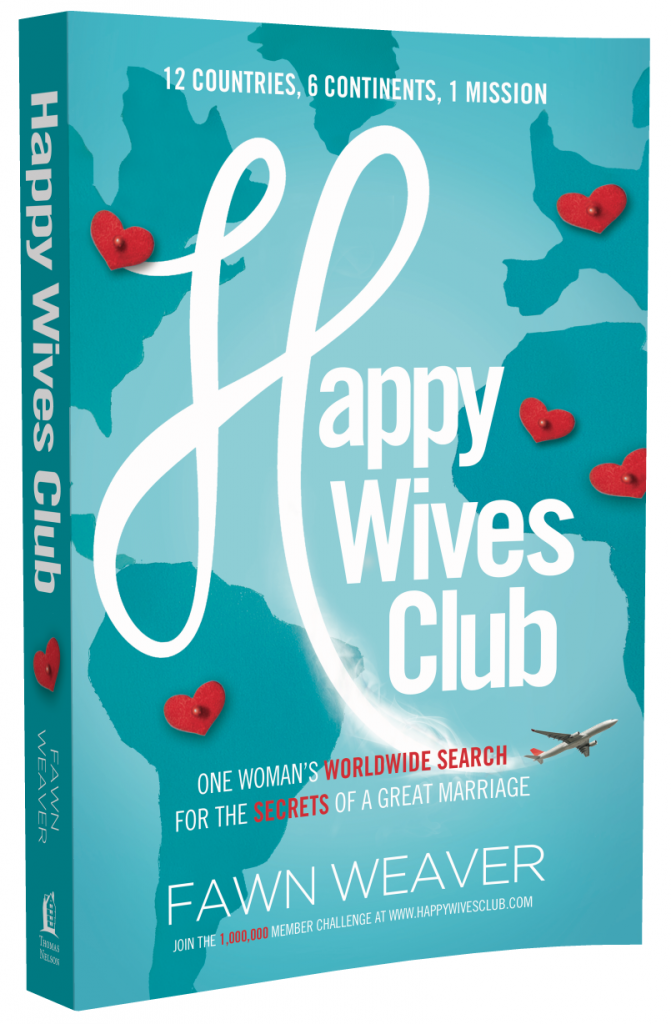 THE NEW YORK TIMES® BEST-SELLING BOOK: It's been described as, "Like Eat, Pray, Love but not down on marriage." Make sure to check out the Happy Wives Club book.  I had the great honor of traveling to 12 countries on 6 continents, interviewing couples happily married 25 years or more, with 1 mission only: to find out what makes marriages happy…and keeps them that way.  It's a marriage book like none other.  Guaranteed.
Fawn Weaver is the USA Today and New York Times bestselling author of
Happy Wives Club: One Woman's Worldwide Search for the Secrets of a Great Marriage
, adopting the same name as the Club she founded in 2010. The Happy Wives Club community has grown to include more than 1 million women in over 110 countries around the world. She's an investor in real estate, tech sector and lifestyle brands. When she's not writing or working, she's happily doting over her husband of twelve years, Keith (and sometimes manages to do all three simultaneously).
Latest posts by Fawn Weaver (see all)
Related Posts
4
By
Fawn WeaverFawn Weaver
November 12, 2017
Top 5 Regrets From the Dying: An Inspirational Article For Us All
43
By
Fawn WeaverFawn Weaver
October 19, 2017
How to Protect Your Marriage During Challenging Times
35
By
Fawn WeaverFawn Weaver
September 16, 2017
5 Unique Ways to Make Your Man Feel Special in 5 Minutes or Less
Recent Posts
By
Fawn Weaver
November 12, 2017
Top 5 Regrets From the Dying: An Inspirational Article For Us All
By
Fawn Weaver
October 19, 2017
How to Protect Your Marriage During Challenging Times
By
Fawn Weaver
September 16, 2017
5 Unique Ways to Make Your Man Feel Special in 5 Minutes or Less