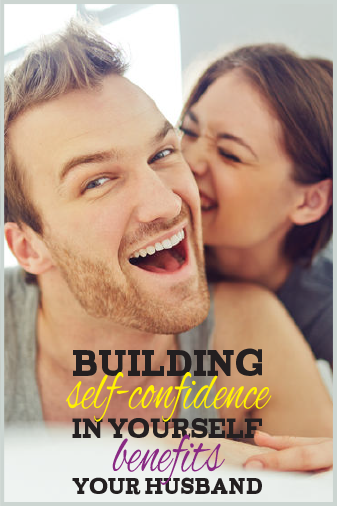 Building Self-Confidence Benefits Your Husband
When my man and I got married, our friend asked him what my most attractive quality was. I thought he'd say my sense of humor, or my eyes, or any of the standard husband-required answers. But he had a totally different response locked and loaded:
"The thing that I find most attractive about Kathi is her confidence when it comes to tackling a problem. She reads the books, she talks to the experts, and she hits the situation head on. I knew that if she was that intentional in the rest of her life, that we had a chance of making this blended family thing work."
I like that a whole lot better than, "She has pretty eyes."
Roger recognized that I was a confident woman before we got married. And I was. I was a single mom who was working and raising two kids. It had been hard, but I was making it happen – and I was proud of myself.
But after we got married? Let's just say that I experienced a post wedding day crisis of confidence.
My group of friends changed. Before we got married, I worked for a legal firm who fought for the underdog when their religious freedoms were being infringed upon. I loved the passionate people I worked with. But after we got married and I moved, no longer was I hanging out with women who were world-changers and fighting the good fight.  My group of friends had become women who spent their days complaining about how overwhelmed they were, how their husbands didn't make them happy, and how they felt like they were terrible moms and wives.
I went from overcomer to overwhelmed in a matter of months. And it took a toll on my marriage.
When I write and speak on marriage, I spend a lot of time concentrating on how to take care of your husband (after all, my book is called The Husband Project: 21 Days of Loving Your Man, on Purpose and with a Plan). Because, let's face it, even the most independent man loves some extra attention. A compliment here, a tush squeeze there… (and seeing that the cabinet is restocked with his protein powder… That's true love.)
But after years of delivering the message of loving on your man on purpose, I realized I should have been sending another marriage-building message to women:
You are your first project.
If you want to have a marriage that is healthy and growing, your first order of business isn't building him up – it's being a healthy enough woman to build him up. Because friend – you can't pour out to your husband from an empty cup.
It takes a strong wife to build up a husband.
I knew I had to make some changes in order to be the kind of wife my husband deserved and the kind of woman I wanted to be. Here are just a few changes I made:
I Started to Hang out with Healthy Women.
You will become who you hang out with. I've seen it happen to myself over and over again. There are a couple of reasons you need to hang out with women who keep emotional health a priority in their lives.
1. Healthy women will challenge you to be healthy.  
We become our groups. If you are hanging out with women who love their husbands and are actively working on their marriages, they will challenge you to do the same.
2. You need a crew of healthy people when one of you is going through a crisis.
You send your strongest swimmer out to save the drowning man. When you're going through a marriage crisis, you want to be around "strong swimmers" to help you through the rough waters.
I Had to Get Strong – on the Inside – and Out
Hard times are going to come – in our lives and in our marriages. But the more we can work on being strong in preparation for those tough times, the healthier we can stay for ourselves – and for our marriage.
When I started to look at my meditation time, my exercise time, and what I read as strengthening not just me, but my marriage, it changed my whole perspective. I want to be strong not just for myself, but for my husband as well.
I Started to Practice Extreme Self-Care
I'm a people pleaser. I love it when people like me. So it's easy to say yes to other people and no to myself. And when you are constantly only giving yourself the leftovers, what your husband is getting is the leftover leftovers.
Now, I'm careful to put on my calendar time to take care of myself. I make the doctor appointments. I get to the chiropractor. I'm part of a Bible study. I schedule time with my adult kids and friends who make me belly laugh. These things take time, but are good for my soul.
Time invested in making yourself stronger isn't selfish. In fact, it is one of the best investments you can ever make in your relationship.
For more great ideas to help make your marriage even better, check out my latest book: Hot Mama: 12 Secrets to a Sizzling Hot Marriage!

Kathi is a speaker and the author of seven books including
The Husband Project
and
The Marriage Project
with four more books coming out in the next two years. Kathi's articles have appeared in dozens of magazines, and is a frequent guest on Focus on the Family radio where she was named "Best of Broadcast." She can be found blogging at
KathiLipp.com
. She and her husband Roger are the parents of four young adults in San Jose, CA.
Latest posts by Kathi Lipp (see all)
Related Posts
4
By
Fawn WeaverFawn Weaver
November 12, 2017
Top 5 Regrets From the Dying: An Inspirational Article For Us All
43
By
Fawn WeaverFawn Weaver
October 19, 2017
How to Protect Your Marriage During Challenging Times
35
By
Fawn WeaverFawn Weaver
September 16, 2017
5 Unique Ways to Make Your Man Feel Special in 5 Minutes or Less
Recent Posts
By
Fawn Weaver
November 12, 2017
Top 5 Regrets From the Dying: An Inspirational Article For Us All
By
Fawn Weaver
October 19, 2017
How to Protect Your Marriage During Challenging Times
By
Fawn Weaver
September 16, 2017
5 Unique Ways to Make Your Man Feel Special in 5 Minutes or Less