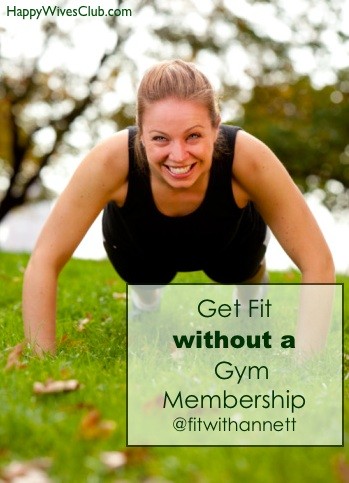 Get Fit Without A Gym Membership
In my job as a body transformation coach it's only natural that I ask my clients about their workout routines.  I don't know why I am still surprised that many of my clients don't have one. 
The top two reasons I hear are that they don't have money for a gym membership, or they don't have time to exercise.  Today I'm going to tackle the first issue, and next time I write I will give you a 10-minute workout that will help you lose that excuse too.
Let's go outside of the box as we explore several ways for you to get fit without the dreaded gym membership. To be honest with you, I rarely workout in the gym. In fact, this year alone, this pro athlete and Olympian has only stepped into a gym 3 times!  The only reason I did that was to help a friend.
What's a girl to do?
Get Out More:  The great outdoors is a terrific place to start your fitness journey.  Go hiking with your husband, or just walking through the neighborhood together.  Take a dip at your local community pool.  Head to the nearest park and make up a fun obstacle course adding in push-ups, sit-ups, and pull-ups using the playground equipment. 
Play More:  My husband and I took ballroom dance classes for 8 weeks one year. Did you know you can burn 175-500 calories per hour dancing? It was the most memorable time of our lives, and we were getting fit at the same time!
Sports like volleyball, golf, and tennis are fun and help you burn tons of calories without you knowing it.  Other activities like roller skating and jump roping can help you get fit really quick.  Check out your city calendar for local leagues and teams. Nostalgic games like dodge ball and kick ball leagues are popping up everywhere. What's more fun than that?
Home Work:  The way I've gotten in shape for the last 7 years has been mostly by doing DVD programs. I LOVE them! It's like having my own personal trainer at home.  I don't have to worry about costly gym memberships, or babysitters, and I can press play whenever I want. 
If you like to ride a stationary bike, stair climber, or run on a treadmill you can often find them cheap at garage sales.  Personally, I like to follow a plan.  You can find free workout plans online, via phone apps, or by asking me,  that can help you get in shape from the comfort of your home.
How do you get fit without a gym membership?  I'd love to know below.
Have a healthy day,
Annett
Annett Davis is an Olympian in Beach Volleyball. She loves great food and helping people get healthy over at
GetFitWithAnnett.com
. Her favorite topics are marriage and anything fitness related. Being married to her soul mate, Life Coach and author Byron Davis for 16 wonderful years, Annett loves being a homeschooling mom of 2. She blogs over at
FitMomsFitKidsClub.com
, and inspires kids to grandmas to get in shape for life in her private accountability groups.
Latest posts by Annett Davis (see all)
Related Posts
0
By
adminadmin
July 6, 2014
Bounce Back to Healthy After a Holiday
3
By
Annett DavisAnnett Davis
September 12, 2013
20 Ways to Sneak a Workout Into Your Busy Day
2
By
Annett DavisAnnett Davis
July 30, 2013
10-Minute Express Workout
Recent Posts
By
Fawn Weaver
November 12, 2017
Top 5 Regrets From the Dying: An Inspirational Article For Us All
By
Fawn Weaver
October 19, 2017
How to Protect Your Marriage During Challenging Times
By
Fawn Weaver
September 16, 2017
5 Unique Ways to Make Your Man Feel Special in 5 Minutes or Less