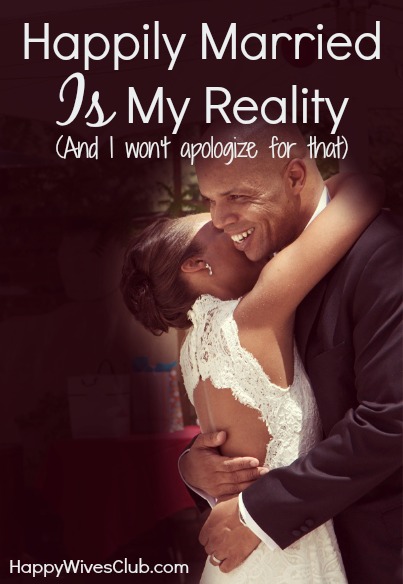 Happily Married Is My Reality…And I Won't Apologize For That
It's quite a fascinating thing to comprehend.  Over the past couple of weeks, I have been featured on more than 30 news, radio and online media outlets following the release of my debut book, Happy Wives Club.  
From Huffington Post to Popsugar to Essence and Brides Magazines.  From Good Morning Chicago to Sunrise in Australia. And in nearly every interview I seem to be answering, implicitly or explicitly, the same underlying question:
Are the women of this Club, and me in particular, really telling the truth about being happily married?
Some, like one major newspaper in London, have flat out questioned my "lack of realism."  And following each interview, I'd pause and reflect, "Can they possibly believe all those who say they are happily married are lying?"
This beautiful online community has grown to include over 700,000 women in more than 110 countries around the world.  And even still, interview after interview, the term, "happily married" continues to be questioned as if it's some sort of mythical god.
In an interview this morning, it all came to light. 
The wonderful host of the show said something to the effect of, "I don't want this to be a negative interview.  I really don't.  But what about reality?  The reality of marriage is that it's not always going to be happy.  Things aren't always going to go right.  So where is the reality in this?"
Interestingly enough, that same host also began the interview by proclaiming she was happily single.  So my response to her was simple.  Just as it is possible for her to be happily single with all the ups and downs, twists and turns, and bumps and bruises of life, it is just as possible (and realistic) for every married person to have that same opportunity.
What I love most about being married is I have someone in the car with me while I drive that sometimes long and windy road called life.  I have with me, my best friend and trusted confidante, who at times is the driver and other times is the passenger.  He is there to hold my hand, encourage and support me, and to help me along this sometimes rocky road.
Just as the interviewer this morning, and so many others like her who love their lives as single women (11 years ago, I'd been counted in that number too), I'm enjoying the heck out of my life as a married woman.  This doesn't make me unrealistic.  It doesn't call for a questioning of reason.  I'd never question a person's ability to be happily single.  I've had the pleasure of living that life too.
Happiness was not handed to me on a silver platter.  If you've read my book, it probably threw you for a loop -as it did many of my closest friends- that I'm the survivor of two suicide attempts earlier in life.  I left home just shy of my 16th birthday and spent my 18th birthday in a homeless shelter (the first of many I temporarily called home as I made the uncomfortable transition from youth to adult).  
Creating a life a happiness, and a marriage like the one I have the great fortune of enjoying, did not come naturally.  At one time, misery consumed my life…literally, almost until death.  And now, joy and happiness does the same.
So to the question of, "Am I really telling the truth about being happily married?" the answer is unquestionably, undoubtedly, unabashedly Yes.  This, no matter how difficult it may be for some to believe, is my reality.  And I'm grateful for it each and every moment I have the honor of living it.
Until tomorrow…make it a great day!

JOIN THE 1,000,000 MEMBER CHALLENGE: If you haven't already done it, what are you waiting for? Join the club! It takes only a few seconds and, of course, is free.
Fawn Weaver is the USA Today and New York Times bestselling author of
Happy Wives Club: One Woman's Worldwide Search for the Secrets of a Great Marriage
, adopting the same name as the Club she founded in 2010. The Happy Wives Club community has grown to include more than 1 million women in over 110 countries around the world. She's an investor in real estate, tech sector and lifestyle brands. When she's not writing or working, she's happily doting over her husband of twelve years, Keith (and sometimes manages to do all three simultaneously).
Latest posts by Fawn Weaver (see all)
Related Posts
4
By
Fawn WeaverFawn Weaver
November 12, 2017
Top 5 Regrets From the Dying: An Inspirational Article For Us All
43
By
Fawn WeaverFawn Weaver
October 19, 2017
How to Protect Your Marriage During Challenging Times
35
By
Fawn WeaverFawn Weaver
September 16, 2017
5 Unique Ways to Make Your Man Feel Special in 5 Minutes or Less
Recent Posts
By
Fawn Weaver
November 12, 2017
Top 5 Regrets From the Dying: An Inspirational Article For Us All
By
Fawn Weaver
October 19, 2017
How to Protect Your Marriage During Challenging Times
By
Fawn Weaver
September 16, 2017
5 Unique Ways to Make Your Man Feel Special in 5 Minutes or Less