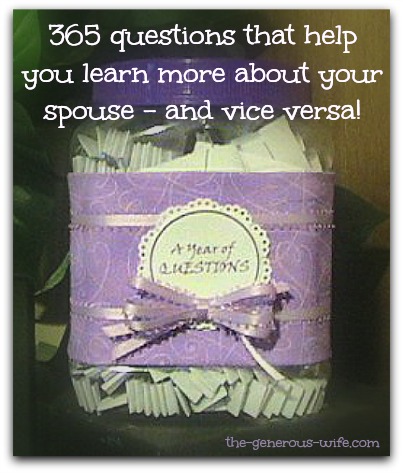 Kick Off the Weekend with This Awesome Activity (for Two)
Earlier this week, I came across an awesome marriage activity on a site I visit often and thought, "Our members would LOVE this!"
I immediately posted a note and asked the author, Lori Byerly, if she'd also share it with you.  I'm so happy she said yes!  I hope you enjoy this creative idea as much as I did.
Until Monday…make it a great weekend!

——————-
How would your husband answer this question?
Who is the most courageous person you have ever met?
Or this question?
What gift would you bring to your spouse in the hospital?
How would you answer it?
One important part of growing your marriage involves communicating often – big things, little things, silly things and important things too. It all adds up to knowing your spouse better and the knowing builds a sense of intimacy; a feeling of oneness.
So, in the interest of encouraging couples to build intimacy, I created a free download.
A Year of Questions for You and Your Spouse
There are 366 questions (an extra one for leap year).  Print out the .pdf (click on the link for it to open in your browser or "right click" on the link and save to your computer), cut the questions into strips, put them in a container (I used an almond jar from Costco) and each day pull out a question to share with your sweetie.
Have fun with it.  And it's OK to change the question, add a question, create your own rules, and so on.  This is a fun way of exploring each other.  And while answering your questions, don't forget to speak the truth in love and listen well.
Blessings, Lori <><
##
Lori Byerly is the author of The Generous Wife  blog and co-founder of The Marriage Bed website. She lives with her husband of 28 years in the beautiful Northwest (USA). 
JOIN THE 1,000,000 MEMBER CHALLENGE: If you haven't already done it, what are you waiting for? Join the club! It takes only a few seconds and, of course, is free.
Fawn Weaver is the USA Today and New York Times bestselling author of
Happy Wives Club: One Woman's Worldwide Search for the Secrets of a Great Marriage
, adopting the same name as the Club she founded in 2010. The Happy Wives Club community has grown to include more than 1 million women in over 110 countries around the world. She's an investor in real estate, tech sector and lifestyle brands. When she's not writing or working, she's happily doting over her husband of twelve years, Keith (and sometimes manages to do all three simultaneously).
Latest posts by Fawn Weaver (see all)
Related Posts
4
By
Fawn WeaverFawn Weaver
November 12, 2017
Top 5 Regrets From the Dying: An Inspirational Article For Us All
43
By
Fawn WeaverFawn Weaver
October 19, 2017
How to Protect Your Marriage During Challenging Times
35
By
Fawn WeaverFawn Weaver
September 16, 2017
5 Unique Ways to Make Your Man Feel Special in 5 Minutes or Less
Recent Posts
By
Fawn Weaver
November 12, 2017
Top 5 Regrets From the Dying: An Inspirational Article For Us All
By
Fawn Weaver
October 19, 2017
How to Protect Your Marriage During Challenging Times
By
Fawn Weaver
September 16, 2017
5 Unique Ways to Make Your Man Feel Special in 5 Minutes or Less