Marriage Mondays Link Up Party! {Meet Some Awesome Bloggers}
By Fawn Weaver on Monday, September 16, 2013
Love this time each month!  If this is your first time joining us, it's super simple.  
I want to introduce you to some awesome bloggers who write positively about love, marriage and family.  
If you're a blogger, include some of your best posts from the past month below.  
It's not required but it would be great if you'd also include the Marriage Mondays button on your post so people know how to find this awesome link-up party.
Don't forget to stop by the sites of a few fellow bloggers.  They, like you, will be so grateful.  And I'll also do my best to get to your site over the next few days.
If you're a blog hopper, you're in for a treat.  Some of the bloggers that link up here once a month for our Marriage Mondays are my absolute favorite on the web.  
You'll learn nifty ideas for date nights, surprising your hubby, celebrating your anniversary, and so many other great things.
Look for a title you like below and click through to read that post.  Real life stories of love, marriage and family.  It's a beautiful thing for sure.
So if you're ready, let's get this Marriage Mondays link up party started!
Until tomorrow…make it a great day!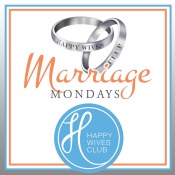 JOIN THE 1,000,000 MEMBER CHALLENGE: If you haven't already done it, what are you waiting for? Join the club! It takes only a few seconds and, of course, is free.
SAVE THE DATE: Bloggers, join us here every third Monday of the month for our fabulous link-up party! Join us October 21st for our next Marriage Mondays!
Fawn Weaver is the USA Today® and New York Times® bestselling author of
Happy Wives Club: One Woman's Worldwide Search for the Secrets of a Great Marriage
, adopting the same name as the Club she founded in 2010. The Happy Wives Club community has grown to include more than 900,000 women in over 110 countries around the world. When she's not blogging or working on her next project, she's happily doting over her husband of nearly eleven years, Keith.