By Fawn Weaver on Monday, April 23, 2012
I bet you've never thought of the built-in advantage of being married. Think about that for just a
moment. You have a partner in crime for life. You are able to go twice as far in half the amount of time. You have the ability to achieve all your goals times two.
Today, as we were listening to our pastor, I was reminded of this amazing truth. While teaching a lesson on becoming more physically and spiritually fit, he gave us a list of four things we all need to do to achieve our most important goals in life. He instructed us to write them down and commit to doing each one. However, he concluded the lesson by saying our ability to make changes in our life permanent, we must do one very important thing: find an accountability partner.
He told everyone to think of one person who could come alongside us for the next two months and hold us accountable. Keith and I looked at each other with a smile, gave a short kiss, and acknowledged with nothing more than our eyes that we were incredibly blessed. We didn't need to think about who could hold us accountable; we already have each other.
Marriage allows for us to have a built-in accountability partner; that person who will help us achieve our goals. One of the reasons people hire fitness trainers is to have an accountability partner. A trainer meets you at the gym (one in which you are likely already a member), has you use the exact same equipment you could use on your own, and then guides you through a series of exercises you could also do by yourself. So what's the purpose of a trainer if they only have you do the same things you could do on your own? Motivation and accountability.
There is something about knowing whether you show up at the gym or not, your trainer will be there waiting for you and will call to give you a hard time if you don't come. They will stand over you and make sure you give it your all. They push you, stretch you, pull you and do not allow you to give up. They don't have you do anything you could not otherwise do on your own but there is something about having them there that causes you to push beyond your comfort zone.
If you've set a goal this year to lose 20 pounds, ask your husband to hold you accountable in your diet and fitness. If you've made a goal to finish your first manuscript, run a marathon, launch a business, whatever it is, use your built-in advantage. You have something single people would love to have. You have a partner for life. So use that to get ahead and achieve your heart's greatest desires.
Until tomorrow…make it a great day!

Comments: With more than 32,000 Happy Wives Club members already actively engaged on our Facebook page, what better place to share your thoughts? Join me there and let's continue the conversation: Happy Wives Club Facebook
Recent Posts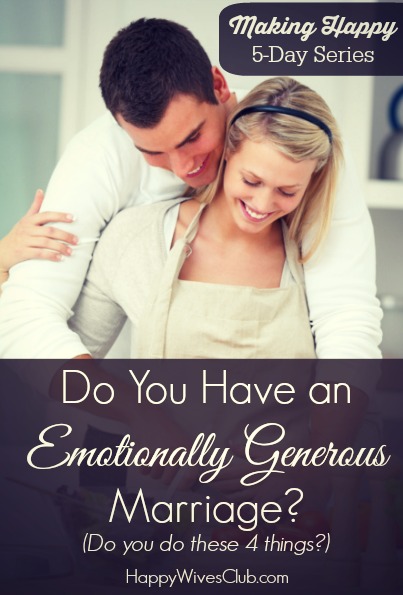 Do You Have an Emotionally Generou...
Time sure flies by when you're enjoying a good read! I can't believe we're already at day 3 of our 5-part marriage series hosted by #1 …
Wednesday, April 16, 2014
Read More >>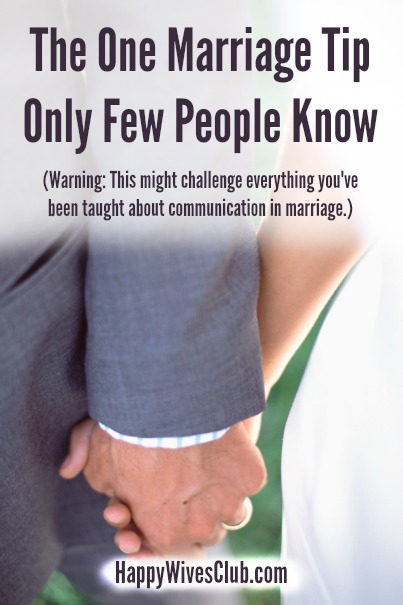 The Marriage Tip Only Few People Kn...
Several years ago, I came home for lunch in the middle of my work day and did something I'd never done before.  I sat on the …
Wednesday, April 9, 2014
Read More >>
The Definition of a Happy Marriage
On numerous occasions over the past couple months, I've been asked three interesting questions: What is a happy wife?   What does a happy wife look …
Wednesday, March 12, 2014
Read More >>
Recommended Posts
7 Habits of Highly Happy Marriages
Around these parts, we absolutely adore Maggie Reyes!  Just earlier today, I left her a voicemail to say how much I appreciate her and the love she puts …
Read More >>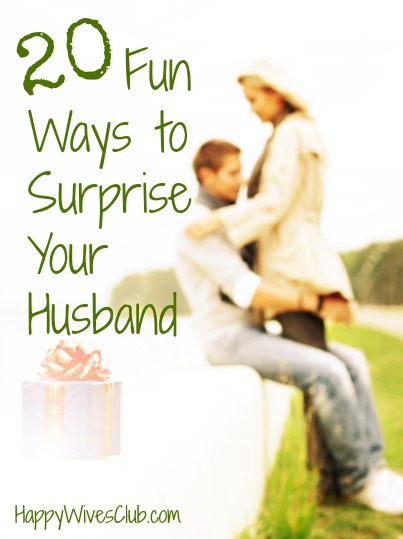 20 Fun Ways to Surprise Your Husban...
Few things make my husband feel more special than a well thought out surprise.   I'm not sure why a gift is better when it comes …
Read More >>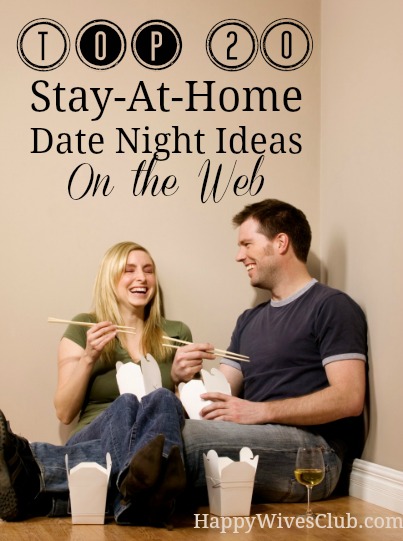 Top 20 Stay-At-Home Date Night Idea...
We all know how important frequent date nights are for keeping the fire burning with our spouse.  But when money is tight, or a babysitter is …
Read More >>