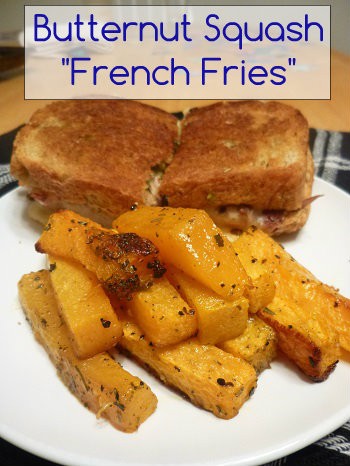 Roasted Butternut Squash "French Fries"
Warning:  This recipe is not French, nor fried, and there are no potatoes in sight. 
In fact, it is made up entirely of a single orange vegetable with a strange name and nothing else.  But I'm willing to bet your kids, and hubbie, will eat it up as if it were otherwise!
I stumbled upon this phenomenon known as "French fried (insert food here)" earlier this year when I asked my daughter what she wanted for lunch. 
She gave her standard answer (chicken nuggets and French fries with ketchup) and I gave my standard answer (we don't have nuggets or fries, and you can't have just ketchup for lunch).
I wondered though… Could I make something else, call it a French fry and still earn smiles at the table?  Perhaps involving the kids in a small game of pretend by even serving ketchup?!
Sure enough, my hunch was right.  Follow this simple formula for getting kids (and picky parents) to eat their veggies without anyone questioning your motives:
Slice any vegetable into strips
Toss in oil, season and roast them in the oven
Serve it to the family
Call it a (insert food) French fry
Ask if they would like ketchup with their fries
Of course this method works for potatoes too, but why not branch out and try to get the family to eat a variety of vegetables?  Use this pocket guide to purchase seasonal vegetables, put this easy side dish on the menu each week and aim to serve a different color.  Any vegetable would pair perfectly with delicious Panini-style grilled sandwiches – a frugal way to enjoy a sandwich and fries, any time of year!
INGREDIENTS
1 medium butternut squash
1/4 cup olive oil
2 Tbsp Italian seasoning
Coarse salt & pepper
METHOD
Wash and scrub the squash with all-natural produce wash.  Preheat oven to 400 degrees. 
Cut off the long, skinny neck of the squash, just where it meets the large, round base.  Trim off the tough outer skin of the squash.  (If the squash is awkward to handle, try cutting the long neck in half first.)
Cut the squash in quarters length-wise, and cut the remaining pieces into thick strips (similar to potato steak fries).
Scoop out the seeds from the round base of the squash, trim off the tough outer skin and cut this portion into thick strips as well.
In a large bowl, combine squash with olive oil and coat thoroughly.  Generously grind salt, pepper and Italian seasonings and stir to combine well.  Spread evenly over a cookie sheet and roast at 400 degrees for approximately 30-40 minutes, turning every 10-15 minutes, until the squash is cooked through.
Note:  Turning the squash encourages even cooking.  The squash will likely not be crispy and firm, so use caution.  You want them to remain intact for the "French fry" effect!

Have a blessed day!  Tiffany @ Don't Waste the Crumbs
Tiffany
is a frugal foodie, balancing the desire to feed her family healthy food while being a good steward of her finances. She realizes it's possible to eat good food on a small budget if you make baby-sized changes. She works hard at mastering real food without going broke and shares her journey at
Don't Waste the Crumbs
and on
Facebook
.
Related Posts
0
By
Annett DavisAnnett Davis
September 27, 2015
Creamy Garlic Salad Dressing
2
By
Aunt LaLaAunt LaLa
April 24, 2014
Easy Chicken Stir Fry
0
By
adminadmin
April 10, 2014
Tropical Green Smoothie
Recent Posts
By
Fawn Weaver
November 12, 2017
Top 5 Regrets From the Dying: An Inspirational Article For Us All
By
Fawn Weaver
October 19, 2017
How to Protect Your Marriage During Challenging Times
By
Fawn Weaver
September 16, 2017
5 Unique Ways to Make Your Man Feel Special in 5 Minutes or Less