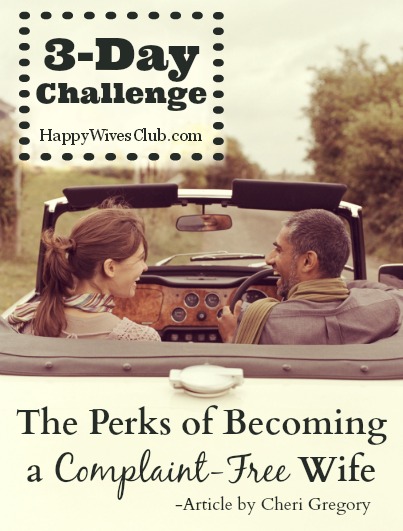 Have you ever sat around listening to a wife complain about all the things wrong in her life and marriage and thought, "You have a great husband?  You have a life others would die for?"
Sometimes, as Cheri Gregory beautiful articulates in this post, complaining can be on auto-pilot.  It was a part of our lives prior to marriage and it just came right on in like an invited guest the moment we said I do.
Complaining is not problem-solving and true problem-solving rarely involves complaining.
Even the happiest among us can fall into the trap of complaining and what we are generally doing in that moment is keeping us from finding the solution our heart desires.
Give this complaint-free challenge a try for 3 days and then come back and let us know how it impacted your life and marriage.  Can't wait to hear all about it!
Until tomorrow…make it a great day!

___________
Every January for the last seven years, I've taken the Complaint-Free Challenge: one whole month without complaining. 
Of course, this has not meant ignoring legitimate problems. Will Bowen, author of A Complaint-Free World, makes a clear distinction between complaining and problem-solving. Complaining is making energetic statements focused on the problem at hand rather than the resolution, while problem-solving is speaking directly and only to the person who can resolve the issue.
Complaint-Free: Who Me?
The first time I tried the Complaint-Free Challenge, I discovered how rarely I used true problem-solving techniques. My mouth seemed set on negative auto-pilot. I griped endlessly out of habit rather than choosing my words with care.
To become more aware of my complaining tendencies, I started each day with a purple "Complaint-Free World" bracelet on my left wrist. Each time I caught myself complaining, I changed the band to my other wrist.
I soon became conscious of one specific complaining habit involving my husband.
Every time Daniel came into my home office, I'd stop working and start complaining. This habit was so automatic that the moment I'd hear him walking downstairs, I'd feel irritated and find something wrong to report the moment he walked in.
This is ridiculous! I thought. What's going on here? Why do I drop what I'm doing and fabricate a complaint whenever Daniel appears?
Finally, after some soul-searching and a good laugh at my own expense, I realized what I was doing:


I was trying to reconnect with my husband. 
We'd been apart for a while, and I was trying to re-engage with him. Of course, the method I was using was counterproductive; my complaints often resulted in disagreements or Daniel retreating in haste.
Once I recognized my true desire, I tried a new approach. I replaced all my complaints with one simple word:
"Hi!"
It worked like a charm.
3 Reasons I Aim to be Complaint-Free Wife
1.  I am more pleasant to be with. Daniel stops by to see me far more frequently, and with far less trepidation!
2. I am happier. I've found that what I hear, I take to heart. And since I hear myself 24/7, complaining words and thoughts cause a cacophony of "baditude" in my heart. Less complaining has created space for peace, quiet, and contentment.
3. I'm more grateful.  I used to think that I'd get around to gratitude when I didn't have so much to complain about. When I intentionally quit complaining, I suddenly had time to notice and point out all the good. The more appreciation I expressed, the more I noticed things for which I was grateful. As gratitude became my new default, complaining naturally died off. 
I recognize that going complaint-free isn't for everyone. But I'll tell you from experience that each time I take the Complaint-Free Challenge, I become more the happy woman–and happy wife–I most want to be.
A Couple of Complaint-Free Resources:
Ready to try the Complaint-Free Challenge? 31 days is a long commitment…how about starting with just 3! What could you learn about your complaining habits with your husband by choosing to be complaint-free for the next 3?  (Come back on in 3 days and let us know what you discovered!)
##
JOIN THE 1,000,000 MEMBER CHALLENGE: If you haven't already done it, what are you waiting for? Join the club! It takes only a few seconds and, of course, is free.