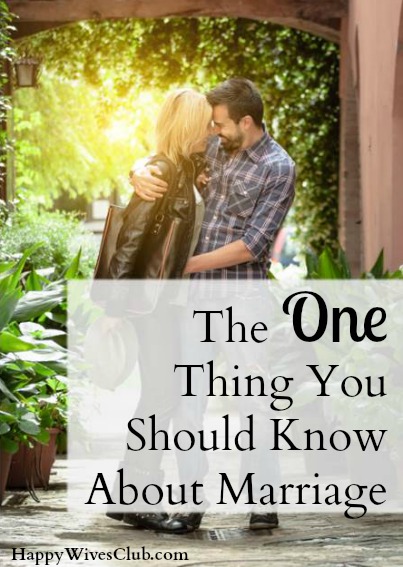 The One Thing You Should Know About Marriage
A few days ago, I received the following note from Cheryl on our Facebook community page:
"Just wanted to take a minute to thank you for being here. Hubby was unemployed for 17 months. We lost all our retirement savings (we are both close to 60). Went without food, electricity, sold our belongings just to survive.
I had a lot of residual anger over the whole thing that ended up pointed toward my husband because he was the only other person in the house.
My therapist said that I should write a long letter that I don't send to get all my anger out and I did start the letter. That same day, I ran across your Facebook page.
I realized it would take the same amount of effort to be angry at him as it would to learn to love him again. So I 'liked' your page, put the letter in the trash can and started focusing on loving my husband again.
We are still in a bad place financially and might lose the house, but we don't care. As long as we are together, nothing else matters. Thank you so much for coming along when I needed your help. Angels show up in the most interesting places. Blessings from Kansas."
I read the note to Keith that morning and his reaction was pretty much the same as mine (albeit, without the added tears that filled my eyes), "That is awesome, Honey!"  Then he paused a moment to further ponder what I'd just read.  
The Happy Wives Club is doing exactly what we set out to do.
No one gets married hoping one day it'll fall apart (at least no one I've ever met).  But life happens and those small things many were once willing to overlook -quirks, idiosyncrasies, imperfections, failures- all of a sudden become the main focus.
A world full of broken, jaded and hardened hearts is a dangerous world to live.  A place where broken homes are the majority is a disheartening existence.  But you can help change that.  You already have.  
By remaining positive and optimistic about marriage, sharing your wonderful experiences of love, you're causing people to look at their own marriages and figure out a way to fix what has become broken rather than turn and run the other way.
You may not realize how many people, like Cheryl, you are encouraging just by having a happy and healthy marriage.  You likely have no clue how many you have healed just by being you.  But I want to encourage you that it's more than you think.
The one thing you should know about marriage is how much yours matters.  You, my friend, are changing the world.  Your loving marriage heals hearts and the homes in which they reside.  Keep loving.  Keep shining.  And never forget how important your marriage is to those around you.
Until tomorrow…make it a great day!

JOIN THE 1,000,000 MEMBER CHALLENGE: If you haven't already done it, what are you waiting for? Join the club! It takes only a few seconds and, of course, is free.
MARRIAGE MONDAYS Link Up Party: Bloggers, join us here every third Monday of the month for our fabulous link-up party!  Join us July 15th for our next Marriage Mondays!
Fawn Weaver is the USA Today and New York Times bestselling author of
Happy Wives Club: One Woman's Worldwide Search for the Secrets of a Great Marriage
, adopting the same name as the Club she founded in 2010. The Happy Wives Club community has grown to include more than 1 million women in over 110 countries around the world. She's an investor in real estate, tech sector and lifestyle brands. When she's not writing or working, she's happily doting over her husband of twelve years, Keith (and sometimes manages to do all three simultaneously).
Latest posts by Fawn Weaver (see all)
Related Posts
13
By
Maggie ReyesMaggie Reyes
May 21, 2017
The Marriage Effect: How Being Married Makes You Happier & How to Keep It That Way
33
By
Tyler WardTyler Ward
October 27, 2015
6 Unexpected Secrets to a Healthy Marriage
47
By
Maggie ReyesMaggie Reyes
February 12, 2015
7 Habits of Highly Happy Marriages
Recent Posts
By
Fawn Weaver
November 12, 2017
Top 5 Regrets From the Dying: An Inspirational Article For Us All
By
Fawn Weaver
October 19, 2017
How to Protect Your Marriage During Challenging Times
By
Fawn Weaver
September 16, 2017
5 Unique Ways to Make Your Man Feel Special in 5 Minutes or Less