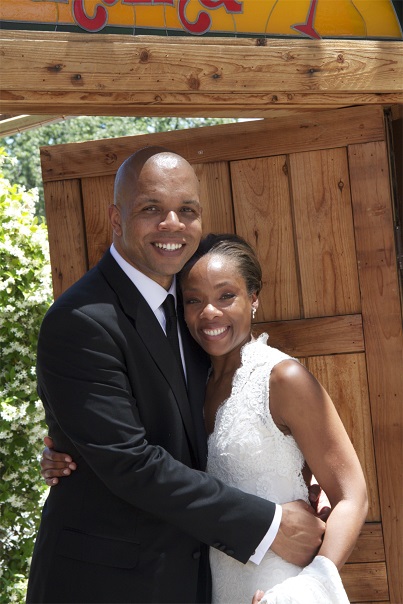 Marriage Mondays: We Said 'I Do'…Again
I've been bursting inside wanting to share something exciting with you!  Only I couldn't because so many of our closest friends and family read this blog and I was trying to pull off a big ole' surprise.
In 2003, Keith and I eloped in Las Vegas in front of an Elvis impersonator-in-training (not kidding).  We'd been dating for eight months and engaged for three.  Our wedding plans were underway and we were set to be married four months later.
Shortly after celebrating his 31st birthday, Keith turned to me and said, "Why are we waiting to get married?"  I told him I didn't know.  "Want to go get married now?" he responded.  Oh yeah!
Within an hour, we hopped in the car, drove to Nevada and by the next day were pronounced husband and wife.  We never regretted this decision.  It was a stress-free wedding and allowed us to begin our lives without incurring debt from the "big day." 
There was, however, one thing Keith told me he hoped would one day happen.  He wanted to see me in a wedding dress.
This past Saturday, marking our first decade of love together, Keith's dream came true as I slipped on a wedding dress and walked down the aisle to She's My Kind of Rain and pledged my love for him in front of our closest friends and family.  It was a beautiful day and even more fun was our guests had NO idea they were coming to a vow renewal ceremony.
Guests were invited to our very casual Annual Brunch with the Weavers (that we, oddly enough, have never hosted annually).  Everyone was casual and waiting for a fantastic meal too be served when Keith excused himself from the party and then returned ten minutes later in a tuxedo.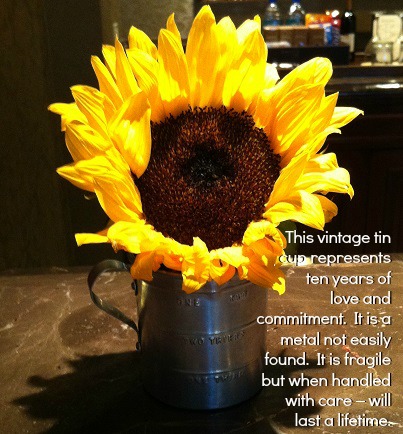 Mouths wide open, our guests had a feeling something huge was about to happen.  Until that point, the official story had been I was stuck in traffic which is why I wasn't there (and that story was completely plausible as I really was stuck in awful traffic.
In his black and white tuxedo, Keith led all our guests like the pied piper to the Calabasas Creek Park, a small rose garden next door to the restaurant where we were holding our brunch, and 80 of our friends and family stood around as I entered from the back of the park and walked toward my dapper husband.
It was beautiful.  A day neither of us will ever forget.  Another wonderful memory in a marriage that has been filled with an endless string wonderful memories.
At the end of the brunch, two friends who'd flown into town gave us this vibrant sunflower, in an unconventional vase, with the following words written on a piece of paper from their hotel note pad:
This vintage tin cup represents ten years of love and commitment.  It is a metal not easily found.  It is fragile but when handled with care – will last a lifetime.
On this day, we recommitted to handling our marriage with the utmost love and care.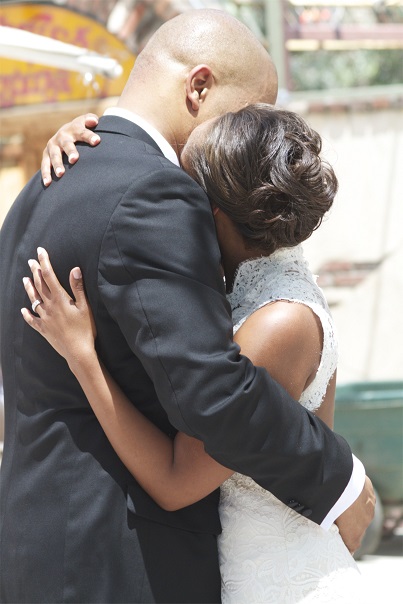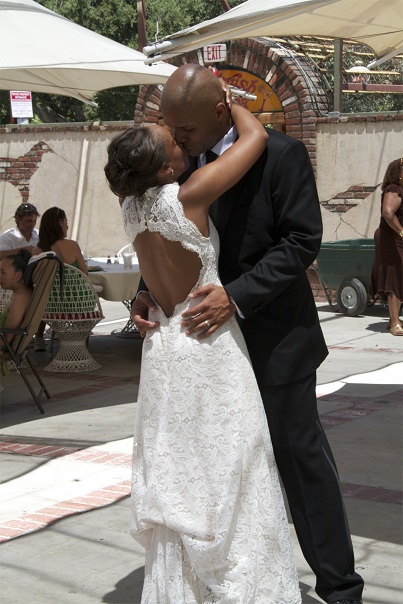 Until tomorrow…make it a great day!

JOIN THE 1,000,000 MEMBER CHALLENGE: If you haven't already done it, what are you waiting for? Join the club! It takes only a few seconds and, of course, is free.
Fawn Weaver is the USA Today and New York Times bestselling author of
Happy Wives Club: One Woman's Worldwide Search for the Secrets of a Great Marriage
, adopting the same name as the Club she founded in 2010. The Happy Wives Club community has grown to include more than 1 million women in over 110 countries around the world. She's an investor in real estate, tech sector and lifestyle brands. When she's not writing or working, she's happily doting over her husband of twelve years, Keith (and sometimes manages to do all three simultaneously).
Latest posts by Fawn Weaver (see all)
Related Posts
4
By
Fawn WeaverFawn Weaver
November 12, 2017
Top 5 Regrets From the Dying: An Inspirational Article For Us All
43
By
Fawn WeaverFawn Weaver
October 19, 2017
How to Protect Your Marriage During Challenging Times
35
By
Fawn WeaverFawn Weaver
September 16, 2017
5 Unique Ways to Make Your Man Feel Special in 5 Minutes or Less
Recent Posts
By
Fawn Weaver
November 12, 2017
Top 5 Regrets From the Dying: An Inspirational Article For Us All
By
Fawn Weaver
October 19, 2017
How to Protect Your Marriage During Challenging Times
By
Fawn Weaver
September 16, 2017
5 Unique Ways to Make Your Man Feel Special in 5 Minutes or Less