Why I Love My Husband (the possibly never-ending list)
"1. He is EXTREMELY handsome! His dimples are beautiful, his eyes expressionistic and he is tall.  Just kidding.  He's not tall but he is taller than me and that is all that matters.  LOL!  2. He puts up with me and my mood swings AND those of my closest girlfriends. This takes a tremendous amount of PATIENCE and understanding.  3. He is very ROMANTIC.  Picnics in the park, wine tasting, regular date nights, planning surprise trips to Europe, hot air ballooning over Napa Valley, need I say more?"
These were the first 3 items listed on Pia's blog page when I visited on Saturday.  She'd seen my invitation here to join me in creating a Why I Love My Husband list.  And she jumped right in.  The smile widened on my face when I saw the beginnings of her list on all the reasons she loves and adores her husband.  
Speaking of lists, have you started yours yet?  If so, don't forget to post the link to your blog, Facebook, Twitter, Pinterest, Instagram (or whatever you're using to showcase your list) on our Facebook community page.  And if you haven't begun creating it, what are you waiting for?  
The amount of fun I'm having coming up with my list…I can't even begin to explain.  I'm really serious about this, my list could possibly go on forever.  So if your list has the potential of being anywhere near as long as mine, you may want to get started on it today.
11. He loves God more than he loves me and he loves me ALOT.
12. He puts me above all people, including his mom (which is tough since he's an only child and she's a sweetheart).
13. He will drop everything he's doing if I say, "Honey, want to take me on a date tonight?"
14. He's a man of his word.  If he says he'll do something, I can take that to the bank.
15. He lets me get in on his side of the bed at night to snuggle (before kicking me out and over to my side
)
16. We share everything.  He doesn't believe in "mine" and "yours."  What's his is mine and vice versa.
17. He spends more time than I can imagine just thinking about how to please me.
18. Making me happy is his life's greatest joy (and if you ask him, probably one of his greatest achievements).
19. He cleans after himself.  Yes, even in the kitchen.
20. He surprises me at least once a week.  It could be something as simple as meeting me at the airport with a caramel apple from Whole Foods (as he did last week) or having a bag peanut M & M's in the passenger side door when I get in his car.
Each one of us has flaws, idiosyncrasies and imperfections.  Just like you and I have them, so do our spouses.  Keeping a Why I Love My Husband list (aka "gratitude list") will ensure the next time he does something incredibly silly or annoying, you'll remember all the wonderful things he does and make a decision not to sweat the small stuff…because it's all small stuff.
Until tomorrow…make it a great day!

JOIN THE 1,000,000 MEMBER CHALLENGE: If you haven't already done it, what are you waiting for? Join the club! It takes only a few seconds and, of course, is free.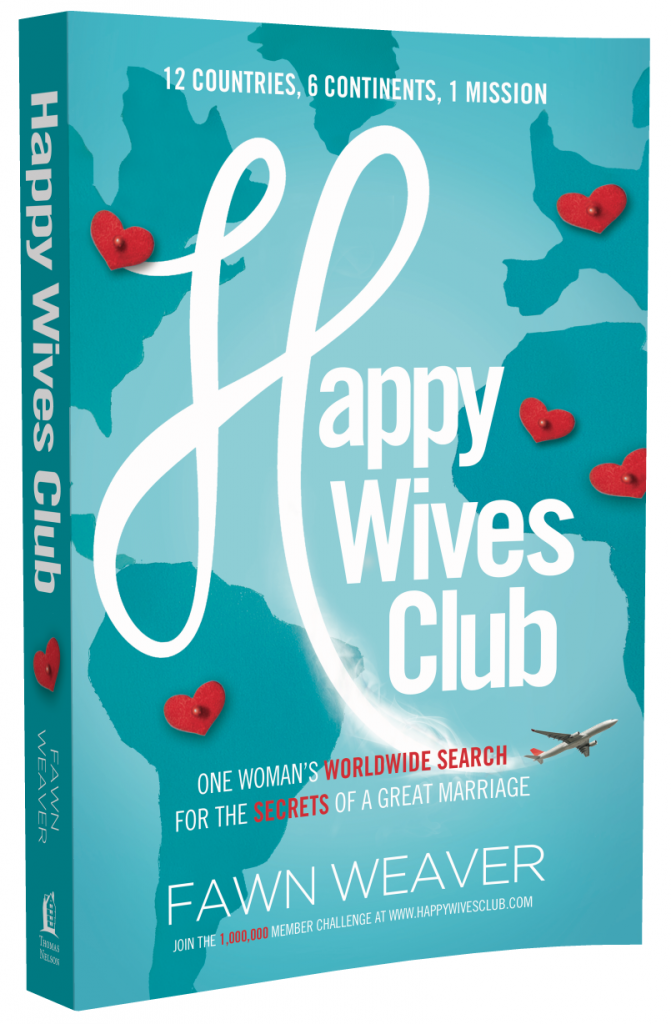 THE NEW YORK TIMES® BEST-SELLING BOOK: It's been described as, "Like Eat, Pray, Love but not down on marriage." Make sure to check out the Happy Wives Club book.  I had the great honor of traveling to 12 countries on 6 continents, interviewing couples happily married 25 years or more, with 1 mission only: to find out what makes marriages happy…and keeps them that way.  It's a marriage book like none other.  Guaranteed.
Fawn Weaver is the USA Today and New York Times bestselling author of
Happy Wives Club: One Woman's Worldwide Search for the Secrets of a Great Marriage
, adopting the same name as the Club she founded in 2010. The Happy Wives Club community has grown to include more than 1 million women in over 110 countries around the world. She's an investor in real estate, tech sector and lifestyle brands. When she's not writing or working, she's happily doting over her husband of twelve years, Keith (and sometimes manages to do all three simultaneously).
Latest posts by Fawn Weaver (see all)
Related Posts
4
By
Fawn WeaverFawn Weaver
November 12, 2017
Top 5 Regrets From the Dying: An Inspirational Article For Us All
43
By
Fawn WeaverFawn Weaver
October 19, 2017
How to Protect Your Marriage During Challenging Times
35
By
Fawn WeaverFawn Weaver
September 16, 2017
5 Unique Ways to Make Your Man Feel Special in 5 Minutes or Less
Recent Posts
By
Fawn Weaver
November 12, 2017
Top 5 Regrets From the Dying: An Inspirational Article For Us All
By
Fawn Weaver
October 19, 2017
How to Protect Your Marriage During Challenging Times
By
Fawn Weaver
September 16, 2017
5 Unique Ways to Make Your Man Feel Special in 5 Minutes or Less