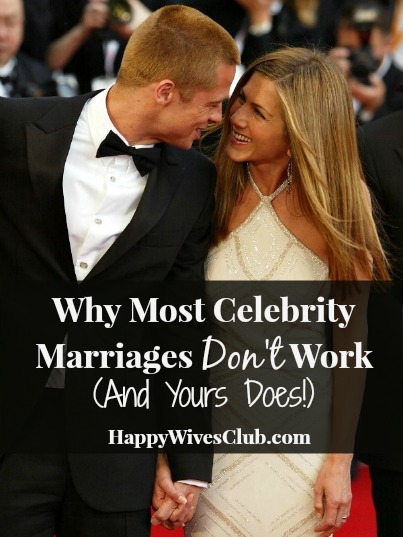 Why Most Celebrity Marriages Don't Work (And Yours Does!)
**This is an excerpt for an article I wrote this week for Popsugar.com.**
I must admit, my heart broke a little bit when Khloe Kardashian filed for divorce from Lamar Odom. I'd sent her an advanced copy of my book to her home, Happy Wives Club, just days before the news broke of his infidelities. Talk about bad timing!
And still, even though the guy clearly had issues and put her through the wringer, there was a part of me that hoped he'd get his act together, come back begging, she'd accept him and all would once again be well in the Odom household.
When Brad and Jennifer broke up (I know, I'm reaching back pretty far), I proudly staked my claim with Team Aniston. But in my heart, I hoped Brad would come crawling back and they'd reconcile. A sentiment, for some odd reason, I held on to for . . . ahem . . . nearly a decade.
I've got a soft spot for celebrity marriages and if I could keep them all together I would for one simple reason. When every magazine splashes across their front cover the demise of another celebrity marriage, there are "regular" people who are holding on to their marriage by a thread, who at that very moment choose to give up.
We see ourselves in the lives of those we admire and if their marriages can't work — with all the glitz, glamour and fame — how can ours?
It's simple. Most celebrity marriages aren't built to last. But here's the good news. You and I aren't celebrities so we've got a much greater shot at creating our very own happily ever after.
Most celebrity marriages don't work because of this very simple fact: The spotlight melts any and everything that gets in its way. We build them up, place them on pedestals, and then watch in amusement as they attempt to live up to the lives we've created for them.

Couples like Tom Hanks and Rita Wilson or Michael J. Fox and Tracy Pollan (both married 25 years) are rarer in Hollywood than a bankable movie star these days. But in watching and listening to them, we can learn a lot about what it takes to make a marriage work (even under the most strenuous circumstances).
**Please join me at Popsugar.com today where I had the honor of writing the remainder of this article.
Until Monday…make it a great weekend!
Fawn Weaver is the USA Today and New York Times bestselling author of
Happy Wives Club: One Woman's Worldwide Search for the Secrets of a Great Marriage
, adopting the same name as the Club she founded in 2010. The Happy Wives Club community has grown to include more than 1 million women in over 110 countries around the world. She's an investor in real estate, tech sector and lifestyle brands. When she's not writing or working, she's happily doting over her husband of twelve years, Keith (and sometimes manages to do all three simultaneously).
Latest posts by Fawn Weaver (see all)
Related Posts
4
By
Fawn WeaverFawn Weaver
November 12, 2017
Top 5 Regrets From the Dying: An Inspirational Article For Us All
43
By
Fawn WeaverFawn Weaver
October 19, 2017
How to Protect Your Marriage During Challenging Times
35
By
Fawn WeaverFawn Weaver
September 16, 2017
5 Unique Ways to Make Your Man Feel Special in 5 Minutes or Less
Recent Posts
By
Fawn Weaver
November 12, 2017
Top 5 Regrets From the Dying: An Inspirational Article For Us All
By
Fawn Weaver
October 19, 2017
How to Protect Your Marriage During Challenging Times
By
Fawn Weaver
September 16, 2017
5 Unique Ways to Make Your Man Feel Special in 5 Minutes or Less