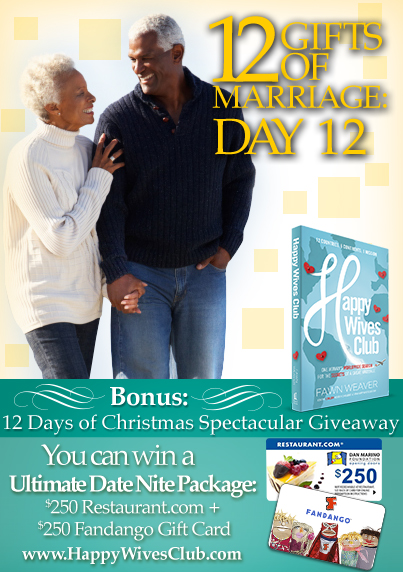 12 Gifts of Marriage: Day 12 {bonus: 12 Days of Christmas Giveaway}
   DAY 12: LIFE OF COMFORT
When you first read the twelfth gift of marriage, Life of Comfort, did you immediately think, "Hey Fawn Weaver, don't make people think marriage will always feel comfortable?!"
Rest assured, that is not the sort of comfort I'm referencing.
Lying in bed this morning, looking out at the rain in front of me, and my husband laying behind me with his arms locked around me in a tight embrace, this twelfth gift became clear as day.
No sun in sight and the visibility almost nonexistent, yet the comfort I felt in my heart was so palpable it was as if the day was already filled with sunshine.
Marriage is not supposed to make you feel comfortable at all times.  A great spouse loves you exactly the way you are. An extraordinary spouse helps you grow; inspires you to be,  do and give your very best. 
This is not always comfortable.  But it should be comforting.
You and I are blessed with wonderful, imperfect spouses who love us to pieces.  How do I know this?  You're here with me.  You're a part of this rapidly growing community. 
I'm not implying your spouse loves you perfectly all the time, or vice versa, but it is your love that brings you here daily.  It is that love that makes you resolve to be a better spouse with each passing moment.
Marriage is filled with an endless amount of gifts.  We've only scratched the surface with these twelve.  But on this day, I hope I have inspired you to look at your marriage as a true and immeasurable gift.  A treasure from above.  Never to be taken for granted.
If I've done that, waking up each morning at 4:45am to write a new post on one of the many gifts of marriage -every day for the past 12 days- was worth every moment.  And tomorrow, my friends,  I will sleep in…
Until Tuesday…make it a great day!

P.S. This is also the very last day of our 12 Days of Christmas spectacular giveaway so, if you so desire, make sure to scroll down and enter to win (it's a pretty fantastic Date Night prize).
___________
12 DAYS OF CHRISTMAS SPECTACULAR GIVEAWAY
One last chance to enter the 12 Days of Christmas Spectacular Giveaway in honor of the release of my upcoming book, Happy Wives Club. (We are just 2 days away from its release – Wow!)
TODAY'S GIFT: $250 Restaurants.com + $250 Fandango Gift Card
As always, no purchase is necessary, entering to win is simple, and you control your number of entries.  But if you do choose to pre-order the book (Amazon and Barnes & Noble have it 25% off today), make sure to scroll down because we're giving you tons of FREE STUFF!
Here are the details for the awesome FREE GIFTS you'll get for pre-ordering Happy Wives Club today. (**If you've already pre-ordered, you get these too!)

Love Notes: a brand new eBook by Fawn Weaver
An mp3 download of Happy Wives Club audio book read by Fawn Weaver
50 photos with inspirational quotes from Happy Wives Club
Get all the great gifts from the list above
The Official "Happy Wife" T-shirt
The Official HWC "Happy" Mug
Invitation to join Fawn's private book club Facebook group where she'll personally guide you through the lessons contained in this book and answer your questions
HOW DOES IT WORK?
All you have to do is email a copy of your receipt (or order confirmation email) to hwcbook@gmail.com.  If you've already pre-ordered your book, just email your receipt and you still get these gifts!  For additional details: http://happywivesclubbook.com/blog/preorder.
WANT TO GIVE THIS BOOK AS A GIFT BEFORE ITS RELEASE ON 1/7/14?
Not to worry, we created these beautiful printables you can give to anyone letting them know you've pre-ordered the book for them as a Christmas gift, anniversary, wedding or engagement present.
##
JOIN THE 1,000,000 MEMBER CHALLENGE: If you haven't already done it, what are you waiting for? Join the club! It takes only a few seconds and, of course, is free.
Are you a blogger?  Click Here to join us for the It's All About Love blog tour in honor of the Happy Wives Club book launch.
Fawn Weaver is the USA Today and New York Times bestselling author of
Happy Wives Club: One Woman's Worldwide Search for the Secrets of a Great Marriage
, adopting the same name as the Club she founded in 2010. The Happy Wives Club community has grown to include more than 1 million women in over 110 countries around the world. She's an investor in real estate, tech sector and lifestyle brands. When she's not writing or working, she's happily doting over her husband of twelve years, Keith (and sometimes manages to do all three simultaneously).
Latest posts by Fawn Weaver (see all)
Related Posts
4
By
Fawn WeaverFawn Weaver
November 12, 2017
Top 5 Regrets From the Dying: An Inspirational Article For Us All
43
By
Fawn WeaverFawn Weaver
October 19, 2017
How to Protect Your Marriage During Challenging Times
35
By
Fawn WeaverFawn Weaver
September 16, 2017
5 Unique Ways to Make Your Man Feel Special in 5 Minutes or Less
Recent Posts
By
Fawn Weaver
November 12, 2017
Top 5 Regrets From the Dying: An Inspirational Article For Us All
By
Fawn Weaver
October 19, 2017
How to Protect Your Marriage During Challenging Times
By
Fawn Weaver
September 16, 2017
5 Unique Ways to Make Your Man Feel Special in 5 Minutes or Less