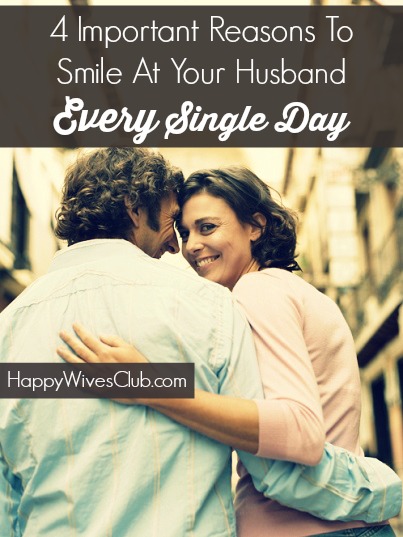 4 Important Reasons To Smile At Your Husband Every Single Day
I've been looking forward to sharing another article from Carlie Kercheval ever since she gave us this popular post on free and frugal ways celebrate our anniversaries (that's been shared nearly 150,000 times)!
As a military wife and homeschooling mama of three, time is scarce.  So that's why I'm so grateful she'd take a moment out of her jam packed schedle to write this post for us.
Until tomorrow…make it a great day!

___________
Over the last 14-plus years of our marriage, I cannot think of a day that we were together that I didn't smile at my husband.
To many, smiling is no big deal. But the truth is, it can make your husband feel loved, respected, empowered and desired. And I know for me, it is important that my husband feel all of those securities in our marriage (and more).
I remember the first time my husband made me laugh after our wedding. It was the first night of our honeymoon in Kaua'i. While he had made me laugh countless times prior to our first night as a married couple, something was just so fresh and new about it all.
I remember the smile on my face that night, full of love, respect, and desire for my new husband. And so does he. As a matter of fact he references it often. He tells me how he already knew I was the one he'd spend the rest of his life with, but that my smile that night somehow made it that much more concrete.
4 Reasons To Smile At Your Husband Every Single Day
1. Because you love him. It's as simple as that. You love that man – and he loves you. What's not to smile about? Even when you are going through a tough time in your marriage, don't forget to smile at the one you vowed to spend the rest of your life with. It will help carry you through some of the roughest times with great joy and peace.
2. Because you want to empower him.  In this popular Ted talk, the hidden power of smiling was revealed.  Did you know that one smile can generate the same level of brain stimulation as up to 2,000 bars of chocolate?  "Smiling can help reduce the level of stress-enhancing hormones like cortisol, adrenaline and dopamine, increase the level of mood-enhancing hormones like endorphin and reduce overall blood pressure."  Smiling is contagious so becoming a smile inducer for your husband unleashes all the health and life benefits that come from this powerful facial expression. 
3. Because you respect him. I can't think of another man on this earth that I respect more than my husband. I value him in a way that I didn't think I could ever value another human being. I know for sure (because he's told me) that when my husband is sharing his dreams with me or asking me to help him and I look at him and smile – he knows in his heart that I respect him as a man and as my husband. And that makes me happy!
4. Because you desire him. If you've spent any length of time here at The Happy Wives Club, you know that sexual intimacy is a large part of a happy marriage. And it should be. One of the wonderful blessings about being married to my best friend is the simple fact that I am also able to have physical and emotional intimacy with him! How awesome is that? And believe me, when your husband feels desired, it makes him excited to be an active part of your marriage!
YOUR TURN: How does your smile make your husband feel? I am excited to hear all about what a smile can do to brighten your husband's day! Share with me in the comments below.
##
JOIN THE 1,000,000 MEMBER CHALLENGE: If you haven't already done it, what are you waiting for? Join the club! It takes only a few seconds and, of course, is free.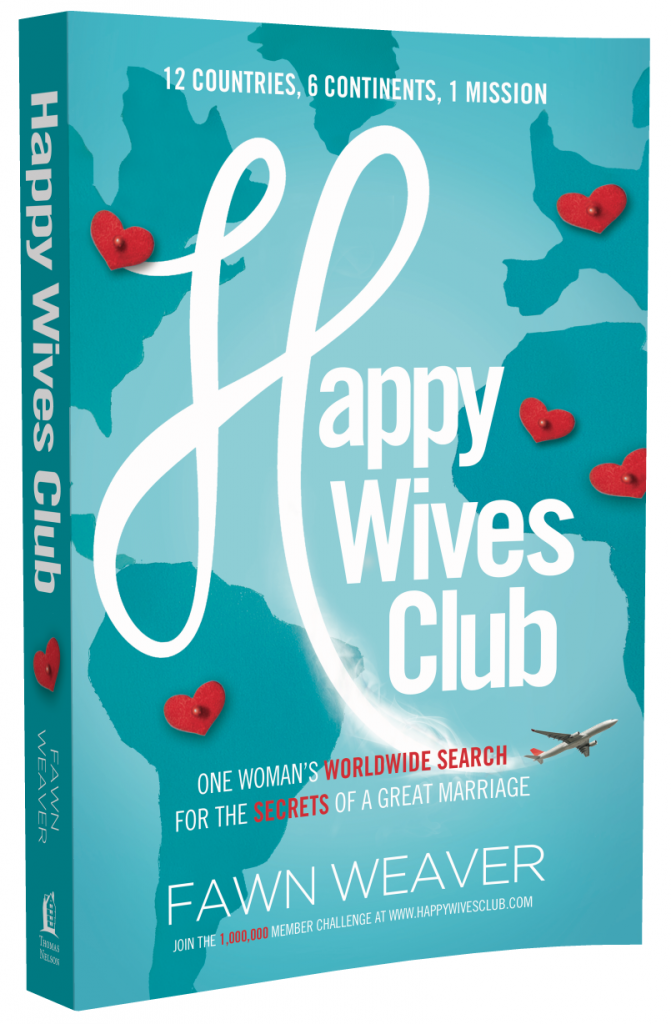 THE NEW YORK TIMES® BEST-SELLING BOOK: It's been described as, "Like Eat, Pray, Love but not down on marriage." Make sure to check out the Happy Wives Club book.  I had the great honor of traveling to 12 countries on 6 continents, interviewing couples happily married 25 years or more, with 1 mission only: to find out what makes marriages happy…and keeps them that way.  It's a marriage book line none other.  Guaranteed.
Carlie Kercheval is a happily married work-at-home homeschooling mom of 3. Carlie and her husband co-founded
Fulfilling Your Vows
and together they co-author the
Learning to Speak Life
™ family Bible studies. When she is not busy enjoying her family and the great outdoors, you can typically find her cozied up somewhere under a blanket with a good book.
Latest posts by Carlie Kercheval (see all)
Related Posts
17
By
Cheri GregoryCheri Gregory
March 10, 2014
6 Scientific Questions to Ask About Your Marriage
25
By
Byron DavisByron Davis
January 24, 2014
7 Simple Ways to Create a Marriage That Rocks
25
By
Tracey GossTracey Goss
October 30, 2013
4 Ways to Find the Sweet Spot in Your Marriage!
Recent Posts
By
Fawn Weaver
November 12, 2017
Top 5 Regrets From the Dying: An Inspirational Article For Us All
By
Fawn Weaver
October 19, 2017
How to Protect Your Marriage During Challenging Times
By
Fawn Weaver
September 16, 2017
5 Unique Ways to Make Your Man Feel Special in 5 Minutes or Less