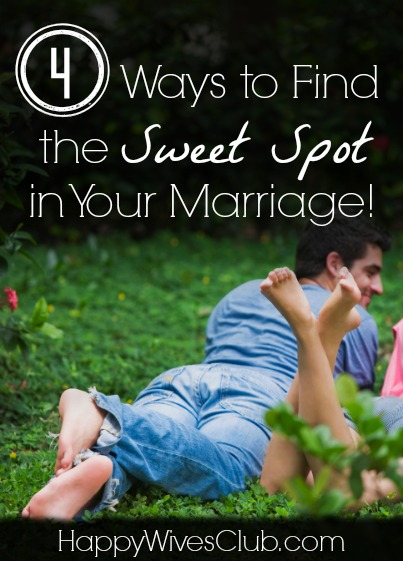 4 Ways to Find the Sweet Spot in Your Marriage!
Love, love, love Tracey Goss!  She's incredibly funny.  A brilliant writer.  A husband-adoring wife.  And a proud momma.
She's also the sister of our health & fitness editor, Olympian and fitness expert, Annett Davis.  And you know we love us some Annett Davis around here!
Pull up a seat.  Grab your cup of coffee.  And enjoy the beauty and wisdom of this post.
Oh!  And the "Turn off, Turn in, Tune in, Turn on," is common sense at its best.
Until tomorrow…make it a great day!

____________
Have you found the sweet spot in your marriage?  
Maybe I should have titled this post The Ultimate Guide To Finding The Sweet Spot In Your Marriage because what I am sharing with you today is exactly what propelled my marriage from mediocre -declining as fast as my debit card right before payday- to one of the greatest joys of my life!
1. Rose-Colored Glasses.  Sure I know the idiom "she's looking at him through rose-colored glasses" is used as a condescending dig. I remember the moment I reached for the pair of rose-colored glasses which had been tucked away a few years after I said "I do."
Looking through those magical lenses helps me to see all of the positives that drew me to my husband in the first place as well as some additional bonuses that have developed over the years. That grey hair he has acquired around his temples drives me wild!
2. My Momma Taught Me to Take My Seat!  The artist formerly known as Prince had it right when he penned these words, "I don't care where we go and I don't care what we do.  Just take me with you!"  As you might have gathered by the title of tip number two, my mother was responsible for Prince's platinum single.  Well, not really, but her marital advice has proven to be worth more than platinum.  She advised me to say "yes" whenever my husband invites me to join him – wherever he goes. Time together no matter where it is spent is precious.
3. If You Can't Say Something Nice, Say Something Funny!  That's our new mantra!  One of the best ways to avoid being entrenched in a heated conversation is not to worry about making a point nor having your way.  Forget your pride and don't be afraid to make a fool of yourself.
Recently, my handsome hubby spontaneously asked me to prepare and take our kids to school on a day which was originally deemed "dad's day" to drive.  (You know the drill, pack the lunches, make sure the uniforms are ready to go, and oh yeah – get yourself dressed and ready for work as well.)
At this point, I had three options:
Sanctimoniously give him a speech about the importance of making said request the night before at the latest (the old respect my time whine).
Give him the silent treatment, which I am not particularly good at nor fond of.
Don't take myself or the situation so seriously.
I decided to join him in the kitchen (where he was loading the dishwasher, to lighten the load he had just dumped on me) and tell him how hot he looked sharing the housework with me in his boxer briefs.  We both had a great laugh and enjoyed each others company for the rest of the morning.  We began our day with a wink and a smile instead of a snark and the stink eye.
4. Turn Off, Turn in, Tune in, Turn On.  This is probably one of the most universally ignored bits of common sense with which woman-kind has been blessed.  Turn off the computer, washer, television, telephone, reading lamp, Kindle or whatever is usurping your last bit of energy.  Turn in to bed with your hubby, so you can tune in to one another.  Leave some gas in your tank for him so that you can turn on your "love engine" and I guarantee you, you'll enjoy the drive!
Your Turn: We all have our own directions to finding that sweet spot in marriage.  I'd love to hear how you stay the course and manage the bumps in the road on the way to marital bliss! Let us know below in the comments.
Your fellow Happy Wife, Tracey Goss, the "Ringmaster" @3BrosFlyingCircus.com
##
JOIN THE 1,000,000 MEMBER CHALLENGE: If you haven't already done it, what are you waiting for? Join the club! It takes only a few seconds and, of course, is free.
Tracey Goss is Ringmaster of the
3 Bros Flying Circus
. Her weekly blog celebrates the fact that her home life will never be quiet, tame or very organized; but it will always be filled with love and laughter. She is mom to three hilarious boys and wife to her handsome hubby. This mom with a Mac is on a mission to embrace life's imperfect moments with grace and a smile.
Latest posts by Tracey Goss (see all)
Related Posts
14
By
Maggie ReyesMaggie Reyes
October 2, 2015
The Best Marriage Advice We Ever Got
47
By
Maggie ReyesMaggie Reyes
February 12, 2015
7 Habits of Highly Happy Marriages
17
By
Cheri GregoryCheri Gregory
March 10, 2014
6 Scientific Questions to Ask About Your Marriage
Recent Posts
By
Fawn Weaver
November 12, 2017
Top 5 Regrets From the Dying: An Inspirational Article For Us All
By
Fawn Weaver
October 19, 2017
How to Protect Your Marriage During Challenging Times
By
Fawn Weaver
September 16, 2017
5 Unique Ways to Make Your Man Feel Special in 5 Minutes or Less