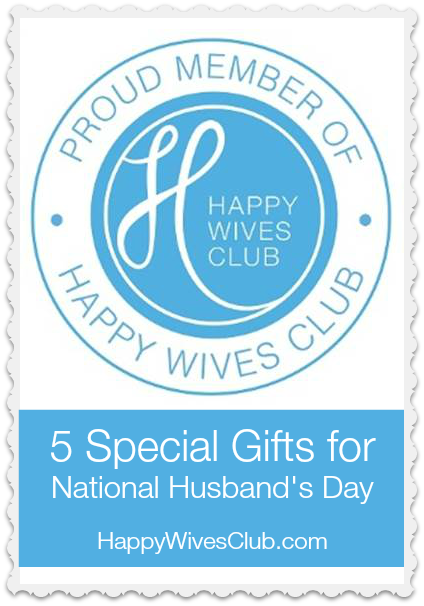 5 Creative Ideas for National Husband's Day
UPDATE (1/21/16): I LOVED the idea of National Husband's Day and was working overtime to get it done. But I got so many emails and notes from members of this club saying, "Why sponsor a new holiday when one already exists?" that I did some digging and realized, Husband Appreciation Day, already exists and has for quite some time. It's just not been promoted very well over the years (well, in all fairness, there wasn't a Happy Wives Club before). So….rather than working to get a congressman to sponsor a new holiday, we're just going to go bonkers in promoting the one that already exists.
So mark your calendar for the next one! It's celebrated worldwide on the 3rd Saturday in April every year (this year it's April 16, 2016). Expect to see lots on it here about it and some other great ideas on how to celebrate it and make your main feel his best.
##
Earlier this week, I let the cat out of the bag in our weekly newsletter that Happy Wives Club has gotten behind something really BIG that is about to happen!
We are exactly two months away from National Husband's Day.  Never heard of that holiday?  Well, keep reading…  
Earlier this year, I came across an article about Love Your Wife Day in Japan.  Annually, men line up in a town square, flanked by bouquets of flowers for their wives.
One-by-one, they walk onto a stage and begin professing love for their wives – at the top of their lungs.  Literally.
Initially, when I saw a video on it, I thought, "Why are they yelling like that?  Don't they know the microphone will project their voice?" 
Whatever the reason, it seemed like each husband had been waiting all year for that one special day to put the love they have for their wife on full display for all of Japan to see.
"We need a national holiday like this for our husbands!" I thought.  "Minus the time square and yelling thing."  
So I began investigating.  How can Happy Wives Club sponsor a national holiday?  
I knew there were days like National Peanut Butter Day (January 24th) and National Kissing Day (July 6th), so there had to be a way to create one to publicly shower our husbands with love.
A wonderful friend, who is a former Congressional staffer, began researching what it would take to sponsor a national holiday.  She discovered, there are two ways (one pretty simple, one quite difficult) so we decided to pursue both.
The result: Beginning in 2014, National Husband's Day will become a reality.  So mark your calendars now!
Wednesday, January 22, 2014
Of course, this doesn't mean we love on our husbands any less every day of the week.  This is just one day a year to go all out – to do something for him you might not usually do.  And that, my friends, is the reason I sent out the announcement in our newsletter (**you can sign up for it too, by the way**) two months in advance and why I'm now mentioning it here.
After sharing this news with our newsletter subscribers, I received hundreds of emails filled with excitement.  And yes, I read and responded to each one (still responding, actually).  From many of these emails emerged some fantastic ideas for things other women have begun planning to do for their husbands on January 22nd.
Based on those responses, I've pulled together 5 creative ideas to help you begin planning for that special day with your man:
1. Give him this free printable (how cool is this?!) that shows you were one of the original sponsors of this holiday.  As a member or supporter of the Happy Wives Club (over 400,000 and counting), you are the only reason this holiday has materialized.  Take pride in that and let him know his love inspired you to be a part of making sure this holiday was created…just for him. (**You only need to join the Club, if you haven't already, to be one of the original sponsors.)
2. Choose from any of these cheap and creative 'just because' gift ideas for him.  Some of these take time and planning but you have two full months before National Love Your Husband Day so you should be in good shape.
3. Call your husband's job and request the day off.  Now, only do this one if it will not embarrass or upset him.  The husband of a friend of mine did this recently and she was overjoyed.  She was running around planning to get to a meeting with her boss and coworkers and they all told her, "Sorry, you're not coming.  Go home.  Darryl has plans for you."  It was such an amazing surprise (it wasn't her birthday or their anniversary) and from that moment on, her entire office knew exactly how much her husband was in love.
4.Turn your Husband Gratitude List into a beautiful handmade card or have one of your creative friends (or you, if you're a creative, Etsy, DIY soul) turn it into a beautiful printable that you can frame.
5. If you're parents, arrange for a babysitter or family to come and take care of the kids. One woman who responded said she began planning the day based on a carpool schedule.  She was arranging a carpool with another mom in advance and as soon as she gets the kids out of the house, this special day with her husband will begin (and, of course, he has no idea).
Rest assured, I'll be posting tons of ideas for National Love Your Husband Day between now and January 22, 2014.  But make sure you mark your calendar now and let the planning of this special day in our household begin.
Until Monday…make it a great weekend!

JOIN THE 1,000,000 MEMBER CHALLENGE: If you haven't already done it, what are you waiting for? Join the club! It takes only a few seconds and, of course, is free.
Fawn Weaver is the USA Today and New York Times bestselling author of
Happy Wives Club: One Woman's Worldwide Search for the Secrets of a Great Marriage
, adopting the same name as the Club she founded in 2010. The Happy Wives Club community has grown to include more than 1 million women in over 110 countries around the world. She's an investor in real estate, tech sector and lifestyle brands. When she's not writing or working, she's happily doting over her husband of twelve years, Keith (and sometimes manages to do all three simultaneously).
Latest posts by Fawn Weaver (see all)
Related Posts
4
By
Fawn WeaverFawn Weaver
November 12, 2017
Top 5 Regrets From the Dying: An Inspirational Article For Us All
43
By
Fawn WeaverFawn Weaver
October 19, 2017
How to Protect Your Marriage During Challenging Times
35
By
Fawn WeaverFawn Weaver
September 16, 2017
5 Unique Ways to Make Your Man Feel Special in 5 Minutes or Less
Recent Posts
By
Fawn Weaver
November 12, 2017
Top 5 Regrets From the Dying: An Inspirational Article For Us All
By
Fawn Weaver
October 19, 2017
How to Protect Your Marriage During Challenging Times
By
Fawn Weaver
September 16, 2017
5 Unique Ways to Make Your Man Feel Special in 5 Minutes or Less