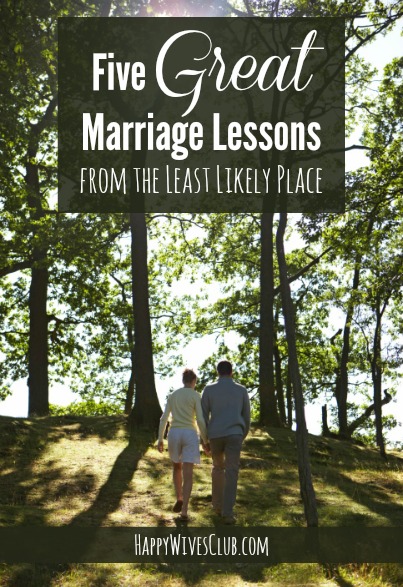 5 Great Marriage Lessons from the Least Likely Place
What I love about writer, Kim Hall, is her ability to uncover marriage lessons in the unlikeliest of places.
One of the greatest truths I've learned over my 38-year life is there is a lesson in everything.  And I mean everything.
I intentionally seek out the lesson in all things -good or challenging.  And based on the unlikely place where Kim found these, she clearly does the same.  
I'd love to know in what unlikely place (or person) you've discovered a life changing marriage lesson of your own.
Until tomorrow…make it a great day!

___________
When you look for lessons in both good and challenging times, what you'll discover will blow your mind. 
Have you noticed happily married couples have a certain look about them?
Their quiet strength and unique beauty remind me of the majestic and long-lived redwood trees.
The two actually have more in common than you may know.
1.  Bark for protection. Redwoods don't do anything small, and their bark is no exception. It grows up to twelve inches thick and is naturally fire-retardant.
Marriage Lesson: Individuals in happy marriages cultivate qualities such as commitment, hope, and empathy, that form a similarly big and strong firewall of protection around the relationship. 
2.  Roots that spread out as well as down.  While conventional wisdom states that roots of any sort should go deep to provide the most stability, these giants actually rely on the additional strength of many to stay upright by weaving their roots into those of their neighbors.
Marriage Lesson: Finding mentors,  befriending other couples, and joining like-minded groups such as Happy Wives Club lends support to help your marriage withstand life's storms.
3.  Canopy that supports a wider community. The large branches offer hospitality, safety, and room to thrive.
Marriage Lesson: A sound marriage provides similar benefits. In addition to sharing the joyful possibilities that begin with I do, your family is apt to be healthier, happier, take better care of themselves, and do better academically and economically. From that foundation, you can be a powerful force for good and giving.
4.  Plan for the future.  The redwood protects itself from drought by collecting literally tons of water from the fog that washes over the forest and then holds it in reserve.
Marriage Lesson: A carefully tended marriage, like a well-watered tree, is less apt to develop weakness and illness. Building up a reservoir of regular and satisfying communication, creating an atmosphere conducive to apology and forgiveness, and practicing gratitude can sustain relationships through difficult times.
5.  Capacity to inspire others. Robert Louis Stevenson wrote, "It is not so much for its beauty that the forest makes a claim upon men's hearts, as for that subtle something, that quality of air, that emanation from old trees, that so wonderfully changes and renews a weary spirit."
Marriage Lesson: As Fawn shares often, media and culture paint an unflattering picture of marriage full of unhappy and desperate wives. Healthy marriages are beautiful and inspiring, even with their blemishes and scars. They have the power to encourage and renew the spirits of those who hoped happily ever after might really be possible.
 YOUR TURN: What marriage lesson have you learned in the least likely of places?
May you find happiness wherever you are! Kim, your personal Sherpa of Joy at Too Darn Happy
##
JOIN THE 1,000,000 MEMBER CHALLENGE: If you haven't already done it, what are you waiting for? Join the club! It takes only a few seconds and, of course, is free.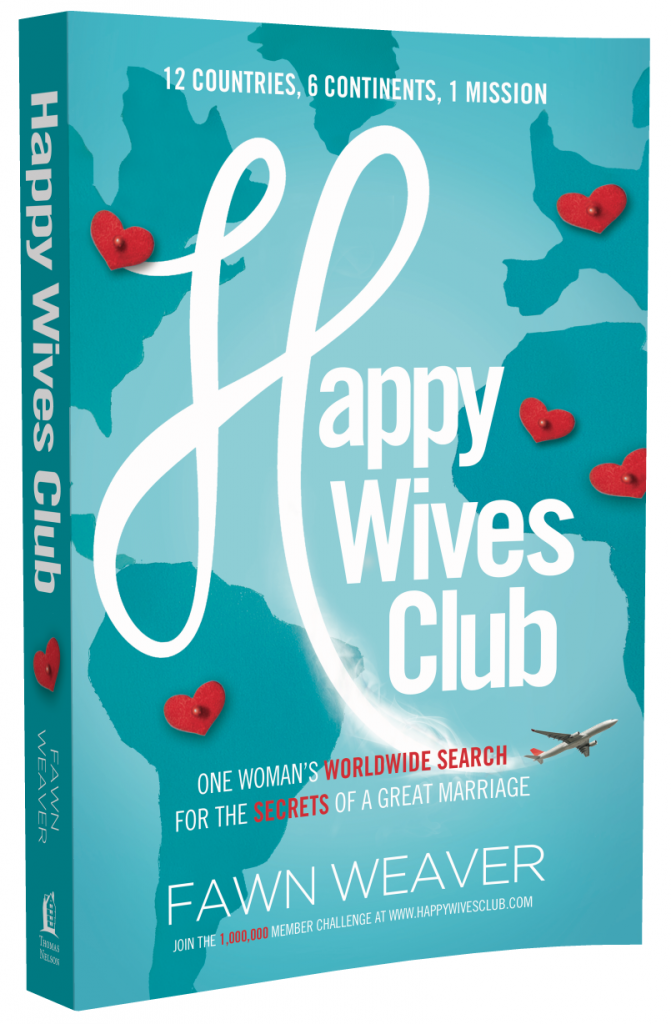 THE NEW YORK TIMES® BEST-SELLING BOOK: It's been described as, "Like Eat, Pray, Love but not down on marriage." Make sure to check out the Happy Wives Club book.  I had the great honor of traveling to 12 countries on 6 continents, interviewing couples happily married 25 years or more, with 1 mission only: to find out what makes marriages happy…and keeps them that way.  It's a marriage book line none other.  Guaranteed.
Kim Hall created Too Darn Happy with the mission of helping you find happiness in all circumstances through the encouragement of faith, the practice of gratitude, and the discovery of joy, all spun together with fresh perspectives, practical advice, and a personal touch. She recently authored her first ebook, Practicing Gratitude and Discovering Joy-30 Days to a Happier You.
Related Posts
4
By
Fawn WeaverFawn Weaver
November 12, 2017
Top 5 Regrets From the Dying: An Inspirational Article For Us All
43
By
Fawn WeaverFawn Weaver
October 19, 2017
How to Protect Your Marriage During Challenging Times
35
By
Fawn WeaverFawn Weaver
September 16, 2017
5 Unique Ways to Make Your Man Feel Special in 5 Minutes or Less
Recent Posts
By
Fawn Weaver
November 12, 2017
Top 5 Regrets From the Dying: An Inspirational Article For Us All
By
Fawn Weaver
October 19, 2017
How to Protect Your Marriage During Challenging Times
By
Fawn Weaver
September 16, 2017
5 Unique Ways to Make Your Man Feel Special in 5 Minutes or Less