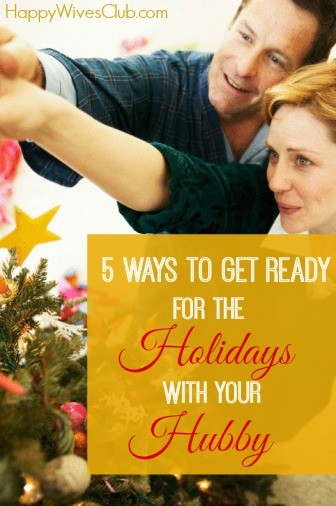 5 Ways to Get Ready for the Holidays with Your Hubby
Decorating and planning for the holidays has traditionally been a domestic role left to women. Thankfully, gender roles have come a long way in the past couple of decades. As a matter of fact, the holidays are the perfect time to reconnect and have fun with your hubby as you prepare for the festivities. If this sounds like something your marriage needs, take a look at these five activities you can enjoy with your hubby to get ready for the holidays.
Decorate the House Inside and Out
Nothing puts you more in the holiday spirit than decorating the house. The decorations are a constant reminder of the season. You can't help but think about it every time you walk by your Christmas tree, in all its glory, or any of the other decorations that are spread throughout your house.
When it comes time to decorate this holiday season, get your husband involved. Don't banish him outdoors to put up the lights — instead, spend time putting up the tree together. You'll have a lot of fun reminiscing about past holiday seasons and what you can do to make this year just as great.
Plan a Holiday Party or Event
The holidays are the perfect time to get together with family and friends. This is another place you can use your husband and have fun together as a couple. Even if he's not too interested in the details, such as invitations and meal ideas, he may still have some really good ideas about when to have the party and what entertainment to plan. Spend a date night deciding what you're going to do and how you can make it the best party or event ever.
Here are some holiday party ideas to get you started:
Get family and friends to participate in a progressive dinner.
Have everyone bring a white elephant gift and have fun with the exchanges.
Go Christmas caroling or host a holiday karaoke night.
Decorate cookies and other baked goods for neighbors and friends.
Do a service project for less fortunate families in your community.
Watch a classic holiday movie with signature cocktails.
Do Some Charity Work as a Couple
Every community has a need for volunteers, whether it means serving food to the homeless, participating in a "Sub for Santa" project, or just spreading the holiday spirit around your neighborhood. This is an excellent holiday activity to do with your husband, and even with the rest of your family. You have the opportunity to give back to your community, help make the lives of others better, and share the experience together. There are dozens of national and local charities you can get involved in that are either year round or specific to the holiday season. Find one close to your family's heart and spend the day with your husband giving back. 
Make Gifts for Family and Friends
No list on planning for the holidays would be complete without a post about holiday DIY. A great way to spend time with your hubby is to make gifts for the holidays. Plus, it'll save you money on your holiday budget. Even if your husband isn't particularly interested in crafts, there are ways to get him involved that may be more in his wheel house, such as painting, building, designing, or anything else you think he might like. You might be surprised how much fun you have together, and having him complete some of the more difficult tasks is certainly a healthy ego boost.
Here are some easy gift ideas you can make as a couple:
Baked goods (ex: peppermint bark, hot coco kit including hot chocolate mix and marshmallows in a mason jar with a mini Bailey's bottle tied on, homemade doggy treats, or mini pies)
Spruced up spirits (take a wine or champagne bottle, cover in adhesive then roll in glitter)
Custom ornaments (buy glass ornaments and fill with paint and roll around, or fill with glitter or pom poms)
Instagram picture tile coasters (buy bath tiles and use Mod Podge to adhere favorite photos)
Monogrammed wreaths (buy large wooden letters and wrap them in twine, or hot glue ornaments on)
Custom mugs (use Sharpies to decorate mugs then bake them in the oven)
Build a List and Go Shopping
Unfortunately, most people don't have time to make all the gifts they need for the holidays. Even more unfortunately, it is a necessity for almost everyone to brave the masses and do your gift shopping. To make it more bearable and get some quality time, you can make a shopping list with your hubby so that nobody gets forgotten. Be sure to include alternate gift ideas along with your list just in case you have trouble finding a particular item. Then get in the car and get the shopping done. You can divide and conquer or rely on each other to find great holiday deals and stretch your pennies to the max. Make a day out of hitting the malls, grab coffee and lunch together to break up the crazy crowds and catch up on any other holiday planning you may have. 
Don't let the busy holiday season be a strain on your relationship. There are plenty of things you can do together as a couple to make the holidays memorable and your relationship stronger than ever.
What are your favorite things to do during the holidays and how do you get your husband involved? 
Morgan Sims
Morgan Sims is a writer who loves all things tech and social media. Follow her @MorganSims00
Latest posts by Morgan Sims (see all)
Related Posts
4
By
Annett DavisAnnett Davis
March 8, 2017
How to Make Date Nights Happen When You're Parents: Kid Swap!!
2
By
Morgan SimsMorgan Sims
January 18, 2016
9 Date Ideas That Won't Break the Bank
2
By
Crystal BrothersCrystal Brothers
October 6, 2015
At Home Date Night On a Budget
Recent Posts
By
Fawn Weaver
November 12, 2017
Top 5 Regrets From the Dying: An Inspirational Article For Us All
By
Fawn Weaver
October 19, 2017
How to Protect Your Marriage During Challenging Times
By
Fawn Weaver
September 16, 2017
5 Unique Ways to Make Your Man Feel Special in 5 Minutes or Less