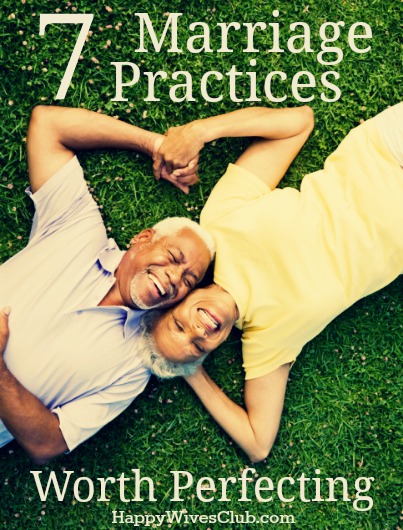 7 Marriage Practices Worth Perfecting
Marriage blogger, Lori Byerly, has been supportive of the Happy Wives Club from the moment she came across this site a couple years ago.  
Earlier this year, she shared a great activity to help us get even closer to our spouses (loved that idea).  Now, she's back and helping us take our marriages up another notch.
Practice makes perfect, right?  At the very least, it makes things better and better the more we practice.  
In marriage, you know I'm all about being happy and remaining in love til' DDUP (death do us part) so you better believe I'm doing a whole lotta practicing.  Join me

.
Until Monday…make it a great weekend!

____________
When I was a little girl, my mom insisted that I take piano lessons. Honestly, I sounded pretty bad. I was just learning to read music and I played a bit too loud.
Over the years I got better and better. By the time I was in high school I was a pretty accomplished musician.
The interesting thing is, I was probably average when it came to natural ability. What I had going for me was my willingness to practice and then practice some more. 
The more you do something, the better you get at it.
That concept has gotten me through a number of situations where I started out poorly or with very few clues. This is especially true of my marriage.
I didn't have any great models growing up and I probably have average ability on the marriage-o-meter.  I'm just willing to practice and then practice some more.  
Here are 7 marriage practices worth perfecting:
Practice Kind Words. Learning to speak with kindness? It's a day by day choice. When you flub up, back up, apologize and say it nicer. You might even try doing a filter check before letting the words slip between your lips.
Practice Saying Yes. A new technique in the bedroom? It's bound to feel awkward the first few times, but how fun it is when it becomes more natural and it's something to look forward to. (I have to admit it's a major rush when you can routinely wow your husband).
Practice Generosity. Giving without expectation. That is oftentimes one of the most challenging parts of a relationship. But it is also one of the most freeing. Being generous doesn't have to take a lot of work. Kiss your sweetie 10 seconds instead of 2. It's the little things that matter most.
Practice Marital Success. One of the smartest things couples can do is to mirror their marriages after couples successfully married for decades. Do you know a couple happily married for more than 25 years? They're a great place to start. And if not, there are 50 inspiring ones here.
Practice Listening. Hearing your husband's heart? Ask a question. Listen. Ask another question. When you find a good question, hold on to it. Husbands can change over time, so the adventure never ends.
Practice Loving…Even Better. Which one of us could say we have no need to be loved a little more? Is there even such a thing? When you practice loving your spouse….even better, the most wonderful thing happens: They return the love.
Practice Teamwork. Teamwork makes the dream work. My husband and I have teamed up for years encouraging married couples.  Paul's site, The Generous Husband, and mine, The Generous Wife, have been two of the greatest blessings of our lives. Never underestimate the power of teaming up on everything from little to out of this world.
Never let a clumsy start scare you off.  It's just the start of the process that will get you to accomplishment. Keep at it. Practice and practice some more.
The more you do something, the better you get at it.
QUESTION: What practice have you gotten much better at over the years that has made your marriage even better?
##
JOIN THE 1,000,000 MEMBER CHALLENGE: If you haven't already done it, what are you waiting for? Join the club! It takes only a few seconds and, of course, is free.
Latest posts by Lori Byerly (see all)
Related Posts
4
By
Fawn WeaverFawn Weaver
November 12, 2017
Top 5 Regrets From the Dying: An Inspirational Article For Us All
43
By
Fawn WeaverFawn Weaver
October 19, 2017
How to Protect Your Marriage During Challenging Times
35
By
Fawn WeaverFawn Weaver
September 16, 2017
5 Unique Ways to Make Your Man Feel Special in 5 Minutes or Less
Recent Posts
By
Fawn Weaver
November 12, 2017
Top 5 Regrets From the Dying: An Inspirational Article For Us All
By
Fawn Weaver
October 19, 2017
How to Protect Your Marriage During Challenging Times
By
Fawn Weaver
September 16, 2017
5 Unique Ways to Make Your Man Feel Special in 5 Minutes or Less