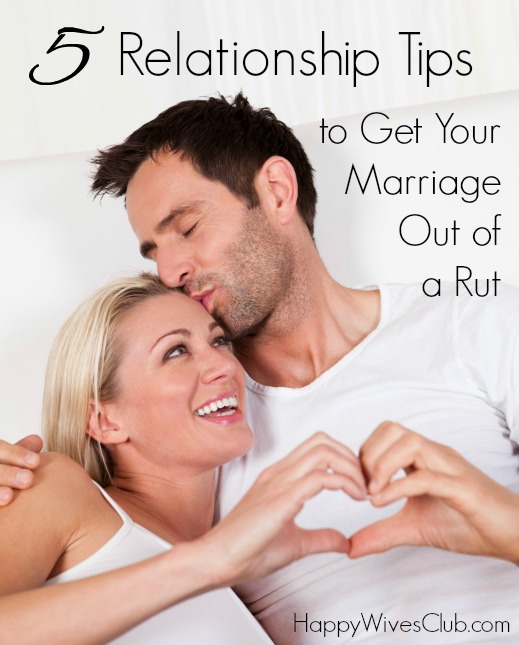 Do you see posts going out from our super active Facebook page and wonder, "Are these wives always this happy?" Truthfully, for many the answer is yes. But when you're among a community of close to a million women, I can confidently say that many of them use posts like the one you're about to read to recharge their relationship on a regular basis. A great marriage doesn't make itself. It's created and recreated day by day.
Psychotherapist, Andrea Cairella, gives us the skinny on how to get your marriage out of a rut.
Until tomorrow…make it a great day!

_______
Do you feel like you and your partner have gotten into the same old pattern? Do your daily interactions lack variety and flavor? Needing some relationship tips? 
It is often said that couples who play together stay together. And sharing common interests with your partner is a great way to keep you engaged and entertained in your relationship.
These 5 relationship tips can help you add some spice and fun back into your relationship.
1. Get physically active: Whether it is going on a bike ride or going on a day trip to a nearby town or city, getting physically active is a great way to change the routine and dynamics in your relationship. Plus getting some exercise reduces your level of stress, improves your mood and alters serotonin levels.
2. Getting Playful and Creative: Maintaining your youthful spirit and childlike nature can keep things light in your relationship. Some additional relationship tips include: having friends over for a game night, being silly and humorous with one another, or getting playful and creative in the bedroom. These activities allow you to have fun with each other and grow closer together, rather than becoming bored and feeling disconnected from the one you love.
3. Be a Lifelong Learner: Take a class together and learn something new. Whether it is taking a dance class, signing up for a cooking lesson or going to an interesting seminar or workshop being mentally engaged with your partner can add vitality to the relationship. Plus it can add some variety to your general topics of conversation.
4. Be Spontaneous and Try Something New: Use your imagination and brainstorm together various activities you would each like to try. Then create a list of places you would like to go (i.e. restaurants, cities, etc.). Then randomly select an event or place each week and have some fun.
5. Have a Date Night Once A Week: Often times when there are children involved, a couples time becomes limited and become impatient with their partner. In order to curb this potential challenge and create some boundaries, it is recommended to establish a weekly date night for the couple to reconnect and add some romance to the relationship. Hiring a babysitter or asking friends and family to give you a night off will allow you to nurture your partner and rekindle the spark on a weekly basis.
If you would like to get additional relationship tips to transform your life and create a relationship you love grab your 3 Part Video Series: Create a Relationship You Love for free today.
With love and gratitude,
Andrea
##
JOIN THE 1,000,000 MEMBER CHALLENGE: If you haven't already done it, what are you waiting for? Join the club! It takes only a few seconds and, of course, is free.

THE BOOK: Read the book that inspired the powerful TED talk and prompted author of The 5 Love Languages, Gary Chapman, PhD., to write the book's foreword. Drs. Les & Leslie Parrott, bestselling authors of Saving Your Marriage Before It Starts said, "We've been counseling couples and writing marriage books for a long time, and we can say with absolute certainty, there has never been a book quite like The Argument-Free Marriage. If you think no such union exists, or if you've come to the conclusion that arguments are necessary in marriage, allow Fawn to challenge that notion and set you on a path to creating the greatest partnership in life: your marriage."