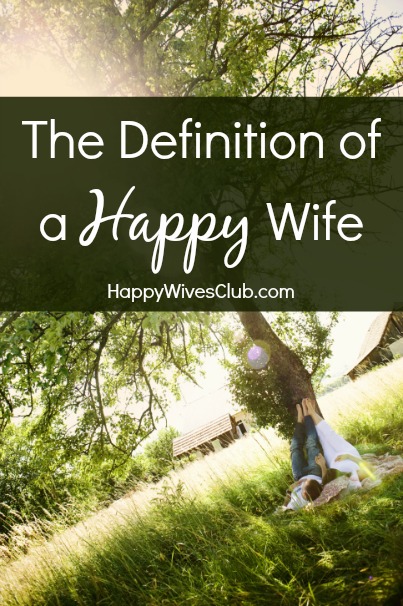 Definition of a Happy Wife
"So my question for you," she asked as tears rolled down her cheeks, "What is your definition of a happy wife?"
This was a few months ago as I was speaking to a group of 200 or so married women.  A beautiful silver haired woman on the second row spoke up during the Q & A portion of my talk.  
She explained that she loved her husband greatly and loved being married.  
"We'll be together until the end.  We committed long ago that we would keep that promise," she said with conviction."  But she had one challenge.  
While I was speaking, every time I'd mention the happily married couples I'd interviewed over the years, and especially the wives, the same question popped into her mind.
While holding the microphone that had been passed around the audience to ask me questions, she revealed the most vulnerable part of herself:
"I truly love my husband.  But if someone were to ask me if I'm a 'happy wife,' I don't know that I would be able answer that question."  As she continued, there was a buzz that began to build in the room.
Finally, when she closed her comment with, "So my question for you is what is your definition of a happy wife," the entire room burst into applause.  
I hadn't realized until that very moment, the entire time I'd been talking about "happy wives," there was a large group of women in the room wondering what that really meant.
I was so happy she asked the question because it allowed me to give this answer:
The definition of a happy wife is the same as the definition of a happy marriage.  It is whatever you define it to be.  Do not compare your marriage or your life as a wife to anyone else.  My version of "happy" may look completely different from yours and that's exactly the way it should be.  
Go to your spouse and say, "What does a happiness in marriage mean to you?"  And then you ask yourself, "What does happiness is marriage feel like to me?"  And those are the only two responses that should matter in answering that question.
Becoming a happy wife doesn't mean everything will be perfect each and every day.  It simply means you make a conscious effort to elevate what is great and to diligently work on everything that subpar.
Being a happy wife doesn't create a buffer against the insensitivities of your spouse.  It just means you've chosen to focus on what he does right more than the errs of his ways.
A happy marriage doesn't shield you from the onslaught of curve balls life may throw at you or cause you to walk around utterly oblivious to the challenges around us all.  It simply means you've found at least one thing in this world you can count on -the unconditional love of your spouse- and you've made a  decision to celebrate that every remaining day of your life.
The definition of a happy wife is whatever you define it to be.  So define it well and enjoy living that out.
Until tomorrow…make it a great day!

JOIN THE 1,000,000 MEMBER CHALLENGE: If you haven't already done it, what are you waiting for? Join the club! It takes only a few seconds and, of course, is free.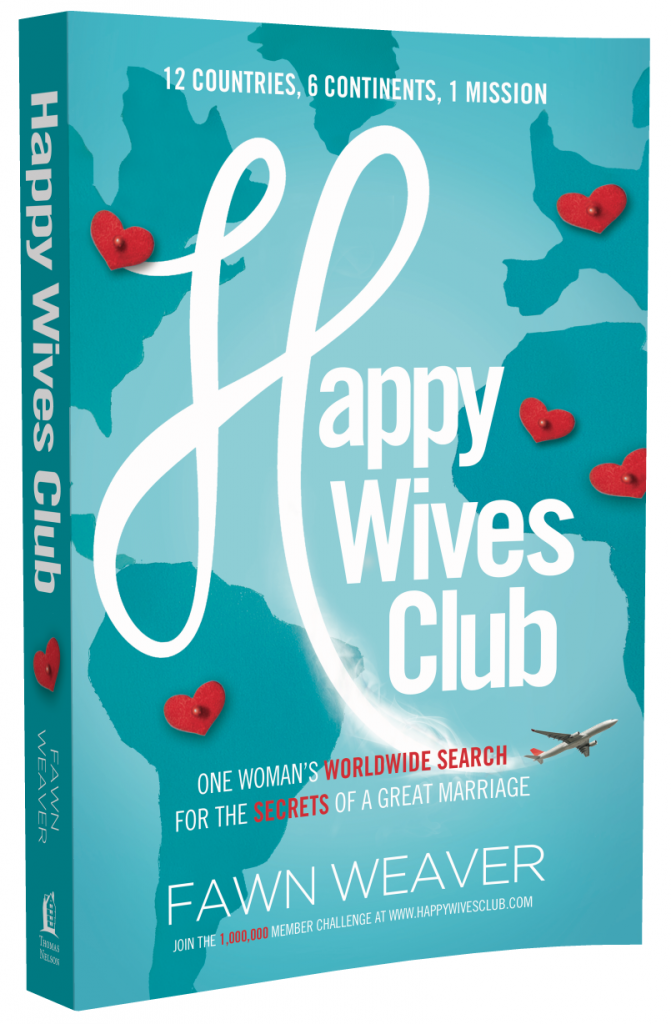 THE NEW YORK TIMES® BEST-SELLING BOOK: It's been described as, "Like Eat, Pray, Love but not down on marriage." Make sure to check out the Happy Wives Club book.  I had the great honor of traveling to 12 countries on 6 continents, interviewing couples happily married 25 years or more, with 1 mission only: to find out what makes marriages happy…and keeps them that way.  It's a marriage book like none other.  Guaranteed.
Fawn Weaver is the USA Today and New York Times bestselling author of
Happy Wives Club: One Woman's Worldwide Search for the Secrets of a Great Marriage
, adopting the same name as the Club she founded in 2010. The Happy Wives Club community has grown to include more than 1 million women in over 110 countries around the world. She's an investor in real estate, tech sector and lifestyle brands. When she's not writing or working, she's happily doting over her husband of twelve years, Keith (and sometimes manages to do all three simultaneously).
Latest posts by Fawn Weaver (see all)
Related Posts
4
By
Fawn WeaverFawn Weaver
November 12, 2017
Top 5 Regrets From the Dying: An Inspirational Article For Us All
43
By
Fawn WeaverFawn Weaver
October 19, 2017
How to Protect Your Marriage During Challenging Times
35
By
Fawn WeaverFawn Weaver
September 16, 2017
5 Unique Ways to Make Your Man Feel Special in 5 Minutes or Less
Recent Posts
By
Fawn Weaver
November 12, 2017
Top 5 Regrets From the Dying: An Inspirational Article For Us All
By
Fawn Weaver
October 19, 2017
How to Protect Your Marriage During Challenging Times
By
Fawn Weaver
September 16, 2017
5 Unique Ways to Make Your Man Feel Special in 5 Minutes or Less