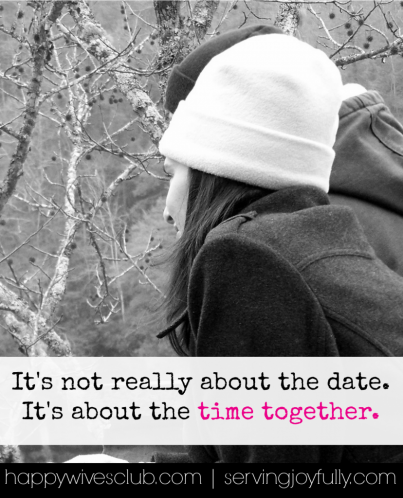 Do You Really Need a Date Night?
I recently attended a marriage conference. A woman with grown children talked about how important it is to have a date night, and I nodded my head in agreement.
But then she went on. "It needs to be something good. You need to get out of the house, and going to Walmart together doesn't count."
When someone mentioned date night at home, she emphatically shook her head. 
I could feel the spirit of defeat in the room. 
So, I just want to say, You do not need a "date night." At least, not in the traditional sense.
Having a date night isn't about an expensive dinner at a fancy restaurant. Don't get me wrong, that's fun sometimes. But for some of us, it just isn't possible.  We have no money and/or no babysitter.
If you're in that season of life where a traditional weekly date night just isn't possible, take heart! It's not about the date, it's about the time spent together.
You don't need a fancy restaurant. You do need quality time together with your spouse. Here are a few ways that my husband and I connect.
Read the Bible Together. Each night after our boys are tucked in bed, my husband and I read a chapter from our Bible and pray together.  Spending time in the word is an excellent way to connect with God and each other, and it also gives us a perfect opportunity to talk about what God is doing in our lives, what He is showing us and where He is leading us.
Talk. This is so simple, yet so important. Make time to spend with your husband, just talking–about something other than disciplining the children and paying bills! In my book, Intentional Marriage, I include a list of 101 conversation questions that you can use to have some fun conversations with your spouse.
Watch a favorite TV show or movie together. Pop some popcorn and snuggle up on the couch. If you're watching a tv show, mute the commercials and spend that time chatting.
Go to bed at the same time. This has always been important to me. Sometimes, the busyness of the day makes it hard to find time to spend together.  Going to bed at the same time is an excellent way to be sure that you have time to connect as a couple.
Do chores together. Now, this might seem like the opposite of spending quality time together, and it can be. Chores can be a drudgery. And if I go into it focusing on that, I might just have a bad attitude. But if I go into it purposing that I'm going to enjoy spending time with my husband, no matter what we're doing, my entire outlook changes.
In addition to these daily things, there are plenty of "dates" you can have with your husband right at home and on a low budget. Check out the date night section right here at Happy Wives Club.
I also have a free printable with over 50 date night idea cards. Most of these ideas are free and many can be done at home!  
What is your favorite way to connect with your husband?
Crystal Brothers is a child of God, wife to a forest ranger, and homeschooling mama to 2 rambunctious little boys. She is so thankful for God's grace and that His mercies are new every morning. She blogs at
ServingJoyfully.com
, where it is her goal to encourage and equip women to serve God and their families with a joyful spirit.
Latest posts by Crystal Brothers (see all)
Related Posts
4
By
Annett DavisAnnett Davis
March 8, 2017
How to Make Date Nights Happen When You're Parents: Kid Swap!!
16
By
Fawn WeaverFawn Weaver
September 28, 2016
The Fun Dare: 12 Dates in 12 Days
2
By
Morgan SimsMorgan Sims
January 18, 2016
9 Date Ideas That Won't Break the Bank
Recent Posts
By
Fawn Weaver
November 12, 2017
Top 5 Regrets From the Dying: An Inspirational Article For Us All
By
Fawn Weaver
October 19, 2017
How to Protect Your Marriage During Challenging Times
By
Fawn Weaver
September 16, 2017
5 Unique Ways to Make Your Man Feel Special in 5 Minutes or Less