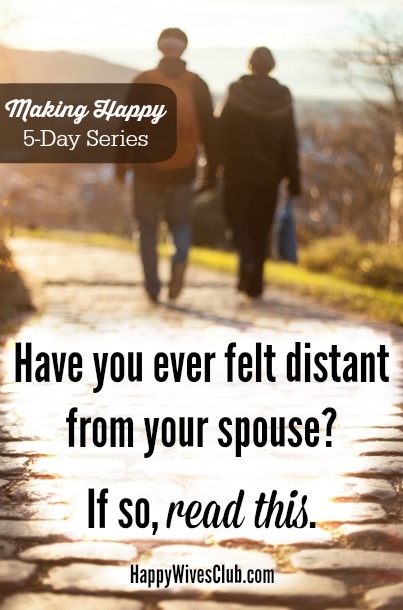 Have You Ever Felt Distant From Your Spouse? Read This!
Today, is the final day of our 5-day marriage series with #1 New York Times best-selling authors, Drs. Les & Leslie Parrott.  
I hope you have truly enjoyed this series.  And if you missed any of the days, I'll include the links here so you can get to them easily:
Day 1: The Fastest Way to Overcome Any Misunderstanding
Day 2: One Thing You Need to Know When Creating Happiness
Day 3: Do You Have an Emotionally Generous Marriage?
Day 4: 5 Proven Happiness Boosters for Couples
And today, they're speaking specifically to those of you who want to be happy but at the moment feel distant from your spouse.
If this doesn't describe you and your spouse, great! Please share this with a wife who can benefit from it.
Until Monday…make it a great weekend!

____________
We were having lunch with Jim and Karen at Chinooks, a favorite restaurant with one of our favorite couples. As we got settled into our booth and were perusing our menus, Jim said he had a question for us: "What makes you cry?"
Les nearly did a spit-take with his glass of water. "What are you talking about?" Les asked, thinking Jim was joking around.
"I'm dead serious," Jim continued. "What pains you right now?"
He went on to say that everyone, if you scratch the surface, has something that could make them cry, if not literally, figuratively.
For Jim, a former football player, it was a relationship struggle he was having with his college-age son.
For Karen it was the painful divorce her sister was going through.
Needless to say, the conversation got serious. I (Leslie) talked about my mom who suffers from brittle diabetes and is facing some tough days ahead. Les said he still wants to cry about not having his dad to talk with, five years after his father passed away.
"Where'd you come up with this question?" Les asked Jim.
That's when Jim and Karen told us about the three questions they'd started asking each other about once a month. They told us these questions were helping them connect at a deeper level than ever before.
We've been using them in our marriage ever since. In fact, they've become such a great tool for us, we've highlighted them in our new book, Making Happy: The Art and Science of a Happy Marriage.
Here they are:
• "What do you dream about?" It's been said that to understand the mind of someone you can look at what they have already achieved. But to understand someone's heart you'll want to discover what they dream about. Do you know what your partner dreams most about these days?
• "What do you cry about?" When you know where your partner carries their pain, what makes them hurt, you can't help but to understand their heart at the deepest levels. What hurts are they carrying right now?
• "What do you sing about?" When you know what brings joy to your partner, you know where they draw their strength. What is your partner singing about this week? What's bringing them the most happiness?
Of course, these three questions don't have to be literal. Just use them to structure a meaningful conversation when the time is right. We've been asking them of each other around the first week of each month. It's been a great way to stay connected.
We can tell you from personal experience, when you have a bit of time and a desire to go deeper, these three questions are sure to take you there.
YOUR TURN:  What questions do you ask your husband to go deeper? You can respond in the comments section below.
##
JOIN THE 1,000,000 MEMBER CHALLENGE: If you haven't already done it, what are you waiting for? Join the club! It takes only a few seconds and, of course, is free.
Drs. Les & Leslie Parrott are #1 New York Times best-selling authors of Saving Your Marriage Before It Starts, Love Talk, Crazy Good Sex, and Making Happy. The Parrotts speak in more than thirty cities annually and they blog about marriage at
LesAndLeslie.com
.
Latest posts by Drs. Les and Leslie Parrott (see all)
Related Posts
4
By
Fawn WeaverFawn Weaver
November 12, 2017
Top 5 Regrets From the Dying: An Inspirational Article For Us All
43
By
Fawn WeaverFawn Weaver
October 19, 2017
How to Protect Your Marriage During Challenging Times
35
By
Fawn WeaverFawn Weaver
September 16, 2017
5 Unique Ways to Make Your Man Feel Special in 5 Minutes or Less
Recent Posts
By
Fawn Weaver
November 12, 2017
Top 5 Regrets From the Dying: An Inspirational Article For Us All
By
Fawn Weaver
October 19, 2017
How to Protect Your Marriage During Challenging Times
By
Fawn Weaver
September 16, 2017
5 Unique Ways to Make Your Man Feel Special in 5 Minutes or Less