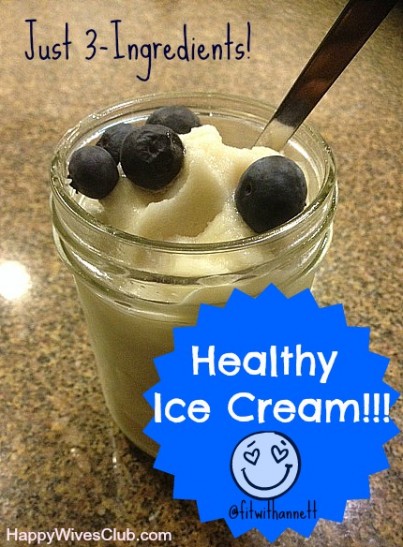 Healthy 3-Ingredient Ice Cream
Being a virtual health and fitness coach I usually don't recommend eating ice cream to my clients. But, it's one of those things that usually are at the top of their list of indulgences.
So what's a coach to do?
Give them what they want!
I believe in not giving up the things we love, but instead figuring out healthier ways to enjoy them.
When I have a client who just "can't live without ice cream", this is the recipe I give them.
Oh and if you can't have diary you're in luck! It's dairy free.

3-Ingredient Ice Cream
Ingredients
Ripe Banana
1 tsp vanilla extract
3 cups ice
In a very good blender (like a Blentec or Vitamix) put all of the ingredients inside. Blend on the ice cream setting or blend until you have the texture of ice cream. 
(If you'd like to level out your blood sugar level you can sprinkle a few sliced almonds on top). Sometimes I add strawberries or blueberries to it as well. Enjoy!
For more easy recipes and fitness tips you can visit me at Fit Moms Fit Kids Club.
Annett Davis is an Olympian in Beach Volleyball. She loves great food and helping people get healthy over at
GetFitWithAnnett.com
. Her favorite topics are marriage and anything fitness related. Being married to her soul mate, Life Coach and author Byron Davis for 16 wonderful years, Annett loves being a homeschooling mom of 2. She blogs over at
FitMomsFitKidsClub.com
, and inspires kids to grandmas to get in shape for life in her private accountability groups.
Latest posts by Annett Davis (see all)
Related Posts
3
By
Annett DavisAnnett Davis
June 17, 2014
Cherry Blueberry Oat Bars
0
By
Kim HallKim Hall
April 17, 2014
Sour Cream Coffee Cake
0
By
Annett DavisAnnett Davis
January 19, 2014
Oh Fudge – it's super easy!
Recent Posts
By
Fawn Weaver
November 12, 2017
Top 5 Regrets From the Dying: An Inspirational Article For Us All
By
Fawn Weaver
October 19, 2017
How to Protect Your Marriage During Challenging Times
By
Fawn Weaver
September 16, 2017
5 Unique Ways to Make Your Man Feel Special in 5 Minutes or Less