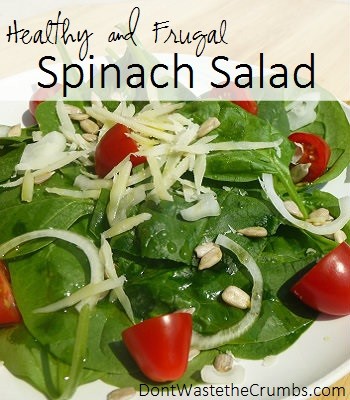 Healthy and Frugal Spinach Salad
Church potlucks are not known for their healthy fare and there's a reason.  When you're making a dish that serves 15-20 people, the cost of ingredients quickly add up. Quality produce and meat can be expensive, so we trim those out. 
Pasta and rice are inexpensive, so we add those in.  Plus, there's the unwritten tradition that potluck dishes are baked and smothered with cheese. 
What we end up with is a very long table, lined up with orange 9″ x 13″ rectangles and everyone playing the "guess what's inside" game.
I strive to bring a vegetable to every potluck, but I'm often low on frugal ideas that feed the masses.  My luck turned one day when I flipped over a bag of kale from Costco. 
The recipe on the bag was inspiring, but honestly, it used expensive ingredients:  sun-dried tomatoes, bacon and pine nuts?  Those are too rich for my potluck budget. 
With some easy substitutions and using ingredients I usually have on hand, I've created a healthy and frugal salad that is just as tasty with plenty of nutrition!
Spinach is a nutrition powerhouse, can be purchased in bulk and extras can be used at home in smoothies. 
Sunflower seeds are a good source of protein and more affordable than many cuts of meat. 
Onion adds a bit of crunch and jazz, while sweet, juicy tomatoes add a bit of fun. 
A sprinkle of Parmesan cheese adds a touch of class!
Be a rebel with me and break the rules.  At the next potluck, let's bring something that's completely opposite of tradition:  fresh, frugal,  green and delicious!  This spinach salad is just what every potluck table needs.  And who knows – maybe this one will spark a new tradition!
Healthy and Frugal Spinach Salad
4 cups of spinach, washed and dried (use this frugal, all-natural produce wash)
1/4 cup sunflower seeds
1/2 cup cherry tomatoes, halved
1/4 cup shredded Parmesan cheese
1/4 red or white onion, sliced thinly
1 cup cooked, chopped bacon (only if the budget allows!)
Dressing
1 clove garlic, crushed
2 Tbsp lemon or orange juice
1/2 cup olive oil (guide for buying/testing quality oil)
salt & pepper
Combine the salad ingredients in a large bowl.  Combine the salad dressing ingredients in a glass jar and shake together vigorously, or in a shallow bowl whisk together well.  Saturate the salad with the dressing and allow to stand for 15-30 minutes for the dressing to permeate the salad.  Toss again before serving.
Have a blessed day!  Tiffany @ Don't Waste the Crumbs
Tiffany
is a frugal foodie, balancing the desire to feed her family healthy food while being a good steward of her finances. She realizes it's possible to eat good food on a small budget if you make baby-sized changes. She works hard at mastering real food without going broke and shares her journey at
Don't Waste the Crumbs
and on
Facebook
.
Related Posts
0
By
Annett DavisAnnett Davis
September 27, 2015
Creamy Garlic Salad Dressing
2
By
Aunt LaLaAunt LaLa
April 24, 2014
Easy Chicken Stir Fry
0
By
Kim HallKim Hall
April 17, 2014
Sour Cream Coffee Cake
Recent Posts
By
Fawn Weaver
November 12, 2017
Top 5 Regrets From the Dying: An Inspirational Article For Us All
By
Fawn Weaver
October 19, 2017
How to Protect Your Marriage During Challenging Times
By
Fawn Weaver
September 16, 2017
5 Unique Ways to Make Your Man Feel Special in 5 Minutes or Less