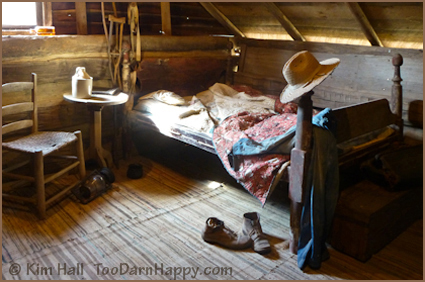 Marvelous Museums of Knoxville, TN – Part 1
East Tennessee boasts a long and rich history of events both tragic and triumphant, from the infamous Cherokee Trail of Tears to the once-secret, now famous city of Oak Ridge. Our family has been interested in learning about these events and more, so we were excited to visit museums during our recent trip to the Knoxville area.
First up was The Museum of Appalachia—a re-creation of an authentic mountain village—just a short drive to Clinton from our hotel. Once on the grounds of the picturesque 63-acre property, you have access to more than thirty historical log buildings, including a saddle shop, smokehouse, cantilever barn, chapel, and the Mark Twain family cabin from Possum Trot.
As you meander around the farm, be prepared to be surprised at the small spaces they called home and the simple implements and supplies they possessed. Take time to marvel at the multiple exhibits including thousands of handcrafted, everyday objects and tools that eased their hardscrabble lives. Slow down to read the informational signs, and take note of the unique vocabulary, including words like jackstraws, whopperjawed, and upping blocks.
Peruse the old, handwritten letters, and learn the sorrowful message of those edged in black. Expect to be delighted at the expansive music section, with its wide assortment of photos, writings and memorabilia harking back to the origins of country music, the eclectic collection of stringed instruments, as well as the general store shelves full of popular products of old, and extensive amount of American Indian artifacts.
When you have finished exploring, the self-guided tour will return you to the gift shop where you began. Set aside time to leisurely roam the store, as there is much to see, smell and taste in their stock of delightful gifts, informative books, and whimsical toys. If you are hungry for some home-style Southern food, make a point to schedule your trip to coincide with lunch. You can visit the café, sit at a table overlooking the grounds, and enjoy free Wi-Fi as well. When you are done with your meal, indulge in one of their famously tempting desserts!
We gave this museum a big thumbs up and could have spent even more time here. The property was well-organized and clean, artifacts well-displayed, information was interesting and illuminating, and the folks were very friendly and helpful. Be sure to visit this treasure trove of history, and as they say at the museum, let the Appalachian past touch your soul!
Have you been here? What did you like best?
Marvelous Museums Part 2 coming soon: American Museum of Science and Energy-It's more than electrifying!
May you find happiness wherever you are! Kim @ Too Darn Happy
Kim Hall created Too Darn Happy with the mission of helping you find happiness in all circumstances through the encouragement of faith, the practice of gratitude, and the discovery of joy, all spun together with fresh perspectives, practical advice, and a personal touch. She recently authored her first ebook, Practicing Gratitude and Discovering Joy-30 Days to a Happier You.
Related Posts
Recent Posts
By
Fawn Weaver
November 12, 2017
Top 5 Regrets From the Dying: An Inspirational Article For Us All
By
Fawn Weaver
October 19, 2017
How to Protect Your Marriage During Challenging Times
By
Fawn Weaver
September 16, 2017
5 Unique Ways to Make Your Man Feel Special in 5 Minutes or Less