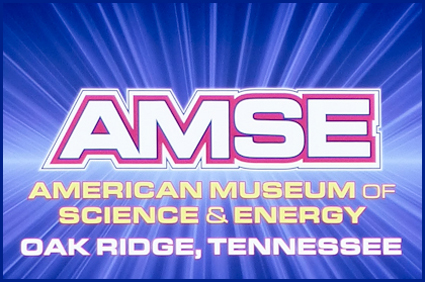 Marvelous Museums of Knoxville, TN – Part 2
We recently visited family in beautiful Knoxville, Tennessee, and were greatly enjoying our role as tourists. The American Museum of Science and Energy had caught our eye, and we decided it was worth the short drive to the neighboring town of Oak Ridge.
However, I did hesitate when I saw the name of this museum. While I adore history, science just doesn't spark my interest, and contrary to the advertised promise—a place where science and history come alive!—I thought the building would be full of yawn-inducing, dusty and dreary exhibits. Happily, I was very wrong.
In addition to areas covering the World of the Atom, Earth's Energy Resources, and the Y-12 Plant and its role in national defense, AMSE houses an extensive collection covering the fascinating history of Oak Ridge, TN. This town was erected seemingly overnight as the home of the Manhattan Project on land the government had taken by Eminent Domain for the war effort. Heartbreaking letters dated in November had been sent to the property owners, carrying the following message:
The War Department intends to take possession of your farm December 1, 1942. It will be necessary for you to move, not later than that date.
Imagine living on a farm that had been in your family for generations, and you were being given weeks to move, without explanation!
The images, memorabilia, writings and recordings create a vivid picture of life in the secretive and secure town of 75,000 inhabitants. You can even wander through a Flat Top, the pre-fabricated houses that populated the city, and enjoy the 1940's ambience of the uniquely designed home.
The story unfolds like a science fiction thriller—an impassioned letter from Albert Einstein to President Roosevelt in August 1939, the purchase of 56,200 acres of land, massive construction of atomic facilities and an entire town, and the procurement of workers assigned to highly compartmentalized tasks—ultimately culminating in the creation and unleashing of the atomic bomb in August 1945.
Once you have made your way through the documents, images and artifacts that make up this interesting and sobering exhibit, take the time to peruse one of the temporary exhibits, or make your way upstairs to the Exploration Station, especially if you have children. As the museum notes: 
This popular area offers self-directed activities which explore light and color, sound, problem-solving, static electricity, robotics, vision and more.
Although we are adults, we enjoyed playing like kids for a while, and got to take part in an electrifying presentation, too.
At $5 per adult ticket, we agreed this museum was a bargain and would definitely recommend a visit!
Be sure to check back for Part 3: Museum of East Tennessee History
May you find happiness wherever you are! Kim @ Too Darn Happy
Kim Hall created Too Darn Happy with the mission of helping you find happiness in all circumstances through the encouragement of faith, the practice of gratitude, and the discovery of joy, all spun together with fresh perspectives, practical advice, and a personal touch. She recently authored her first ebook, Practicing Gratitude and Discovering Joy-30 Days to a Happier You.
Related Posts
Recent Posts
By
Fawn Weaver
November 12, 2017
Top 5 Regrets From the Dying: An Inspirational Article For Us All
By
Fawn Weaver
October 19, 2017
How to Protect Your Marriage During Challenging Times
By
Fawn Weaver
September 16, 2017
5 Unique Ways to Make Your Man Feel Special in 5 Minutes or Less