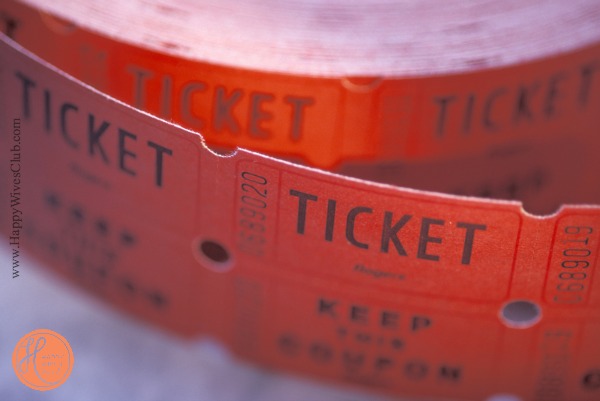 Movie and a Picnic
My husband and I operate on a very tight budget. However, we don't let that keep us from having date night.  Each month we plan to have two date nights. We each take a date night and we are responsible for this date. I thought of what we could do for a cheap date at home. I thought what better thing is it to cuddle up with your honey where you can be comfortable and romantic without any interruptions. 
Items you will need:
Jar/bucket/bowl

Questions to encourage conversation and getting to know each other better

Movie (you already own)

Rose petals (Dollar Tree)

Your own blankets/pillows

Candles (whatever you have around the house)

2 envelopes with instructions

Printed out quotes for the movie

Tickets to the movie (I handmade them)
I Decorated my jar (you can use whatever container your want) and placed the questions in the jar. During the week leading up to the date I would text him little cute messages about our date or little clues. I wrote some questions out and tore them into strips. On the day of our date I sent him an actual invite to his email.  When he arrived home after work I was ready to go. 
We lived across the street from a park. I had packed a little bag with a candle and some apple slices. I also had my jar (That I decorated) that had strips of questions in there that we could ask each other.  We found a table and sat down. I put some music on my phone and lit the candle. We sat there just enjoying each other's company. The questions were great and provided some laughs! 
I told him it was time to move on. 
"There is more?" he asked. Giggle. 
I gave him two envelopes.
#1 Envelope: Money for a cheap lunch. $7 to be exact, pizza and fries ( which is a meal in the movie ..sticking to my theme); His instructions included taking me home and going to get the food.  Open #2 envelope when he arrives back home
#2 Envelope: had his movie ticket in it and instructions to come in
While he was gone I made a romantic picnic scene in the living room. I made a padded area with blankets pillows. I spread the rose petals everywhere. I lit candles around the living room.  I also posted the quotes from the movie in random places and then a movie poster on the door so he would see it before he walked in. Made sure the movie was ready for just to hit play. 
It was a great night! He enjoyed my efforts and felt very special. 
It was a little prep work but worth it! He still says that was his favorite date night ever  
All together this date was under $10! 
Staying Hopeful, 
Lauren @ Aunt LaLa
Employment Facilitator, Student, and blogger
Passionate about her marriage! Loves to encourage wives in their marriages. Juggles being a student, a working woman, being a wife, and Aunt LaLa to her niece and nephews. Loves blogging about life, marriage, infertility, and her faith.
Latest posts by Aunt LaLa (see all)
Related Posts
4
By
Annett DavisAnnett Davis
March 8, 2017
How to Make Date Nights Happen When You're Parents: Kid Swap!!
16
By
Fawn WeaverFawn Weaver
September 28, 2016
The Fun Dare: 12 Dates in 12 Days
2
By
Morgan SimsMorgan Sims
January 18, 2016
9 Date Ideas That Won't Break the Bank
Recent Posts
By
Fawn Weaver
November 12, 2017
Top 5 Regrets From the Dying: An Inspirational Article For Us All
By
Fawn Weaver
October 19, 2017
How to Protect Your Marriage During Challenging Times
By
Fawn Weaver
September 16, 2017
5 Unique Ways to Make Your Man Feel Special in 5 Minutes or Less