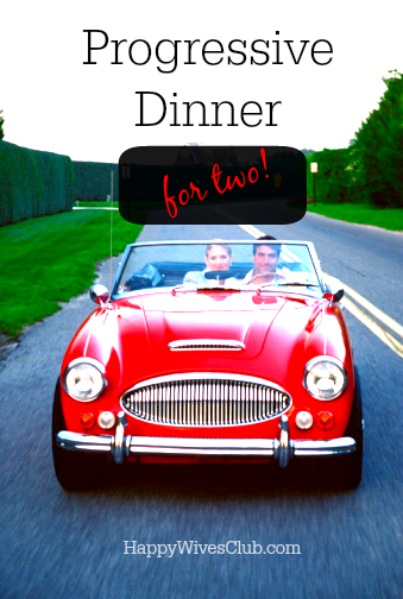 Progressive Dinner for Two!
Today I mentioned on Facebook that I was looking for some fun and creative date night ideas. To my surprise one of the BEST date night ideas that I've ever heard of emerged.
Tricia Callahan, my friend and an awesome blogger over at OnceAMonthMeals.com, gave me permission to share her fabulous date night idea with you.
Have you ever heard of a progressive dinner? It's a fun dinner that you usually have with friends or neighbors. The way a traditional progressive dinner works is that you have a 3 course meal that is spread out over the course of the night.
The catch is, with a progressive party, you don't eat the meal all in one place. Each course is served at someone else's home. For instance, you would have the appetizers at house "A".  Next you'd move down the street to your neighbors home for the main course, which of course will take a couple of hours there. Finally, you go to the last home for dessert.
Well the traditional progressive party has lots of families or couples involved. Tricia's idea just involves two people, you and your man.
So how does it work?
How to Have a Progressive Dinner for Two Date Night:
Make a list of some of your favorite (or new) restaurants. You'll need a list of 9 places in the same general area of town. One set of 3 that have great appetizers, another set that has yummy dinners, and the final 3 that have amazing sweet treats. You will let your hubby choose from the list which places you'll go to (or take turns picking).
Get in you car, and while you are on the way to the appetizer location call in your order for take out! Hop out, go get it, and bring it back to your vehicle.  Use your phone wifi to connect your iPad, computer, or phone and watch your favorite Netflix, Hulu, or Amazon movie or series from the comfort (and privacy) of your own ride.
When you are finishing up your appetizer, pick the dinner location from the list, call in your order, pick it up, eat, and have fun watching your next series episode.  Then repeat again with the dessert location of your choice.
Variations to the night that I thought of, and weren't in Tricia's plan, include having a different activity at each location instead of watching a show. For instance, while you are eating appetizers have a phone game contest, like see who can get the high score on Flappy Birds, or whatever phone craze game is out now.  At your dinner location play a 21 questions game, see if you can find out something new about your spouse that you didn't already know. During dessert you can have on hand your favorite board or card game to play in your vehicle. 
Remember you are in your car and you can go anywhere you like. So, a fun idea could be taking your dessert to the beach, or a mountainside to watch the sunset. 
The possibilities are endless. Make the night light, creative, delicious, and fun!
Comment Below: What's will you do on your progressive dinner for two?
Annett Davis is an Olympian in Beach Volleyball. She loves great food and helping people get healthy over at
GetFitWithAnnett.com
. Her favorite topics are marriage and anything fitness related. Being married to her soul mate, Life Coach and author Byron Davis for 16 wonderful years, Annett loves being a homeschooling mom of 2. She blogs over at
FitMomsFitKidsClub.com
, and inspires kids to grandmas to get in shape for life in her private accountability groups.
Latest posts by Annett Davis (see all)
Related Posts
4
By
Annett DavisAnnett Davis
March 8, 2017
How to Make Date Nights Happen When You're Parents: Kid Swap!!
16
By
Fawn WeaverFawn Weaver
September 28, 2016
The Fun Dare: 12 Dates in 12 Days
2
By
Morgan SimsMorgan Sims
January 18, 2016
9 Date Ideas That Won't Break the Bank
Recent Posts
By
Fawn Weaver
November 12, 2017
Top 5 Regrets From the Dying: An Inspirational Article For Us All
By
Fawn Weaver
October 19, 2017
How to Protect Your Marriage During Challenging Times
By
Fawn Weaver
September 16, 2017
5 Unique Ways to Make Your Man Feel Special in 5 Minutes or Less