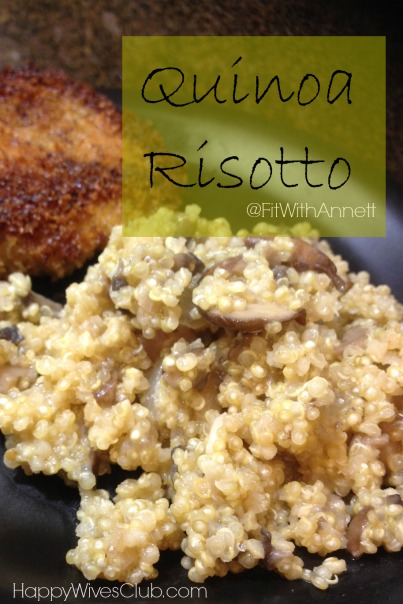 Quinoa Risotto
A few years ago, I played in a volleyball tournament in South Carolina.
It was hot, muggy, and gorgeous.  We made a good showing at the event making it to the semi-finals I believe. I'm not good at remembering my finishes.
What stood out to me more than anything, and is something that I have never forgotten was my first taste of quinoa.
At this particular event the staff of the AVP (the professional volleyball tour that I played for) had hired a fantastic chef to prepare our food. Everything was delicious, and highly nutritious.
It wasn't until last year though that I actually tried to make quinoa and it has become one of my favorite side (or main) dishes.
If you've never tried it, I highly recommend that you do. It can be substituted for rice, and what I love is that it packs a lot of protein.
Quinoa Risotto
Ingredients
4 Tbsp olive oil
8 oz baby bella mushrooms
1 cup quinoa, rinsed
3 cups chicken broth (or veggie broth)
1/3 cup white wine
1 shallot diced
2 cloves garlic, minced
1/4 cup parmesan cheese, grated
salt and pepper to taste
Directions
In a large skillet heat the olive oil over medium heat.  Add the mushrooms and saute until soft (about 5 minutes).  Remove from skillet and set aside.  Add garlic and shalot to pan and saute until they being to soften and turn translucent, about 5 minutes. 
Add quinoa. Stir for approximately 3 minutes.  Lower the heat to simmer, and add the wine cooking until it is absorbed.  Next add 1 1/2 cups broth.  Stir until it is absorbed completely.  After that add the remainder of the broth.  Stir occasionally until broth is absorbed and qunioa germs burst open.  It should taste al dente when done.
Stir in the parmesan cheese and mushrooms, and turn off heat. Cover with a lid and let stand 5 minutes.
What's your favorite risotto?
Annett Davis is an Olympian in Beach Volleyball. She loves great food and helping people get healthy over at
GetFitWithAnnett.com
. Her favorite topics are marriage and anything fitness related. Being married to her soul mate, Life Coach and author Byron Davis for 16 wonderful years, Annett loves being a homeschooling mom of 2. She blogs over at
FitMomsFitKidsClub.com
, and inspires kids to grandmas to get in shape for life in her private accountability groups.
Latest posts by Annett Davis (see all)
Related Posts
0
By
Annett DavisAnnett Davis
September 27, 2015
Creamy Garlic Salad Dressing
2
By
Aunt LaLaAunt LaLa
April 24, 2014
Easy Chicken Stir Fry
0
By
adminadmin
April 10, 2014
Tropical Green Smoothie
Recent Posts
By
Fawn Weaver
November 12, 2017
Top 5 Regrets From the Dying: An Inspirational Article For Us All
By
Fawn Weaver
October 19, 2017
How to Protect Your Marriage During Challenging Times
By
Fawn Weaver
September 16, 2017
5 Unique Ways to Make Your Man Feel Special in 5 Minutes or Less