Happy anniversary!  Can you believe it's been a full year since the Happy Wives Club book was released on January 7, 2014.  Where did the time go?
Since it is, technically, it's birthday or anniversary, or whatever celebratory thing you want to call it, how about we create a brand new -and scrumptiously unique- date idea?
Free date ideas are the best kind in my book. With at least 52 potential weekly date nights in a year, you can never have too many ideas to choose from. And if your hubby is like mine and loves variety, it's a great idea to have a few plans in your back pocket and ready to go.
Today we are combining food, travel, TV, *and* using a little inspiration from the Happy Wives Club book– what's not to love?
One of my favorite parts of the Happy Wives Club book was feeling like I was seeing, smelling and tasting all the places Fawn went to interview happy couples and learn their secrets to happy marriages.
When I was thinking about a FUN and FREE date night idea, I remembered how much fun The Hubs and I have watching House Hunters International and fantasizing about whether or not we would ever live anywhere but home.
Soooo I thought it would be even more fun to go on a fantasy vacation, inspired by the fabulous locales in the Happy Wives Club Book and approved by the hubby!
What you will need:
1. Laptop or Tablet – to cue up the Travel Channel's website.
I suggest taking all the links below and opening them in new tabs, that way they are cued up and ready to go so you have the mechanics out of the way and can snuggle and discuss as you go along the tour.
2. Some yummy food – check out great snack ideas inspired by the book (see links to fabulous recipes at the end of every country I've listed below.)
3. A little conversation – one of my favorite things to do with the hubby is PAUSE THE TV and DISCUSS. Would we want to go there? What do we want to see? Is it a "must-go-before-we-die-place?" or a "would-be-nice-but-eh-place?"
Ready for the World Tour? (You don't even need a passport! Score.)
Cape Town, South Africa –
This one is on my own bucket list. I loved this video because I must admit, I was curious to see the South African version of McDonald's. It does not disappoint.
http://www.travelchannel.com/video/mcfeasting-in-south-africa
The recipes from this fabulous part of the world:
http://www.food.com/recipes/south-african
And who could forget about the red cappuccino's Fawn raved about, and are only served as espresso's in South Africa? Well, this may not be identical but I think we found a way to enjoy the taste without needing to take the flight:
http://capepointpress.com/rooibos-cappuccino-latte/ 
Perth, Australia
When I was a kid Olivia Newton John was one of my idols (thank you, Grease! And yes, it's still the word.) So Australia has been magical and beautiful since I was 13. When Oprah went during her final season, I fell in love with it all over again.
When I was looking for the most viewed videos on Australia it turned out to be a review of their Superman roller coaster.
That reminded me of one of the things I just love about travel – the way you can plan a thousand details and yet a place will surprise you and the last thing you thought you would ever do there turns out to be your favorite part.
So, here is the link to Superman Down Under -
http://www.travelchannel.com/video/superman-flies-down-under
And a little dive into the Great Barrier Reef –
http://www.travelchannel.com/video/dive-into-the-great-barrier-reef-11550
And a little 5 Star Spa Day to relax after all that exploring!
http://www.travelchannel.com/video/lilianfels-spa-and-resort
And we can't forget some great local recipes from down under (or what the locals call "Oz") -
http://www.abc.net.au/perth/recipes/ 
Mauritius –
Since we are half way around the world already, let's just hop over to Mauritius for some "Street Eats" and snacks.
http://www.travelchannel.com/video/mauritian-mash-up
Don't forget to try out some of the fabulous Creole food from Mauritius -
http://www.sbs.com.au/food/cuisine/mauritian
Or you can do what Fawn did when dining with a French couple married more than half a century, enjoy some fabulous (and buttery) French cuisine -
http://www.foodandwine.com/french-recipes
Europe – Rome & London
Let's wrap up our world tour with some Gladiator school in Rome –
http://www.travelchannel.com/video/gladiator-school-in-rome-11153
a mini tour of Rome neighborhoods -
http://www.travelchannel.com/video/romes-neighborhoods-11156
a look around London -
http://www.travelchannel.com/video/taking-a-look-around-london
and finally, the food!
While in Rome…eat as the Romans do: http://www.aboutroma.com/rome-cuisine.html
While in London, authentic fish and chips are a must: http://www.foodnetwork.com/recipes/tyler-florence/english-style-fish-and-chips-recipe.html
Winnipeg, Canada–
According to Fawn, those living in Winnipeg will be the first to tell you there's not a whole lot to do there other than The Forks.  But what they do have and are so proud to share (aside from a beautiful culture and love for family and mastering the art of simplicity): Poutine.  It's so popular, Canadians even tried to make it their official national food.
http://www.saveur.com/article/Recipes/Classic-Gravy-Fries
These are just a few of the 12 countries Fawn visited during her research for the Happy Wives Club book, there's so much fun to see and learn about.
After this date night, always remember that it doesn't take a lot of money to travel the world – just an Internet connection and a little creativity.
Where do you and your spouse want to travel next? Please share in the comments.
We're SO close to our goal! JOIN THE 1,000,000 MEMBER CHALLENGE: If you haven't already done it, what are you waiting for? Join the club! It takes only a few seconds and, of course, is free.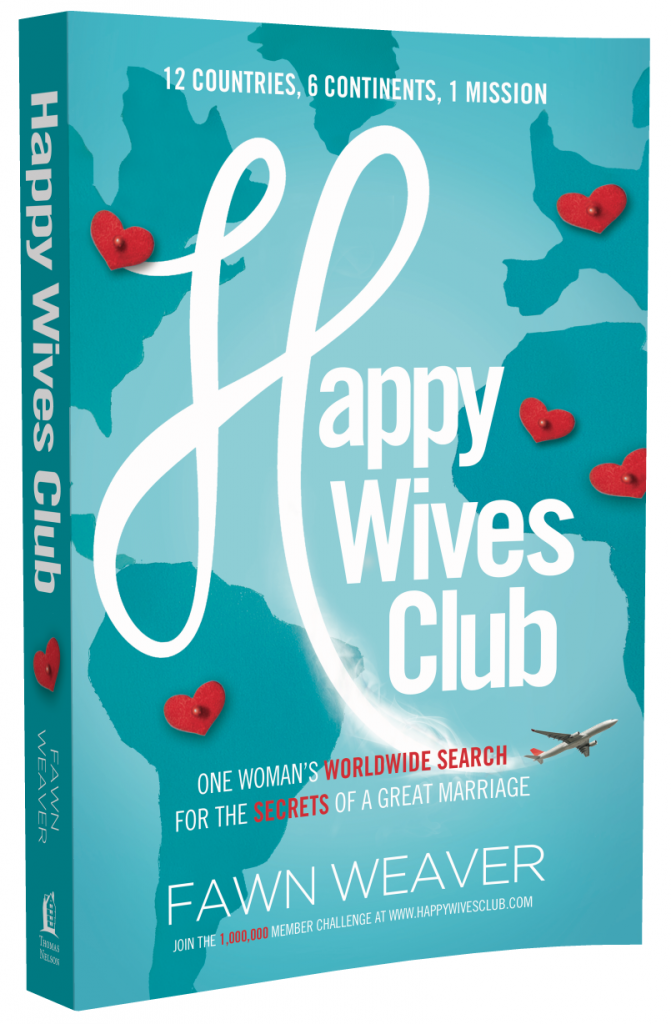 THE NEW YORK TIMES® BEST-SELLING BOOK: It's been described as, "Like Eat, Pray, Love but not down on marriage." Make sure to check out the Happy Wives Club book.  I had the great honor of traveling to 12 countries on 6 continents, interviewing couples happily married 25 years or more, with 1 mission only: to find out what makes marriages happy…and keeps them that way.  It's a marriage book like none other.  Guaranteed.