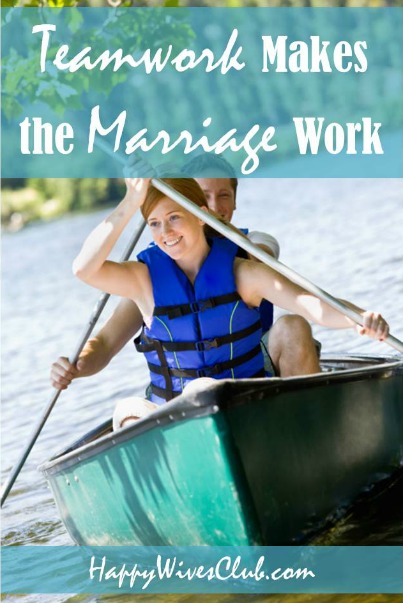 Teamwork Makes the Marriage Work
A mantra often quoted in the corporate world is teamwork makes the dream work.  What I've discovered in my own life is this is even more true when it comes to relationships and marriage.
A couple weeks ago, my Facebook status read, "London for meetings, Chicago for a conference, Bahamas for a wedding, New York for meetings, San Francisco for a friend's 50th birthday – and that's all within the next 4 weeks. Go Team Weaver!"
This is our life.  A bit crazy, utterly hectic, and absolutely wonderful.  We know we can do everything, as long as we do it together.  
Team Weaver is how we're known to our friends.  Over the years, I've truly come to appreciate that title more and more.
I can think back over the past ten years, all the out of reach goals we've set for ourselves, the "unrealistic" dreams we put front and center.  Even some of the prayers we sent up, most would probably think might come back down with, "Uh, are you kidding?"  
But we weren't kidding.  
We have a profound faith in one another.  We have a desire to see the other succeed even more than we desire success for ourselves.
Years ago, my former colleagues invited me to join them for a 5K race for charity.  The company was sponsoring a group of runners and I was asked to be one of them.  Here's the problem.  I didn't know how to run.  
I know, in theory, running is just about putting one foot in front of the other with greater frequency than you might for walking.  
That is in theory.  In reality, nearly every runner will tell you that running is about training; it is about endurance.  It is about learning to breathe properly so you don't get winded.
When I explained why I couldn't join the team, one of the gals said, "Oh, don't worry about any of that. You're only going to need to run one leg of the 5K.  This is a relay."
If we look at marriage as a relay, we can easily see why teamwork makes the marriage work.  You can run at least twice as far.  You can climb at least twice as high.  You can bear at least twice the amount of weight.
Have you ever tried doing a seated leg press on a weight machine at the gym?  It's not my favorite machine, that's for sure, but it is incredibly beneficial for my glutes so I use it every now and then.  When I sit down, place both of my feet on the metal plate and push, I am able to press approximately 250 lbs. But when I reduce the weight to half and attempt to do the same with only one leg, I can't even move the plate.
It would stand to reason that if I press 250 lbs. with both legs, I should be able to press 125 lbs. with one.  But just as that is not the case with this interesting little contraption at the gym, that's not the case in life.  Teaming up with your spouse doesn't just multiply the effort and results by two, it increases your ability to do everything far more than you could possibly think.  
The next time you're shooting for an out of reach goal, team up with your spouse and see how quickly something can go from being impossible to absolutely possible.
Until tomorrow…make it a great day!

JOIN THE 1,000,000 MEMBER CHALLENGE: If you haven't already done it, what are you waiting for? Join the club! It takes only a few seconds and, of course, is free.
MARRIAGE MONDAYS Link Up Party: Bloggers, join us here every third Monday of the month for our fabulous link-up party!  Join us August 19th for our next Marriage Mondays!
Fawn Weaver is the USA Today and New York Times bestselling author of
Happy Wives Club: One Woman's Worldwide Search for the Secrets of a Great Marriage
, adopting the same name as the Club she founded in 2010. The Happy Wives Club community has grown to include more than 1 million women in over 110 countries around the world. She's an investor in real estate, tech sector and lifestyle brands. When she's not writing or working, she's happily doting over her husband of twelve years, Keith (and sometimes manages to do all three simultaneously).
Latest posts by Fawn Weaver (see all)
Related Posts
10
By
Paula RolloPaula Rollo
August 13, 2017
5 Ways to Prepare Your Marriage for a New Baby
13
By
Maggie ReyesMaggie Reyes
May 21, 2017
The Marriage Effect: How Being Married Makes You Happier & How to Keep It That Way
33
By
Christine St. VilChristine St. Vil
March 18, 2017
8 Crucial Things I Would Tell My Younger Self About Marriage
Recent Posts
By
Fawn Weaver
November 12, 2017
Top 5 Regrets From the Dying: An Inspirational Article For Us All
By
Fawn Weaver
October 19, 2017
How to Protect Your Marriage During Challenging Times
By
Fawn Weaver
September 16, 2017
5 Unique Ways to Make Your Man Feel Special in 5 Minutes or Less