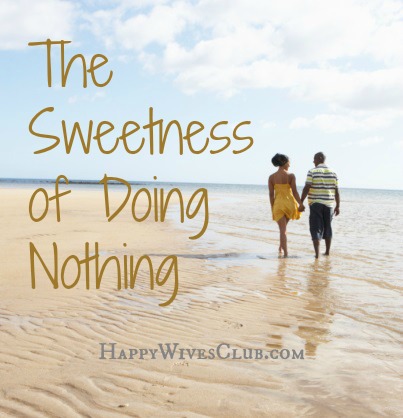 The Sweetness of Doing Nothing
Did you ever see the movie Eat, Pray, Love with Julia Roberts?
There was a line spoken that was so powerful I stopped to write it down mid-movie.
While enjoying a meal with friends in Italy, Robert's fellow dinner guest commented Americans didn't know L'arte di non fare niente. 
Loosely translated, he meant we did not understand nor practice the art of doing nothing. Although he didn't say it, I imagine he also believed we were negligent in the related area of dolce far niente, or the sweetness of doing nothing.  
What could he have possibly meant?
The core of his message for marriages can be found in these words:
Spontaneity.
Refreshment.
Delight in doing something for no reason beyond the joy derived from the activity.
But not in these:
Surfing the internet.
Texting on your cell phone.
Watching mindless television.
It's about your intentions, the flutter of excitement, the shedding of concerns, and the smile that lightens your heart and lights up your face when you take that spur-of-the-moment step hand-in-hand with your spouse.
Last year my husband and I had "separated" because he was away on a work assignment.
I wrote this following a weekend visit:
We have our share of challenges, stumbling blocks, and too many to-do's, and all those nasty goblins had us climbing our four small walls. 
When we stopped to take stock, we knew we needed to change our point of view to change our day.
That's when we heard the Atlantic Ocean calling with weather more suited to mid-summer than early spring. 
While we weren't familiar with the sweetness of doing nothing, we headed to the coast to do just that:
Reveling in temperatures normally reserved for July, we settled into our comfy chairs and closed our eyes. We dozed off to the whooshing heartbeat of the waves as the soft breeze brushed the unseasonably warm sun from our faces.
When we awoke, we strolled, holding hands now and again, along the length of the beach, more than a mile each way from jetty to stone jetty, dropping our cares along the way like so many pebbles in the sand.
Ahhh.
L'arte di non fare niente and dolce far niente!
Create your own list of joy-full activities so you will be prepared for spontaneity when opportunity knocks.
For example, take a walk, play some cards, go bowling, or grab your kayak paddles.
I imagine you'll find the sweetness of doing nothing is even tastier and more satisfying than a yummy Italian gelato on a hot summer's day!
Question: What fun activities are on your list? 
May you find happiness wherever you are! Kim @ Too Darn Happy
Kim Hall created Too Darn Happy with the mission of helping you find happiness in all circumstances through the encouragement of faith, the practice of gratitude, and the discovery of joy, all spun together with fresh perspectives, practical advice, and a personal touch. She recently authored her first ebook, Practicing Gratitude and Discovering Joy-30 Days to a Happier You.
Related Posts
4
By
Annett DavisAnnett Davis
March 8, 2017
How to Make Date Nights Happen When You're Parents: Kid Swap!!
16
By
Fawn WeaverFawn Weaver
September 28, 2016
The Fun Dare: 12 Dates in 12 Days
2
By
Morgan SimsMorgan Sims
January 18, 2016
9 Date Ideas That Won't Break the Bank
Recent Posts
By
Fawn Weaver
November 12, 2017
Top 5 Regrets From the Dying: An Inspirational Article For Us All
By
Fawn Weaver
October 19, 2017
How to Protect Your Marriage During Challenging Times
By
Fawn Weaver
September 16, 2017
5 Unique Ways to Make Your Man Feel Special in 5 Minutes or Less