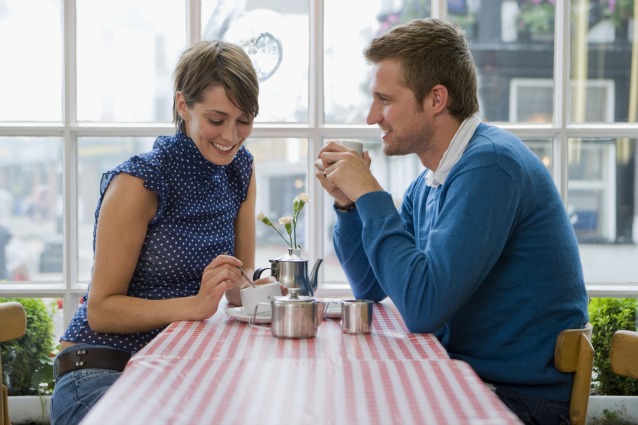 The Top 50 Date-Night Ideas of All Time
You don't always need to be super creative to go on a date with your spouse. Sometimes you just need to be intentional about making time to go out (or stay in!) and simply do something together.
Wander the bookstore
Your Kindle has tons of memory. but it sure isn't good at making them. Take a clue from the scene in Eternal Sunshine of the Spotless Mind when Joel (Jim Carrey) and Clementine (Kate Winslet) continually re-meet and have conversations among the shelves. Our suggestion: Start at the the travel section and get to know each other even better by talking dream trips.
Get physical on the living room floor
"My husband and I have two young kids, so getting out by ourselves is pretty rare," says Rebecca K., 33, of Seattle, WA. "But we do make time to do P90X together three times a week, after the kids are in bed. It keeps us in shape, and it also gets us in a competitive spirit; we always have competitions over who can do the most push-ups!" One more reason why breaking a sweat turns up the heat in your relationship? Studies have found that competition can crank up libido, so keep challenging him on the push-ups.
Venture into the kitchen
"We love Taco Tuesday; we try different main meats and experiment with flavors," says Chicagoan Erin G., 29. "It sounds simple, and we've got the prep-work down to a science, but because we don't have to concentrate on the task at hand, we can really enjoy being with each other."
Head on a (mini) road trip
"Every Saturday morning, my husband and I choose a cool or quirky destination about an hour away from our home and head there," says Amanda F., 31, of Snoqualmie, WA. "It could be a new store, it could be a flea market, or it could be a restaurant, but I've found that the drive itself is an awesome way for us to discuss what's going on in our lives." It turns out that thanks to your seating position, the car could be an ideal place for serious discussions. "Men tend to open up more when you're sitting side by side than face to face," explains James Cordova, PhD, Professor of Psychology at Clark University. This is especially true when you're talking about something heavy, creating a situation in which eye contact could be interpreted as threatening or challenging.
Explore a winery
The go-to activity was made famous in Sideways, but there's lots of not-so-obvious things to do at wineries. More and more are equipped with hiking trails, picnic areas, playgrounds, and even pools, turning vineyards into all-day destinations. Or see if there's one in your city; in some areas, urban wineries are becoming almost as common as local breweries.
Read more: Date Night Ideas – Creative Date Ideas – Redbook
Fawn Weaver is the USA Today and New York Times bestselling author of
Happy Wives Club: One Woman's Worldwide Search for the Secrets of a Great Marriage
, adopting the same name as the Club she founded in 2010. The Happy Wives Club community has grown to include more than 1 million women in over 110 countries around the world. She's an investor in real estate, tech sector and lifestyle brands. When she's not writing or working, she's happily doting over her husband of twelve years, Keith (and sometimes manages to do all three simultaneously).
Latest posts by Fawn Weaver (see all)
Related Posts
4
By
Annett DavisAnnett Davis
March 8, 2017
How to Make Date Nights Happen When You're Parents: Kid Swap!!
16
By
Fawn WeaverFawn Weaver
September 28, 2016
The Fun Dare: 12 Dates in 12 Days
2
By
Morgan SimsMorgan Sims
January 18, 2016
9 Date Ideas That Won't Break the Bank
Recent Posts
By
Fawn Weaver
November 12, 2017
Top 5 Regrets From the Dying: An Inspirational Article For Us All
By
Fawn Weaver
October 19, 2017
How to Protect Your Marriage During Challenging Times
By
Fawn Weaver
September 16, 2017
5 Unique Ways to Make Your Man Feel Special in 5 Minutes or Less