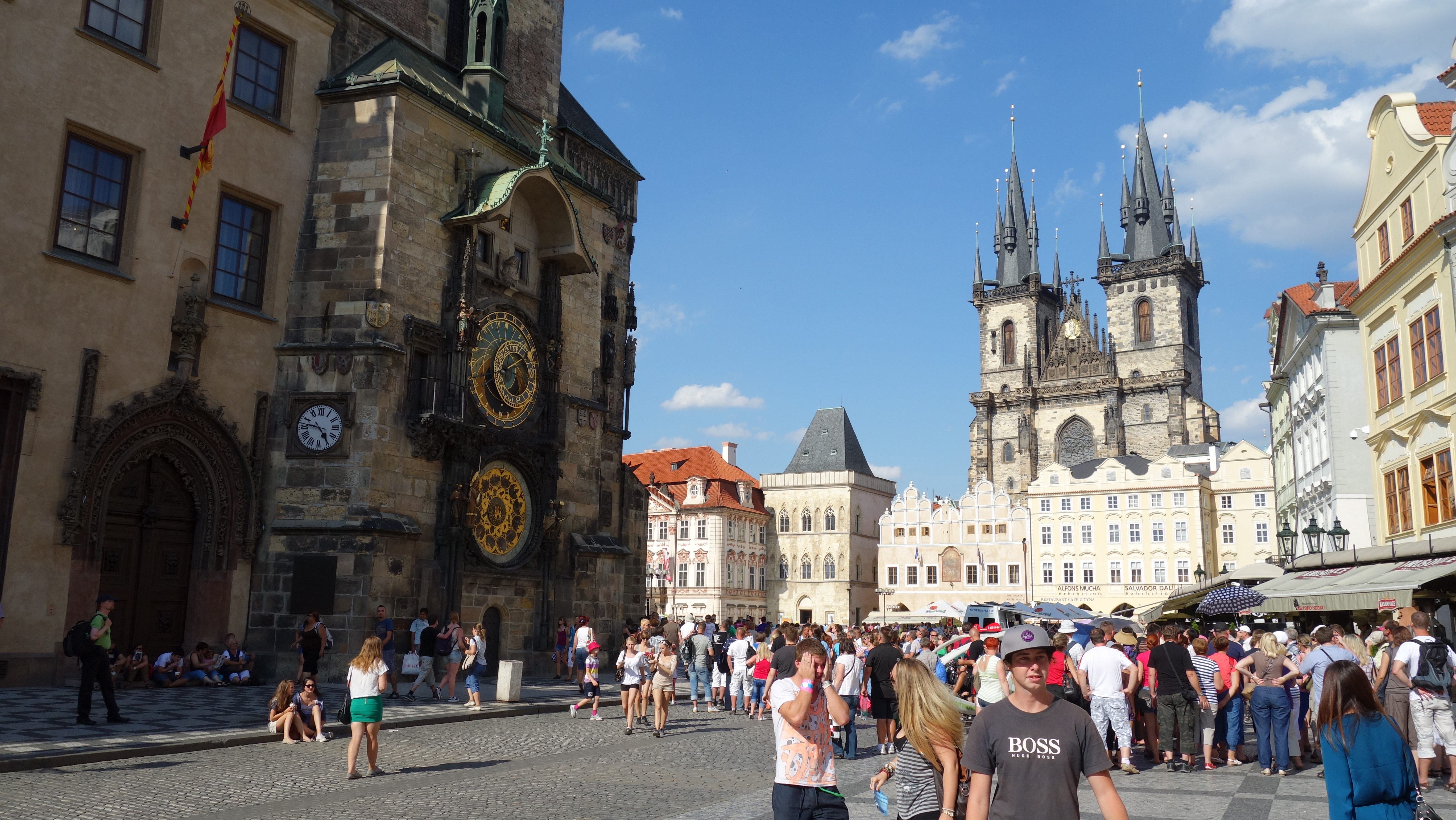 The Write Way to Travel Part 1
One of my favorite places in the world is Prague, Czech Republic. I've visited five times—the first time, in October 2000, I was there with two friends as we research for the books we were writing. The last time I was there was August 2012. (And I'm already scheming of when I can go back!)
Last summer, in Prague, I figured out that the only thing that makes me happier than embarking on a new place with a fold-up map and guidebook is revisiting places off-the-beaten path that have special memories for me. A have a few places in Prague that feel like they're "mine" even though they're a gazillion miles away. Even though they're only "mine" once or twice every few years.
We discovered At the Red Peacock during a mission trip in 2009. We were traveling around with a dozen teenagers, and at every restaurant we stopped to consider someone was displeased with the menu. (They post their menus in the windows for you to check it out.) As we continued on through the cobblestone streets, our hunger grew. Finally, my husband finally declared, "We're going to eat a the next restaurant we see!"
Now, let me set up the situation: We were walking along side roads/allies a few blocks from Old Town Square. We were heading away from the crowds … and all the decent looking restaurants. I was getting more worried by the minute that we were heading into the wrong part of town.
Then, as we stood at a crossroads of two alleys, an oriental lady beckoned to us, calling from the entrance to an even smaller alley. "Come, come. Good authentic, Czech food. Low, low prices!" she declared in a thick accent. And my husband approached her!
With a set of his jaw, he looked at the menu and then directed everyone to join him down the alley! I thought he was joking, but no.
I was prepared to be jumped, but instead the woman led us to a small restaurant. No more than a window and a door that could be seen from the street. Inside, one couple sat in a front area, but the rest of the place was empty. An older waiter stood at the bar and eyed us. The place looked like a front for the Czech mafia or something—right out of the movies.
With not as much as a smile, the waiter led us loud Americans to a side room where we filled two tables. Amazingly, the prices were less than half the price as those in Old Town Square—just a few blocks away. The portions were large and yummy. Needless to say, this is our dining destination any time we're near Old Time Square. (And we've been known to eat there two nights in a row.)
In addition to the great food, there was also a fascinating history behind the Red Peacock. It turns out that it used to be a famous brothel in Prague. The story on the front of the menu states that famous men were seen going "upstairs" numerous times a night. I tried not to think of that while I was eating my pork and dumplings! I've also eaten the Svíčková na smetaně, marinated sirloin served with dumplings and cream. And the schnitzel is wonderful … and huge! (I'm getting hungry as I write this.)
The restaurant looks like what you'd except with heavy wood furniture and a "medieval pub" theme without even trying for it. Another thing to note, in the Czech Republic, they do not have the same public access concerns as we do. There is no handicap access to most places. In the Red Peacock, the stairway to the bathrooms was as steep and narrow as any I've walked down. They'd be outlawed in the states.
But if you're looking for great food, at a good price just a few block from Old Town Square I highly recommend it. And if you want to take me along to be your tour guide, I won't turn it down! (I hope you don't mind my hubby and kids trailing along. They happen to love Prague as much as I do.)
Tricia Goyer is a USA Today Bestselling author of 35 books who's traveled the world and interviewed everyone from crusty old cowboys to World War II veterans to discover the true stories behind her historical novels. She co-wrote her newest book, Lead Your Family Like Jesus, with NY Times Best-selling author Ken Blanchard. Tricia's a mom of six, avid blogger, and mentor to teenage mothers. You can find out more about Tricia at www.triciagoyer.com or listen to her radio podcast at: www.toginet.com/shows/livinginspired
Latest posts by Tricia Goyer (see all)
Related Posts
0
By
Lori FergusonLori Ferguson
September 3, 2015
5 Tips to Travel Well as a Couple
1
By
Tricia GoyerTricia Goyer
March 16, 2014
Best Places to Spread Out a Spring or Summer Picnic
4
By
Tricia GoyerTricia Goyer
February 23, 2014
5 Must-See Places in {or Near} Glacier National Park
Recent Posts
By
Fawn Weaver
November 12, 2017
Top 5 Regrets From the Dying: An Inspirational Article For Us All
By
Fawn Weaver
October 19, 2017
How to Protect Your Marriage During Challenging Times
By
Fawn Weaver
September 16, 2017
5 Unique Ways to Make Your Man Feel Special in 5 Minutes or Less