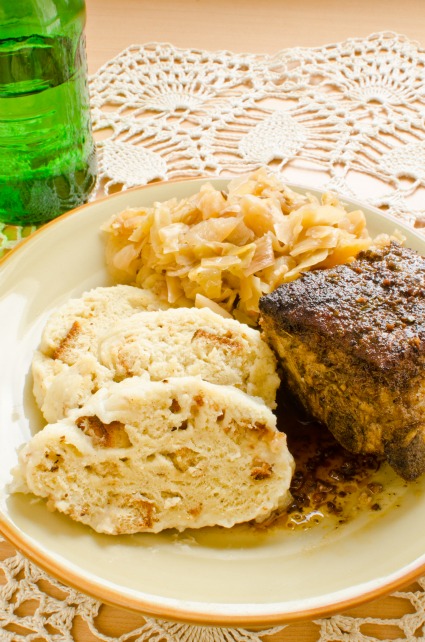 The Write Way to Travel Pt 2
Travel tips for eating in Prague, The Czech Republic
My first meal in the Czech Republic was in 2000. I was there with two author friends Anne de Graaf and Cindy Martinusen Coloma. We were researching for novels. (Wait, let me take that back.) They were researching for novels. I was along for the ride. Little did I know as I ate Czech goulash that the next day God would drop the idea for my first novel From Dust and Ashes into my lap.
We sat outside, just a spoon's throw from the Prague astronomical clock and I couldn't believe I was there, enjoying this view with two friends. The night was quiet and the food was amazing. We probably picked one of the most expensive places to eat, but it was worth the memory! (Besides in 2000 the exchange rate was great!)
I've picked up a few pointers about eating in Prague since then. I thought I'd share them with you:
If you can help it, don't eat near the major tourist attractions. A bottled soda near St. Vitus Cathedral cost us $6.00. A nice dinner in Old Town Square will be four times as much as a meal just a few blocks away.

Dumplings are one of the mainstay of Czech cuisine. You will find them on every menu. They are either wheat or potato based. A traditional Czech meal consists of dumplings, meat (pork or beef), and cabbage.

For dessert also try sweet, fruit dumplings or apple strudel

Try the ice cream! Zmrzlina is delicious. It's Italian style and comes in a variety of flavors. The scoops are small, so try a few. As with the meals, the farther you go from the tourist attractions, the cheaper your zmrzlina is.
Unlike American restaurants you do have to pay for extras like bread at your table or ketchup at McDonalds. If you don't want the bread send it away before the basket is set down and they won't charge you.

Most restaurants do not serve tap water. Bottled water comes with gas (mineral) or no gas. Usually soda is cheaper. Beer is the cheapest. (Of course, I'm not a beer drinker.)

America sodas may be on the menu, but they come in small bottles and they taste slightly different. You cannot take the bottles for a souvenir!

Restaurants do not serve drinks with ice. The only place you'll find ice is at American fast-food places like McDonalds or KFC. (Which are both popular there.)

Also unlike in America, servers do not depend on tips for their income. In tourist areas servers might hope for an "American" tip, but for the Czechs common tipping includes rounding up the amount to the nearest 5 or 10 crowns. Over tipping is considered prideful or showy.

In restaurants near tourist destinations most waitstaff speak English or there are photographs of the food. Also most places have English menus although the grammar might be interesting. (Pointing at the menu works, too.)

Czech waitstaff may seem dour, but Czechs overall don't smile as much as Americans—don't be offended.

Credit cards are accepted in restaurants near top tourist destinations, but if you're beyond that expect to use cash.

Czechs are reserved in restaurants. It is easy to spot Americans … they're the loud ones in the establishment! Try to be quiet.

Expect a meal to take time. Americans are used to getting in and getting out, but in Europe the fellowship with the others at the table is as important as the food. Don't be in a rush.
Have you eaten in the Czech Republic? What have you learned?
Tricia Goyer is a USA Today Bestselling author of 35 books who's traveled the world and interviewed everyone from crusty old cowboys to World War II veterans to discover the true stories behind her historical novels. She co-wrote her newest book, Lead Your Family Like Jesus, with NY Times Best-selling author Ken Blanchard. Tricia's a mom of six, avid blogger, and mentor to teenage mothers. You can find out more about Tricia at www.triciagoyer.com or listen to her radio podcast at: www.toginet.com/shows/livinginspired
Latest posts by Tricia Goyer (see all)
Related Posts
0
By
Lori FergusonLori Ferguson
September 3, 2015
5 Tips to Travel Well as a Couple
1
By
Tricia GoyerTricia Goyer
March 16, 2014
Best Places to Spread Out a Spring or Summer Picnic
4
By
Tricia GoyerTricia Goyer
February 23, 2014
5 Must-See Places in {or Near} Glacier National Park
Recent Posts
By
Fawn Weaver
November 12, 2017
Top 5 Regrets From the Dying: An Inspirational Article For Us All
By
Fawn Weaver
October 19, 2017
How to Protect Your Marriage During Challenging Times
By
Fawn Weaver
September 16, 2017
5 Unique Ways to Make Your Man Feel Special in 5 Minutes or Less