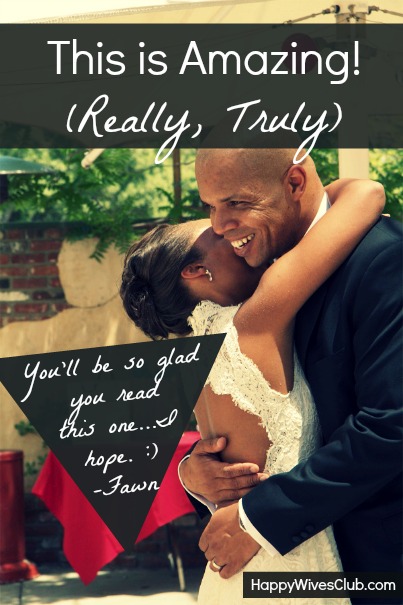 This is Amazing! (Really, Truly)
(This amazing man married me 11 years ago)
When I sat down to write this post, I looked at the title and thought, "That's not SEO friendly at all!"  If you're not familiar with "SEO," it's just a techie acronym that describes what most of us online writers do our best to pay attention to when titling our articles.
But here's the thing.  I truly couldn't think of another title because this is amazing.  
You probably remember when I released Happy Wives Club a year ago.  It was a book about my journey to 12 countries and 6 continents, to interview couples happily 25 years or more, to deduce the common denominators.  
It was most certainly the journey of a lifetime for me and changed every aspect of my marriage for the better.  I did my best to bring every reader, especially the members of this community, with me.
You may also remember the book debuted at #3 on the New York Times Best Sellers list and somewhere on the USA Today Best Seller list (I can't quite remember the rank)..
So why am I reminiscing about the past?  Well, because it became present again earlier today when the book ranked #35 in all Amazon electronic books, #1 in Marriage eBooks and #2 in Relationships eBooks.
As of the moment I'm writing this, Happy Wives Club is nestled a few spots above Mockingjay (Hunger Games).  Not bad company, eh?  I told you this was A-mazing!
How did this happen almost an entire year after it's initial release?  Well, my publisher had this brilliant idea to team up with Amazon Kindle, B & N Nook, Apple iBooks and Google Play to offer the book for $0.99.  Yes, you read that right…the book in its entirety for $0.99.
But here's the catch: it's only available for the next 24 hours….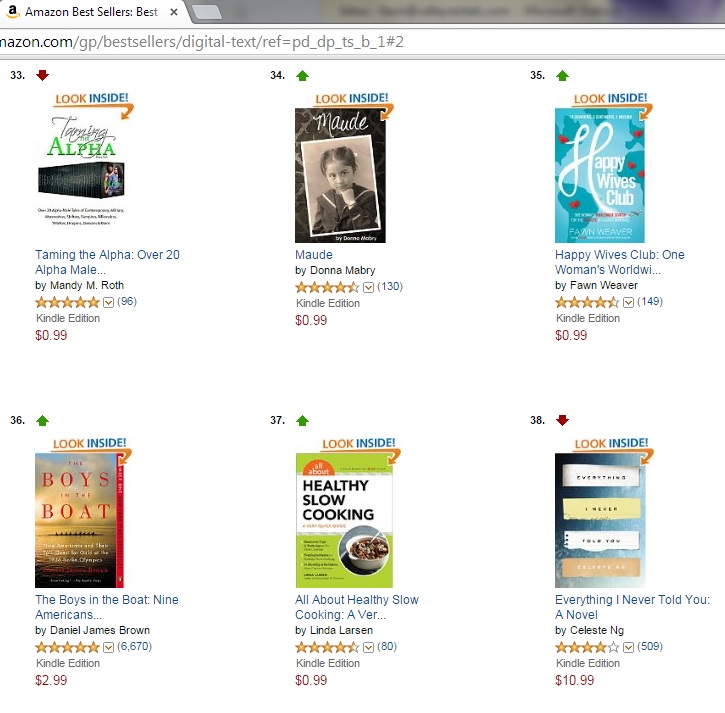 I'm a terrible salesperson.  If you know me well, you know I don't enjoy selling at all.  I love to give.  It is what I was placed here to do above all else: to love and be loved.  Sell?  Not so much.  So rather than giving you all the reasons you should go and snag this book, I'll just share three things:
1. I appreciate you whether you purchase the book or not and am so grateful you are a part of this community.  The book itself is a huge part of what has supported this community the past couple years and hopefully will continue to do so.
2. My publisher is hoping the book will crack into the Top 10 on Amazon (I am too

) because something incredible happens at that point (which I don't fully understand so I won't try to explain it here – but trust when I say if it happens, it's pretty awesome).
3. The eBook has never been on sale (to my knowledge) in the entire year it's been out and I don't know that it will ever go on sale again.  So picking it up today, if you so desire, would be an incredibly smart thing to do.
So that's it.  My best attempt at a sales pitch.  I'd be honored if you grabbed a copy of the eBook (and I'll make sure to let you know if we break into the Top 10 as you would be the reason that happened).  But know that whether you do or whether you don't, you are loved and appreciated.
Until tomorrow…make it a great day!

JOIN THE 1,000,000 MEMBER CHALLENGE: If you haven't already done it, what are you waiting for? Join the club! It takes only a few seconds and, of course, is free.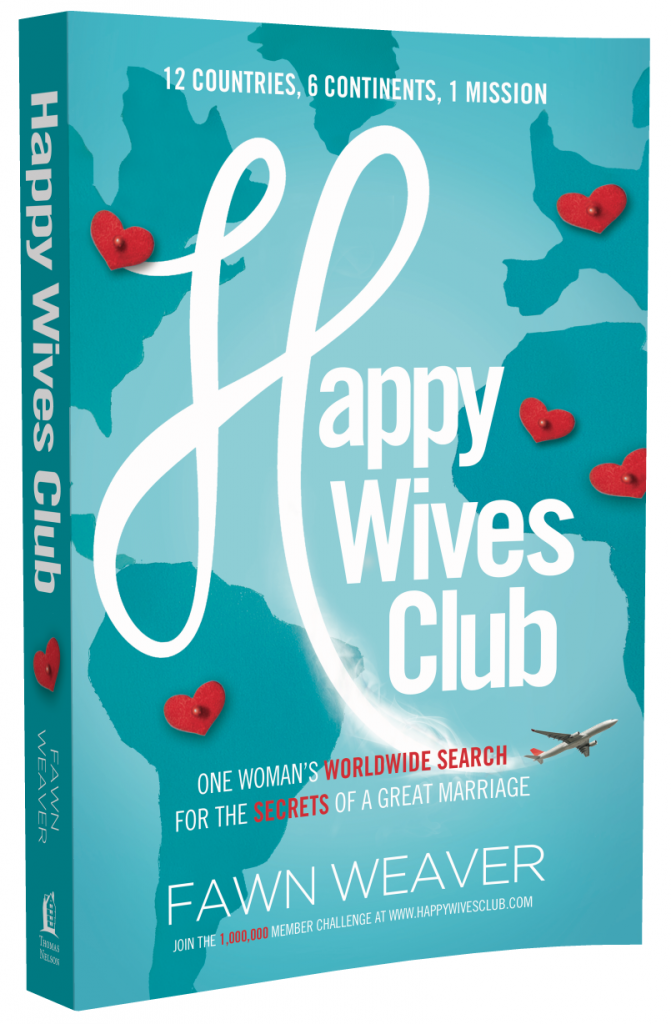 THE NEW YORK TIMES® BEST-SELLING BOOK: It's been described as, "Like Eat, Pray, Love but not down on marriage." Make sure to check out the Happy Wives Club book.  I had the great honor of traveling to 12 countries on 6 continents, interviewing couples happily married 25 years or more, with 1 mission only: to find out what makes marriages happy…and keeps them that way.  It's a marriage book like none other.  Guaranteed.
Fawn Weaver is the USA Today and New York Times bestselling author of
Happy Wives Club: One Woman's Worldwide Search for the Secrets of a Great Marriage
, adopting the same name as the Club she founded in 2010. The Happy Wives Club community has grown to include more than 1 million women in over 110 countries around the world. She's an investor in real estate, tech sector and lifestyle brands. When she's not writing or working, she's happily doting over her husband of twelve years, Keith (and sometimes manages to do all three simultaneously).
Latest posts by Fawn Weaver (see all)
Related Posts
4
By
Fawn WeaverFawn Weaver
November 12, 2017
Top 5 Regrets From the Dying: An Inspirational Article For Us All
43
By
Fawn WeaverFawn Weaver
October 19, 2017
How to Protect Your Marriage During Challenging Times
35
By
Fawn WeaverFawn Weaver
September 16, 2017
5 Unique Ways to Make Your Man Feel Special in 5 Minutes or Less
Recent Posts
By
Fawn Weaver
November 12, 2017
Top 5 Regrets From the Dying: An Inspirational Article For Us All
By
Fawn Weaver
October 19, 2017
How to Protect Your Marriage During Challenging Times
By
Fawn Weaver
September 16, 2017
5 Unique Ways to Make Your Man Feel Special in 5 Minutes or Less