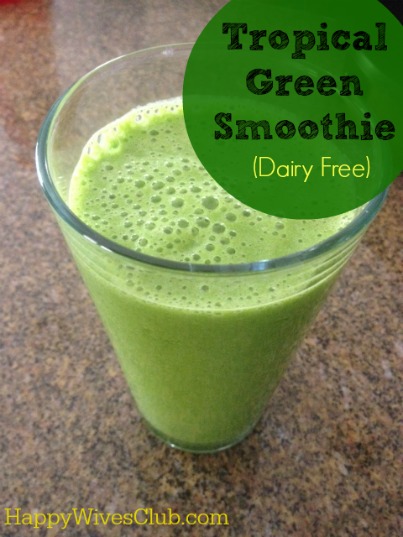 Tropical Green Smoothie
Today in Southern California, where I live, the temperature is 92 degrees!  I'm a little north of Los Angeles, and we are having a mini heatwave. 
On days like this I try not to turn on the stove or oven.  I like to eat cool salads dressed with homemade citrus dressing.  Or, I like to enjoy cool and sweet fruit and green smoothies.
Most of my friends are used to the smoothies from popular juice chains that are filled with nothing but fruit and yogurt. But, if you have a a blender you can throw in some greens and make an even healthier treat (without the dairy).
I joined a 30 day green smoothie challenge a couple weeks ago.  To be honest, I was a little scared of how these green smoothies would turn out because I really didn't want to chew my juice.  Having a juicer that extracts all of the excess fiber means that my juice comes out smooth just like it would if you were buying it in a bottle from the store. To my surprise, the first juice I blended in my Blendtec blender was great!
Being the type of gal who loves to share what she learns, here's one of my favorite recipes from the challenge with my own tangy twist.
Tropical Green Smoothie
Ingredients:
2 cups cold water
2 cups spinach
1 cup ripe fresh pineapple
1 orange (peeled)
1 ripe banana
1/4 cup unsweetened coconut flakes
1/4 lime (peeled)
Directions:
Pour water, coconut flakes, and spinach into blender.  Blend until smooth (no chunks).  Next add pineapple, orange, banana, and lime.  Blend until smooth.  If you wish you can add 1 cup of ice and blend to a smoothie texture, or serve over ice.
Enjoy!
Comment:  What's your favorite Green Smoothie Recipe?
Related Posts
0
By
Annett DavisAnnett Davis
September 27, 2015
Creamy Garlic Salad Dressing
2
By
Aunt LaLaAunt LaLa
April 24, 2014
Easy Chicken Stir Fry
2
By
Annett DavisAnnett Davis
March 20, 2014
Quinoa Risotto
Recent Posts
By
Fawn Weaver
November 12, 2017
Top 5 Regrets From the Dying: An Inspirational Article For Us All
By
Fawn Weaver
October 19, 2017
How to Protect Your Marriage During Challenging Times
By
Fawn Weaver
September 16, 2017
5 Unique Ways to Make Your Man Feel Special in 5 Minutes or Less