Why I Stopped Celebrating Valentine's Day
Don't judge me, okay? This will likely sound odd coming from the founder of a club dedicated to awesome marriages and happy wives. But Keith and I don't celebrate the one date each year couples generally go all out to show one another how much they care.
Our first…and last Valentine's Day we celebrated together was February 14, 2004. We flew to San Francisco, the place where Keith got on one knee and proposed at Fort Point overlooking the Golden Gate Bridge. Keith meticulously planned this special Valentine's Day which culminated in a delightful six-course meal at Fleur De Lys.
The restaurant was redecorated with red velvet drapes throughout to celebrate the hundreds of couples enjoying the romantic evening. The menu was specially designed and had printed all over the white translucent cover in red script, "Love is Patient. Love is Kind. Love Never Fails." The most beautiful menu design I've ever seen. I still have it to this day. At the end of the night, I was given an elegant green box with a green and black bow wrapped around it. It looked like a ring box but once opened revealed delectable French chocolates.
I don't recall enjoying a more wonderful meal at a restaurant in all my life. That was, until the bill came.
Keith tried to hide it from me but I'm far too good at reading things upside down. WHOA! I won't tell you the damage but let's just say that was one pricey meal.
Leaving the restaurant with my flowers, chocolates and a full tummy it finally hit me. This must have cost Keith a fortune! So on that beautiful San Francisco night in 2004, I expressed to Keith my sincerest appreciation for an amazing night. I'd waited my entire life for a special Valentine's Day (I was the somewhat unattractive kid in school who didn't get any candy grams from boys or asked out on dates) and once it happened, I quickly decided it was far too expensive. And crowded. And overrated.
I asked Keith that night if we could celebrate Valentine's Day every day…except on February 14th. He agreed and we've celebrated Valentine's Day every day since. Well, every day except "the day."
QUESTION: Do you and your husband celebrate Valentine's Day? If so, what's on your agenda for this year (don't let my decision not to celebrate the holiday impacts yours – it's still a very cool day dedicated to love)?
Until tomorrow…make it a great day!
Why I love my husband (the never-ending list):
143. Tomorrow, I will be flying home. Tonight, Keith is flying out. We will be on two separate sides of the country on Valentine's Day and yet I will never feel as though I'm not overwhelmingly loved.
144. When either of us our traveling, he'll begin each day with a text message that simply says, "Good morning beautiful. I love you!"
145. He wants to look good for me so as the years progress he fights mother nature and father time to look amazing and to have enough energy to hang with his bride that's five years younger.
146. He works incredibly hard so I don't have to work quite as hard (even though I still do because don't know anything else).
147. Before I left, he took the 5 Minute Challenge and gave me a letter with everything he would say if he only had 5 minutes left on earth. Priceless.
Join me in creating your own Why I Love My Husband list and share it on your Blog, Facebook, Twitter or Pinterest pages. Just grab the button below and tell everyone all the reasons you love, adore and cherish your husband.
COMMENTS: With more than 90,000 Happy Wives Club members already actively engaged on our Facebook Community page, what better place to share your thoughts? Join me there and let's continue the conversation.
JOIN US: If you haven't already done it, what are you waiting for? Join the club! It takes only a few seconds and, of course, is free.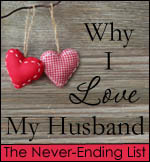 Fawn Weaver is the USA Today and New York Times bestselling author of
Happy Wives Club: One Woman's Worldwide Search for the Secrets of a Great Marriage
, adopting the same name as the Club she founded in 2010. The Happy Wives Club community has grown to include more than 1 million women in over 110 countries around the world. She's an investor in real estate, tech sector and lifestyle brands. When she's not writing or working, she's happily doting over her husband of twelve years, Keith (and sometimes manages to do all three simultaneously).
Latest posts by Fawn Weaver (see all)
Related Posts
4
By
Fawn WeaverFawn Weaver
November 12, 2017
Top 5 Regrets From the Dying: An Inspirational Article For Us All
43
By
Fawn WeaverFawn Weaver
October 19, 2017
How to Protect Your Marriage During Challenging Times
35
By
Fawn WeaverFawn Weaver
September 16, 2017
5 Unique Ways to Make Your Man Feel Special in 5 Minutes or Less
Recent Posts
By
Fawn Weaver
November 12, 2017
Top 5 Regrets From the Dying: An Inspirational Article For Us All
By
Fawn Weaver
October 19, 2017
How to Protect Your Marriage During Challenging Times
By
Fawn Weaver
September 16, 2017
5 Unique Ways to Make Your Man Feel Special in 5 Minutes or Less