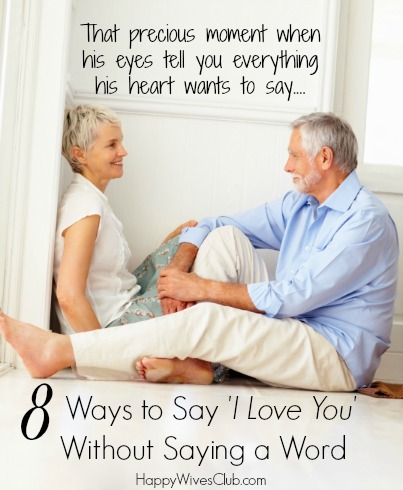 8 Ways to Say 'I Love You' Without Saying a Word
I'm going to go out on a limb here and say there are some of you whose husbands are like mine.  
Those who are loving, compassionate, kind, gentle  and constantly giving.  But who at times, especially after a challenging day, want nothing more than to feel how much they are loved.  
It took me a little while to figure this out but feeling loved and hearing "I love you" are two very different things.  And some men (well, most men) have days when they -as John Gray so wonderfully put it- need to go into their cave.
Men are wired differently and it took me several years of marriage to truly appreciate to what extent.  But they are also very similar to us in many ways.  
Although some may never say, "I need to be held right now," or "my ego is fragile at this moment," those feelings are no less real just because they aren't verbalized.
There are times when your husband needs an empathetic sounding board; an ear to listen.  And there are times when momentary silence will give him an even greater comfort.  An ability to be alone with his thoughts and yet still know he's not alone.
There are many ways to say 'I love you' without saying a word.  Here are the eight I use most often: 
Massage his neck and shoulders.  Most of us carry stress in our neck, back, and shoulders.  I'm not a pro so I stick to the areas easiest for me to massage.  Once he's taken a seat on the couch or in a chair, I'll stealthily come behind him and gently begin massaging his neck and shoulders.  This tells him, "I'm here for you," and allows me to be nearby until such time as he feels like talking about whatever difficulty he experienced that day.
Short kiss behind his ear.  This one goes hand in hand with the neck and shoulder massage.  I'm not sure what it is about that area near the ear, but it relaxes my hubby almost instantaneously.  If I give him a small peck behind the ear and see him close his eyes or a glimpse of a smile, I know it's relaxing him and so I'll also kiss his earlobe, neck, cheek, etcetera.
Stroke the back of his head.  Now, I don't know if this works the same for those with long hair.  My husband has kept a bald (or low shaven) head the entire 10 years we've been married.  Stroking his head, in the direction his hair grows (I'm careful not to go against the grain as that feels odd to him), calms him tremendously and, again, reminds him I'm right by his side.
Intertwine your fingers with his.  There is never a bad time to hold hands.  The hubs and I probably hold hands when we're alone even more than we do in public.  Holding hands isn't just for when you're out and walking around.  Intertwining your fingers with his while riding in the car, relaxing on the couch or sitting at the table, is an ever present reminder that you're there for him, especially in his greatest times of need.
Pour a glass of [fill in the blank] and take it to him.  My husband loves a great Sauvignon Cabernet so grabbing two glasses and bringing one over to him allows us to do two things: 1) Raise our glasses together to remind us of how grateful we are for this life; and 2) Gives us both a chance to relax together (and I can think of few things more relaxing than a smooth glass of Cab).  For your hubby, it might be tea or some other drink that is soothing. All that matters is it's whatever he enjoys sipping the most.
Spoon him.  I must admit, spooning is one of my absolute favorite things to do (if the hubs reads today's post, this is the point in which he'll say, "you can say that again!").  As is the case with most women, we're usually the inside spoon.  But sometimes being the outside spoon is the one thing that will help him fall asleep and rest peacefully throughout the night.
Resist the temptation to give the answer.  Have you seen this hilarious video about the woman with the nail in her forehead and her significant other trying to give her what seems like obvious advice?  Well, this goes both ways.  Sometimes we're the ones who want to "fix" the problem and the only thing our spouse needs is a listening (and empathetic) ear.
Do something he'd least expect.  Is there something he'd love but absolutely wouldn't expect you to do?  For instance, I'm the worst when it comes to washing my car.  It's just never been important to me.  But Keith loves both of our cars to be clean.  So one day, without him knowing, I took his car to be washed and filled it with gas and then returned home and picked up my car and did the same.  Something so small meant to much because it was truly the last thing he'd expect from me.
Until tomorrow…make it a great day!

JOIN THE 1,000,000 MEMBER CHALLENGE: If you haven't already done it, what are you waiting for? Join the club! It takes only a few seconds and, of course, is free.
Fawn Weaver is the USA Today and New York Times bestselling author of
Happy Wives Club: One Woman's Worldwide Search for the Secrets of a Great Marriage
, adopting the same name as the Club she founded in 2010. The Happy Wives Club community has grown to include more than 1 million women in over 110 countries around the world. She's an investor in real estate, tech sector and lifestyle brands. When she's not writing or working, she's happily doting over her husband of twelve years, Keith (and sometimes manages to do all three simultaneously).
Latest posts by Fawn Weaver (see all)
Related Posts
4
By
Fawn WeaverFawn Weaver
November 12, 2017
Top 5 Regrets From the Dying: An Inspirational Article For Us All
43
By
Fawn WeaverFawn Weaver
October 19, 2017
How to Protect Your Marriage During Challenging Times
35
By
Fawn WeaverFawn Weaver
September 16, 2017
5 Unique Ways to Make Your Man Feel Special in 5 Minutes or Less
Recent Posts
By
Fawn Weaver
November 12, 2017
Top 5 Regrets From the Dying: An Inspirational Article For Us All
By
Fawn Weaver
October 19, 2017
How to Protect Your Marriage During Challenging Times
By
Fawn Weaver
September 16, 2017
5 Unique Ways to Make Your Man Feel Special in 5 Minutes or Less