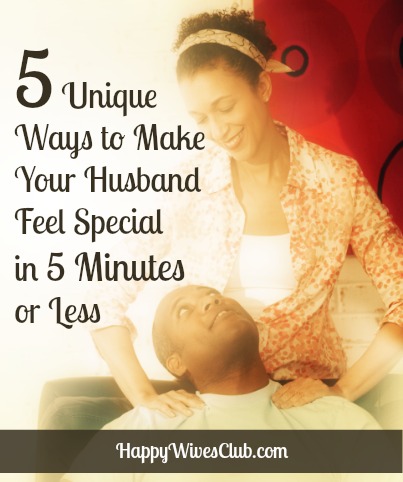 5 Unique Ways to Make Your Man Feel Special in 5 Minutes or Less
If there is anything we, as women, seem to need more of each day it's time.  
More minutes, more hours, more days to get everything done.
As the wife to one heck of a man, I want him to know every moment of every day how much I love and adore him.  I don't want him to ever feel as though he's playing second fiddle to my work or various passions in life.
So how do I do this, while ensuring everything important on my to-do list for the day gets checked off?  Incrementally.
Little things throughout the day.  Pauses where there's nothing else on my mind but that fabulous man of mine.  
These ideas aren't earth shattering or life altering, but they are five things I do in my own marriage that can also be a great way to let your hubby know how much he means to you, no matter how busy your day may become. 
5 Unique Ways to Make Your Man Feel Special in 5 Minutes or Less
Walk Away From the Computer, Pick Up the Phone (but not to check social media…).  Whether you work from home, an office or are a stay-at-home mom, I don't know of one woman who doesn't spend hours on the computer each day.  
Be intentional about walking away from the computer, closing your laptop, and pick up the phone to check in and ask how his day is going.  The important thing about this phone call is for your attention to be 100-percent on him.  Attentive and interested.  You'd be surprised how your voice in the middle of the day can give him an immediate boost.
Pocket Gratitude Note.  What area of his clothes is he bound to check at least once throughout his day?  His back pant pocket, wallet, shirt pocket?  Spend a few minutes thinking about something he recently did that caused you to feel grateful, and then write it in a small note and pack it in one of his pockets.  Let him know how much he is appreciated.
Pick Up His Favorite Treat.  The next time you are at the store, don't just pick up what is on your list.  What is his "guilty pleasure" you can find in the grocery store aisle?  Sweet or savory?  Whatever it is, pick it up and then have it waiting for him when he arrives home (or when you walk through the door).
Reach Out to His Family to Say Hello.  If you're not already close to his family, this will mean even more (and you may want to check out this post on building a better relationship with your in-laws).  
If you're like most, you rarely see or talk to your in-laws unless your spouse is around.  But there is something about reaching out to them and then casually mentioning it to your husband later.  "Hey Babe, guess what your Mom did today?  She took her first yoga class."  Well, maybe that won't be what she did but you get the point.  Showing interest in his family signals that they mean as much to you as they do to him.
Give Him a Quickie.  Hmmmm…where is your mind with this one?!  Go online and watch a quick tutorial on giving the perfect neck or foot massage (YouTube has tons of tutorials) and then practice what you learn on your husband.  The key to this is the tutorial because he'll feel like he has his own personal masseuse (and really, what masseuse will ever be as good as you!).
QUESTION: What other suggestions do you have that can be added to this list? Join the conversation on our Facebook community where over a million women come together and share ideas.
Until tomorrow…make it a great day!

JOIN THE 1,000,000 MEMBER CHALLENGE: We've already surpassed this number…but let's just keep going! If you haven't already done it, what are you waiting for? Join the club! It takes only a few seconds and, of course, is free.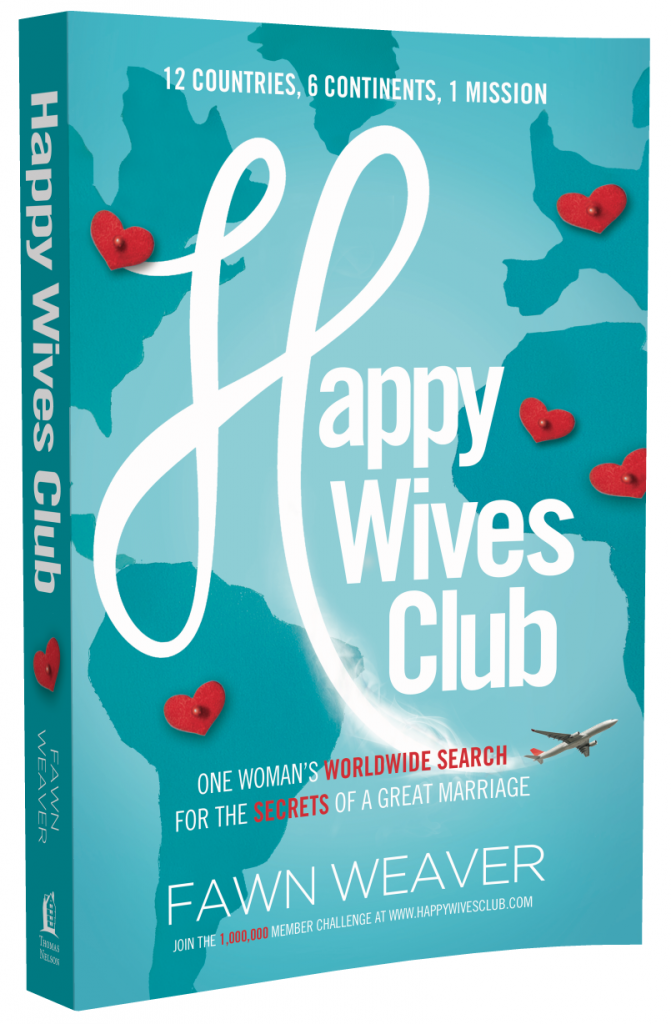 THE NEW YORK TIMES® BEST-SELLING BOOK: It's been described as, "Like Eat, Pray, Love but not down on marriage." Make sure to check out the Happy Wives Club book.  I had the great honor of traveling to 12 countries on 6 continents, interviewing couples happily married 25 years or more, with 1 mission only: to find out what makes marriages happy…and keeps them that way.  It's a marriage book line none other.  Guaranteed.
Fawn Weaver is the USA Today and New York Times bestselling author of
Happy Wives Club: One Woman's Worldwide Search for the Secrets of a Great Marriage
, adopting the same name as the Club she founded in 2010. The Happy Wives Club community has grown to include more than 1 million women in over 110 countries around the world. She's an investor in real estate, tech sector and lifestyle brands. When she's not writing or working, she's happily doting over her husband of twelve years, Keith (and sometimes manages to do all three simultaneously).
Latest posts by Fawn Weaver (see all)
Related Posts
4
By
Fawn WeaverFawn Weaver
November 12, 2017
Top 5 Regrets From the Dying: An Inspirational Article For Us All
43
By
Fawn WeaverFawn Weaver
October 19, 2017
How to Protect Your Marriage During Challenging Times
10
By
Paula RolloPaula Rollo
August 13, 2017
5 Ways to Prepare Your Marriage for a New Baby
Recent Posts
By
Fawn Weaver
November 12, 2017
Top 5 Regrets From the Dying: An Inspirational Article For Us All
By
Fawn Weaver
October 19, 2017
How to Protect Your Marriage During Challenging Times
By
Fawn Weaver
September 16, 2017
5 Unique Ways to Make Your Man Feel Special in 5 Minutes or Less