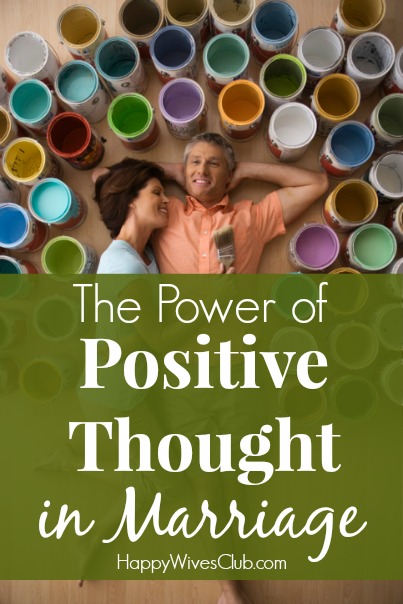 The Power of Positive Thought in Marriage
Last weekend, Keith and I attended a wonderful tree trimming event for a friend.  Never mind that I forgot to bring an ornament for the tree (but I digress…)   
While chatting with friends in the kitchen, the husband of a women who'd received an advance copy of my book said something that really made me pause to think.
"What's so brilliant about your book is you're focused exclusively on the power of positive thought.  Every interview, if you listen closely to what they're all saying, it always boiled down to their thoughts," Barry began.
First, I was absolutely floored that this husband was not only reading the book with his wife but appeared to be enjoying it.  "Go on," I prodded him with intrigue.
"Think about the Alchemist," he began.  I nodded my head as to pretend I was following him.  I knew it was either a book or a movie or both but knew little about it.
"Paulo Coelho, the author of The Alchemist, was known for this quote, 'You are what you believe yourself to be," he continued.  
"For so many couples, their focus is on what they don't have in their marriage instead of what they do have.  The thoughts constantly floating through their minds are about what they lack rather than what they have gained."  
At this point, he was positively giddy, as if looking forward to bringing home his point.
"'You are what you believe yourself to be,' so those who believe themselves to have a mediocre marriage or a less-than-stellar spouse create that reality for themselves.  And those who believe they have a great marriage and the spouse they chose is a wonderful person, that is what they become!"
Ah yes, the power of positive thought in marriage.  You become what you think about most.  Your focus often becomes your reality.
The unhappy husband may look at the pile of dishes in the sink and lament that his wife doesn't keep the house spic and span.  The happy husband looks at that same pile of dishes and sees it as a reminder that his wife also goes to work each day or that she's at home raising their beautiful children.
The unhappy wife might look at the dirty clothes her husband left on the floor or the toilet seat he failed to put down and allow that to frustrate her to a place of believing -in the moment- that this is the sum total of his being.  Allowing that to lead her down a path of mumbling, complaining or even worse, initiating an argument about something so trivial.
The happy wife might step over the dirty clothes knowing he'll get around to them or pick them up herself knowing that only took 3 additional seconds out of her day.  But her thoughts remain squarely focused on the larger things, like how wonderful he is as a man, husband, father, provider.
Although I didn't mention this explicitly in the book, Barry was spot on.  Every interview I conducted with a happily married couple, in 18 cities on 6 continents, each one had a distinct focus on the positive.  These couples guarded their thoughts daily about one another and their union.
Gratitude was continuously on their lips.  Grace toward one another in their hearts.  And all that is wonderful about marriage and their spouse is what replayed constantly in their mind.
If you want to find out what else I learned during my travels, and through these wonderful couples happily married 25 years of more, you can pre-order Happy Wives Club from Amazon today for 25% off.
Question: Can you think of an instance when changing your thought actually altered the end result?
Until Monday…make it a great day!
Fawn Weaver is the USA Today and New York Times bestselling author of
Happy Wives Club: One Woman's Worldwide Search for the Secrets of a Great Marriage
, adopting the same name as the Club she founded in 2010. The Happy Wives Club community has grown to include more than 1 million women in over 110 countries around the world. She's an investor in real estate, tech sector and lifestyle brands. When she's not writing or working, she's happily doting over her husband of twelve years, Keith (and sometimes manages to do all three simultaneously).
Latest posts by Fawn Weaver (see all)
Related Posts
4
By
Fawn WeaverFawn Weaver
November 12, 2017
Top 5 Regrets From the Dying: An Inspirational Article For Us All
43
By
Fawn WeaverFawn Weaver
October 19, 2017
How to Protect Your Marriage During Challenging Times
35
By
Fawn WeaverFawn Weaver
September 16, 2017
5 Unique Ways to Make Your Man Feel Special in 5 Minutes or Less
Recent Posts
By
Fawn Weaver
November 12, 2017
Top 5 Regrets From the Dying: An Inspirational Article For Us All
By
Fawn Weaver
October 19, 2017
How to Protect Your Marriage During Challenging Times
By
Fawn Weaver
September 16, 2017
5 Unique Ways to Make Your Man Feel Special in 5 Minutes or Less