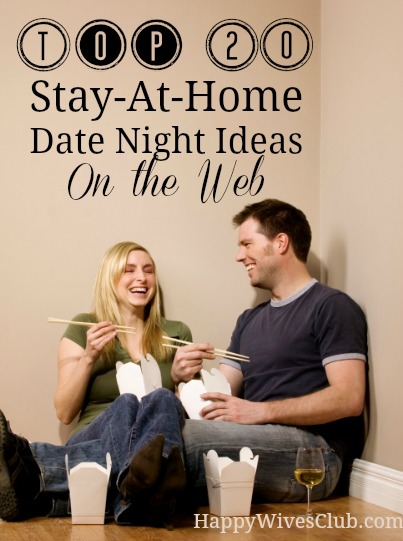 Top 20 Stay-At-Home Date Night Ideas
We all know how important frequent date nights are for keeping the fire burning with our spouse. 
But when money is tight, or a babysitter is nowhere to be found, keeping a regular date night can be a challenge.  We're here to help!
We've scoured the web, looking for the best, cheapest, most creative stay-at-home date night ideas and compiled a list of the top 20 we found online.
So grab your hubby, put the kids down for the night, and get your date night on!
Didn't find something on this list that floats your boat?  Find an endless amount of creative and cheap stay-at-home date nights at my absolute favorite date night site: The Dating Divas.  These fabulous ladies love their hubbies and have made a career out of sharing their awesome date night ideas with us.
Until Monday…make it a great weekend!

JOIN THE 1,000,000 MEMBER CHALLENGE: If you haven't already done it, what are you waiting for? Join the club! It takes only a few seconds and, of course, is free.

THE BOOK: Read the book that inspired the powerful TED talk and prompted author of The 5 Love Languages, Gary Chapman, PhD., to write the book's foreword. Drs. Les & Leslie Parrott, bestselling authors of Saving Your Marriage Before It Starts said, "We've been counseling couples and writing marriage books for a long time, and we can say with absolute certainty, there has never been a book quite like The Argument-Free Marriage. If you think no such union exists, or if you've come to the conclusion that arguments are necessary in marriage, allow Fawn to challenge that notion and set you on a path to creating the greatest partnership in life: your marriage."
Fawn Weaver is the USA Today and New York Times bestselling author of
Happy Wives Club: One Woman's Worldwide Search for the Secrets of a Great Marriage
, adopting the same name as the Club she founded in 2010. The Happy Wives Club community has grown to include more than 1 million women in over 110 countries around the world. She's an investor in real estate, tech sector and lifestyle brands. When she's not writing or working, she's happily doting over her husband of twelve years, Keith (and sometimes manages to do all three simultaneously).
Latest posts by Fawn Weaver (see all)
Related Posts
4
By
Annett DavisAnnett Davis
March 8, 2017
How to Make Date Nights Happen When You're Parents: Kid Swap!!
16
By
Fawn WeaverFawn Weaver
September 28, 2016
The Fun Dare: 12 Dates in 12 Days
2
By
Morgan SimsMorgan Sims
January 18, 2016
9 Date Ideas That Won't Break the Bank
Recent Posts
By
Fawn Weaver
November 12, 2017
Top 5 Regrets From the Dying: An Inspirational Article For Us All
By
Fawn Weaver
October 19, 2017
How to Protect Your Marriage During Challenging Times
By
Fawn Weaver
September 16, 2017
5 Unique Ways to Make Your Man Feel Special in 5 Minutes or Less