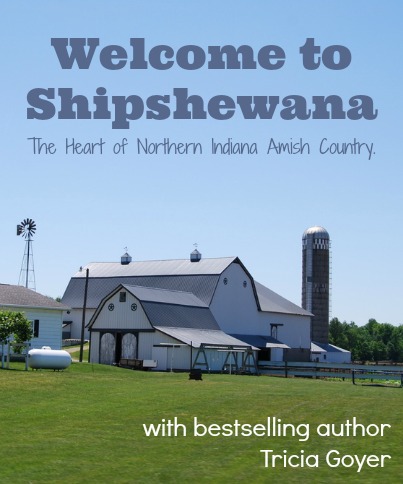 Shipshewana, Indiana | A trip into Amish Country
I'd written about Shipshewana, Indiana in a few of my novels, so arriving in the small community felt like visiting a familiar neighborhood, rather than embarking on a new place. My husband and I journeyed there to visit friends who were formerly Amish, and glimpsing into the quiet community was a rare treat.
When visiting Shipshewana:
Hotel: We stayed at the Amish Country Inn. The accommodations were three-star. The place wasn't fancy, but it was clean and the staff was helpful. I'd stay there again.
We reserved the hotel on Cheaptickets and found a lower price than booking from the hotel directly. TIP: When booking on Cheaptickets I always search for Discount Codes. I found one for hotel stays and saved 30%. In the end our room was only $79/night (plus tax), and this included breakfast. The breakfast was a nice buffet with waffles, eggs, potatoes, fruit, yogurt, cereal, and numerous other menu items.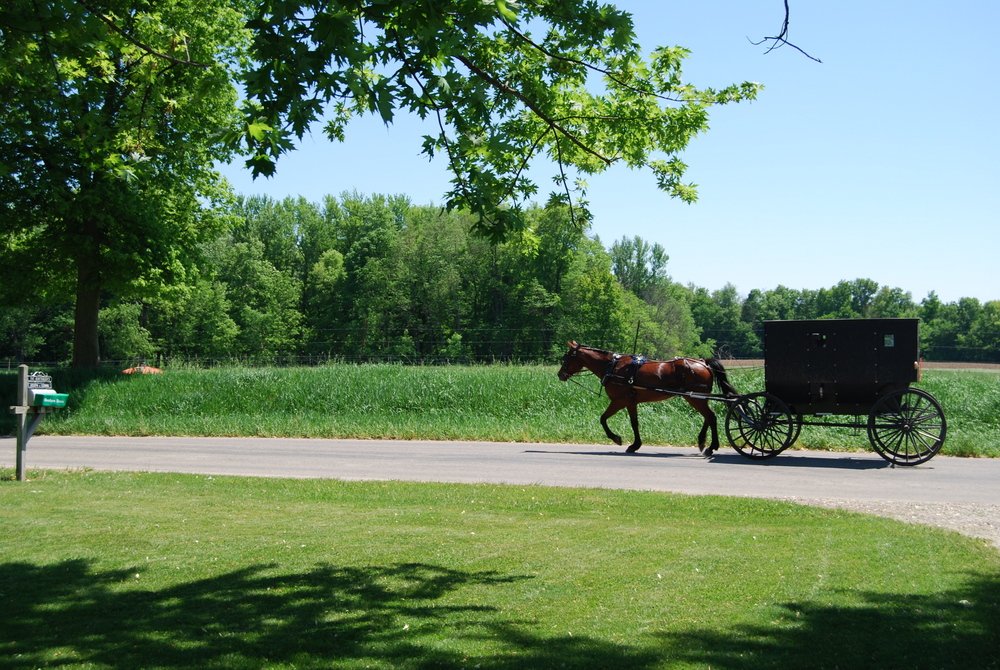 Restaurants: We ate out at two places: The Blue Gate Restaurant and The Essenhaus in Middlebury. The Blue Gate is one of the most popular spots in Shipshewana. It offers both family-style and menu dining. During the evening, on the Memorial Day weekend, there was an hour wait, but there was hardly a wait in the morning. We enjoyed the chicken, potatoes, green beans, and apple sauce, but our favorite menu items were the pies. I enjoyed the rhubarb cream (which is seasonal), and my husband (who is not a pie eater) enjoyed the raspberry cream so much that he had three pieces during our stay!
We also enjoyed Essenhaus. We ate buffet-style there and found a nice salad buffet and a dinner buffet with turkey, roast beef, fried chicken, and side dishes such as mashed potatoes, scalloped potatoes, green beans corn, and stuffing. Their pie was equally as good!
Entertainment: My favorite part of Shipshewana was visiting an Amish family. We spent time on their farm, got a buggy ride, pet their pony, and got to pet a baby fawn. (They have a deer farm.) Because we were friends of the family, we were welcomed with open arms. I also found that most of the Amish people around Shipshewana were friendly and smiled and waved. They didn't seem to mind when I took photos of their buggies or horses either. What a delightful community!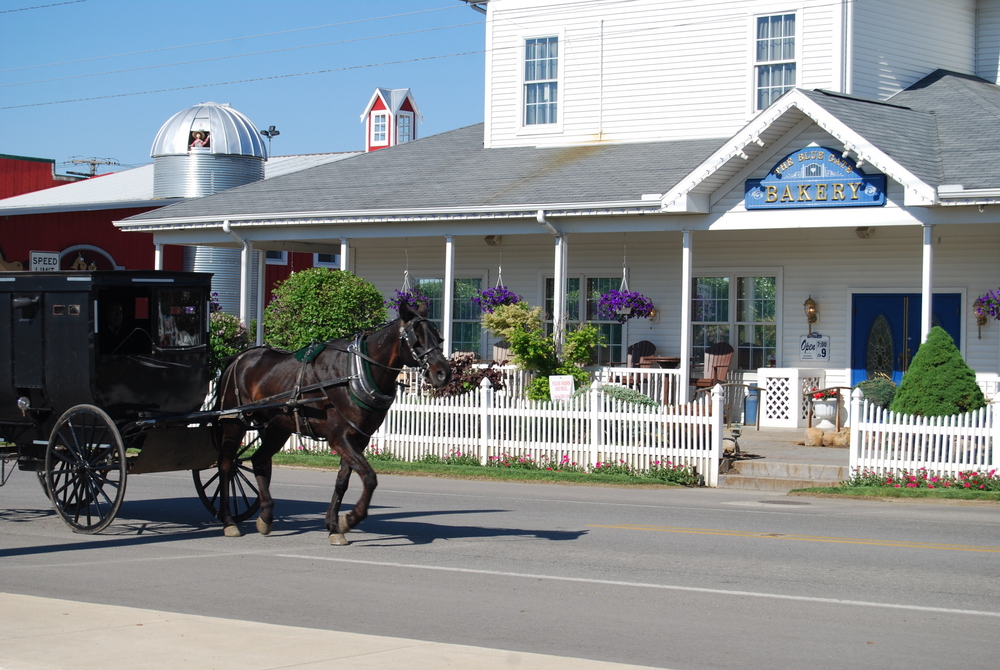 Community: Second to visiting with our Amish friends, our favorite thing was touring the countryside. TIP: If you go approximately one mile east of Shipshewana you can turn down any road and find Amish homes. These homes were beautiful and well tended to. The gardens were immaculate, and we saw numerous Amish children doing chores around their own—little girls mowing the lawn and little boys tending the fields. We also saw both men and boys plowing their fields. One Amish man was using a team of eight horses to plow his field. He expertly stood on the seat of his antique plow as he directed the large horses.
The play: While in town we also attended a play at the Blue Gate theater. Playing during our visit was Half-Stitched, the Musical. It's based on the book by Wanda Brunstetter. I've met Wanda before, and she's a delight! Both my husband and I greatly enjoyed it. We were impressed by the talent of the actors in the play. I found myself laughing and crying as I watched.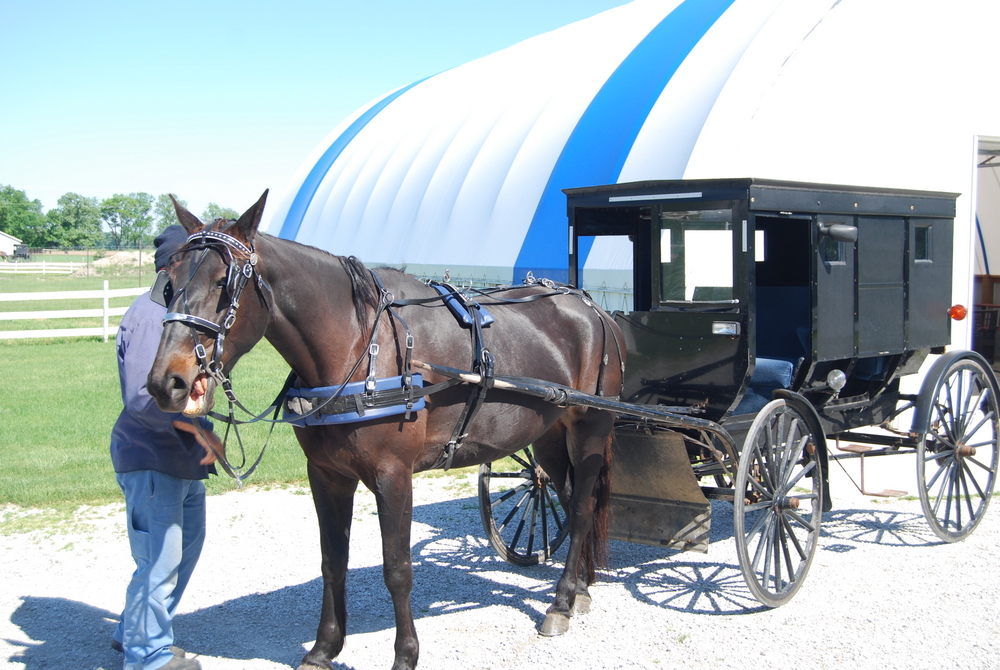 The shopping: I didn't have nearly enough time to explore the shopping in the area. There is great shopping stip behind The Blue Gate restaurant. Small shops were filled with antiques, boutique clothing, quilts, and other Amish-made items. I picked up a few things (a quilted laptop cover, for instance), but I could have spent a whole day shopping! TIP: In each store there were Clearance items. Look for those first!
The local life: One night we were invited to go to the pony races in Nappanee with Amish friends. I pictured kids on carts but instead found jockeys riding carts behind extremely fast horses. The races were fun to watch, but I mostly liked seeing the Amish in their natural element—sitting with friends and family. I smiled as I watched Amish children sitting on the laps of grandmothers, and I loved hearing them talk to each other in Pennsylvania Dutch!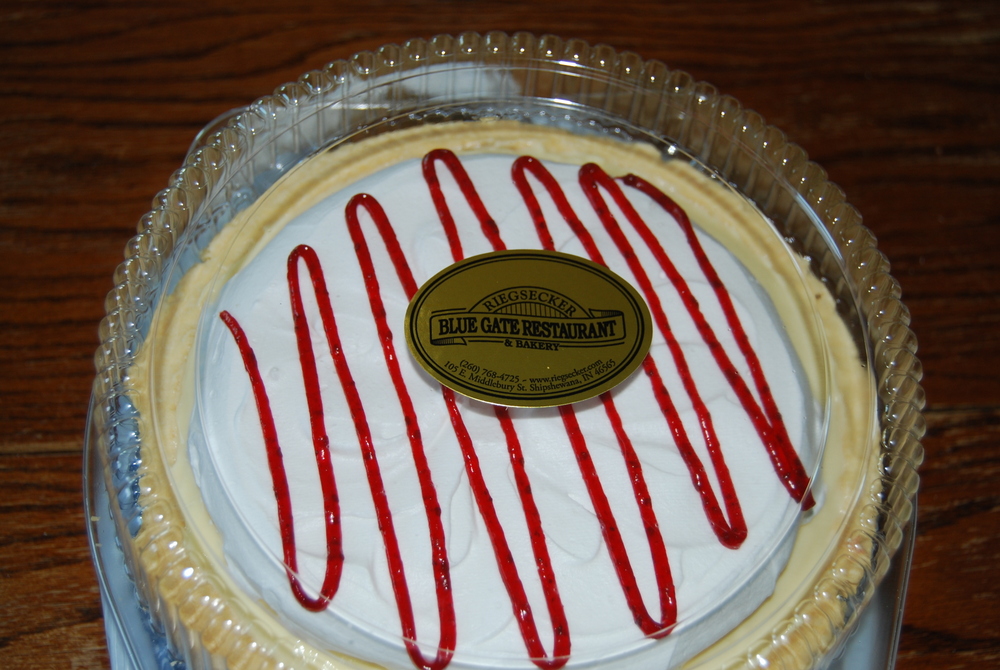 The pie: Between the Blue Gate and the Essenhaus I sampled thirteen kinds of pie! (No, I did not eat 13 pieces, but I sampled friends' pies.) Here is my list from my favorite to least favorite, although all of them were GREAT! (*Pies I ate the whole piece.)
Rhubarb cream*
Strawberry rhubarb*
Raspberry cream
Pecan cream
Peanut butter
Peanut butter chocolate
Lemon meringue
Raisin cream
Custard pie*
Strawberry
Peach*
Cherry crumb
Raspberry turnover
There are other things I want to see next time, such as Menno-Hof, which gives the cultural history of the Amish people. I'd also like to attend an Amish auction. Also, our Amish friends invited us to stay next time . . . so that will be on the agenda for certain. I'm looking forward to visiting Shipshewana again!
Tricia Goyer is a USA Today Bestselling author of 35 books who's traveled the world and interviewed everyone from crusty old cowboys to World War II veterans to discover the true stories behind her historical novels. She co-wrote her newest book, Lead Your Family Like Jesus, with NY Times Best-selling author Ken Blanchard. Tricia's a mom of six, avid blogger, and mentor to teenage mothers. You can find out more about Tricia at www.triciagoyer.com or listen to her radio podcast at: www.toginet.com/shows/livinginspired
Latest posts by Tricia Goyer (see all)
Related Posts
0
By
Lori FergusonLori Ferguson
September 3, 2015
5 Tips to Travel Well as a Couple
1
By
Tricia GoyerTricia Goyer
March 16, 2014
Best Places to Spread Out a Spring or Summer Picnic
4
By
Tricia GoyerTricia Goyer
February 23, 2014
5 Must-See Places in {or Near} Glacier National Park
Recent Posts
By
Fawn Weaver
November 12, 2017
Top 5 Regrets From the Dying: An Inspirational Article For Us All
By
Fawn Weaver
October 19, 2017
How to Protect Your Marriage During Challenging Times
By
Fawn Weaver
September 16, 2017
5 Unique Ways to Make Your Man Feel Special in 5 Minutes or Less