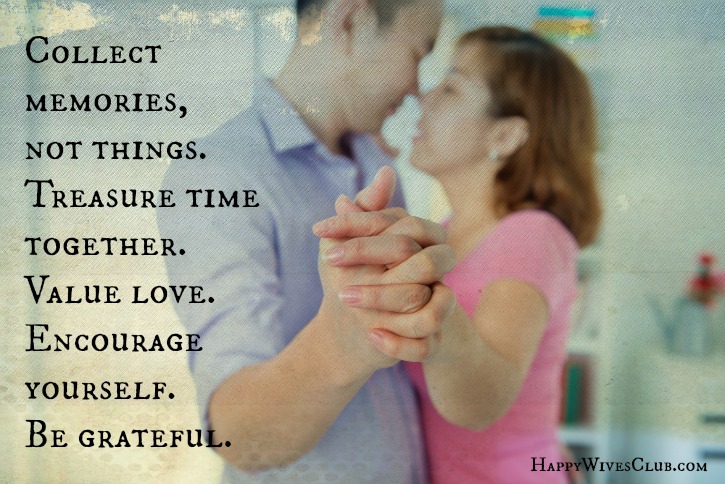 The Benefit of Creating Special Moments
I'm not quite sure what came over me.  As I opened the door, I heard melodies floating through the air carrying me to the area where Keith sat, laptop open, typing away.  
He turned and looked at me and his eyes beckoned me forward.
A moment later, the Il Vivo song that had been playing when I entered out home changed to a popular song Home by Michael Bublè.
Another summer day
Has come and gone away
In Paris and Rome
But I wanna go home
Mmmmm…
May be surrounded by
A million people I
Still feel all alone
I just wanna go home
Michael Bublè sang these lyrics through the television speakers as I walked over to Keith and gently took hold of his hand.  As he swung his large black leather desk chair around, his eyes met mine and he somehow instinctively knew, I wanted to dance.  He lifted my left hand toward his lips and gave it a tender kiss before standing up and leading me to the center of our living room floor.
With his 6'4″ frame towering over my 5'4″ stature, he rested his chin on the top of my head as I pressed my cheek against his chest, and we began to dance.  Swaying back and forth in a small area on our carpeted floor, we listened to lyrics that didn't seem to relate to us at all, and yet we were so moved by them.
We were embracing each other -my right hand in his left, my left hand on his shoulder, his right hand around my waist- and yet this song touched our soul.  It transported us to times when we weren't together.  Either traveling for work or possibly even before we were together.  A memory of not being together brought us even closer that night.
As Bublè sang the final note of the song, I looked at Keith and whispered, "Thank you for this dance," a reference he and I both know from a Garth Brooks song we love.
After another tender embrace, we gathered our things and headed to a nearby restaurant for dinner.  As we walked through the restaurant, we heard a familiar tune.  The pianist in the bar area was playing Michael Bublè's Home and just that quickly, we were transported back to the middle of our living room floor, hands clinched, embracing each other in an impromptu dance.
I looked at Keith, he looked down at me, and we just smiled.  Without so much as saying a word, we both knew we'd just created a special moment that would last for the remainder of our years.  No matter where we are or when it happens, the moment we hear Home, we will now think about that dance.
Life is made of small moments.  Tender, loving moments.  Creating them daily in your marriage allows you to -no matter where you may be- think back to a specific time and place and to again feel what you felt in that single moment.
Our lives are busy.  Many of us have a difficult time just keeping up with our own schedules.  But remember, a special moment can be created in less than two minutes and it can never be taken away.  It is a treasure you can hold on to forever.  
QUESTION: What special moment comes to the surface of your mind and makes you smile?  (NEW: You can now leave comments on this page – just scroll down and click through the Comments button below)
Until Monday…make it a great weekend!

JOIN THE 1,000,000 MEMBER CHALLENGE: If you haven't already done it, what are you waiting for?  Join the club!  It takes only a few seconds and, of course, is free.
Fawn Weaver is the USA Today and New York Times bestselling author of
Happy Wives Club: One Woman's Worldwide Search for the Secrets of a Great Marriage
, adopting the same name as the Club she founded in 2010. The Happy Wives Club community has grown to include more than 1 million women in over 110 countries around the world. She's an investor in real estate, tech sector and lifestyle brands. When she's not writing or working, she's happily doting over her husband of twelve years, Keith (and sometimes manages to do all three simultaneously).
Latest posts by Fawn Weaver (see all)
Related Posts
4
By
Fawn WeaverFawn Weaver
November 12, 2017
Top 5 Regrets From the Dying: An Inspirational Article For Us All
43
By
Fawn WeaverFawn Weaver
October 19, 2017
How to Protect Your Marriage During Challenging Times
35
By
Fawn WeaverFawn Weaver
September 16, 2017
5 Unique Ways to Make Your Man Feel Special in 5 Minutes or Less
Recent Posts
By
Fawn Weaver
November 12, 2017
Top 5 Regrets From the Dying: An Inspirational Article For Us All
By
Fawn Weaver
October 19, 2017
How to Protect Your Marriage During Challenging Times
By
Fawn Weaver
September 16, 2017
5 Unique Ways to Make Your Man Feel Special in 5 Minutes or Less