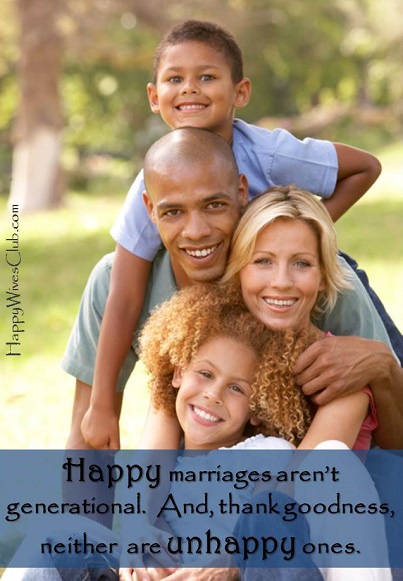 Unhappy Marriages Aren't Generational…Thank Goodness!
She was a beautiful Aryan German woman living through the horrid days of Hitler's reign.
He was a handsome African-American serviceman stationed in Germany during WWII.
After a two-year courtship and a child born in Germany, they married and moved to the US.
He loved her.  She loved him.  He cheated on her.  She never forgave him.  Bitterness filled their home all the days of their union.
As my grandmother reminded me not long before she passed, my grandfather had a wondering eye.  Well, the exact term she used was cheater.   
His idea of father-son time usually involved pornographic movies and magazines.
His idea of father-daughter time was doting on her so much it made her mother insanely jealous.
The upbringing of the children was filled with strife.  The divorce should have made it better but it didn't.  At least not until many decades later when they became best friends again.
When we laid my grandmother's body to rest earlier this month, I thought about this marital legacy she'd left to her children.  It was not one of happiness.  It wasn't even one of unconditional love. 
And yet, I looked over at my mother who was in love with my father until death separated them last September.  They adored each other for nearly 40 years and nothing could get between them.
My uncle, who sat in front of me at the funeral, glanced at his bride of more than 40 years with great affection.  They have one of the most beautiful marriages I've ever seen.  What I was reminded of on this day was both my mother and her brother made a choice.  They chose to create the marriages they most desired.
They made the choice to forsake the generations of unhappy marriages that came before them and decided to chart their own path.
Just as unhappy marriages aren't generational, neither are happy ones.  Even though we lived in a home with two parents who were in love with each other our entire lives, both of my older sisters are on their second marriages.  The first ones didn't turn out so great.
Wiping the slate clean might take marital counseling.  It could very well take personal counseling.  But for those with an unhappy marriage, one of the worst things to do is place the blame on anyone else.  Begin with acknowledging it as a choice.  Those who do that can begin to chart a new course, a happier one – even as soon as today.
Until Monday…make it a great weekend!

JOIN THE 1,000,000 MEMBER CHALLENGE: If you haven't already done it, what are you waiting for? Join the club! It takes only a few seconds and, of course, is free.
Fawn Weaver is the USA Today and New York Times bestselling author of
Happy Wives Club: One Woman's Worldwide Search for the Secrets of a Great Marriage
, adopting the same name as the Club she founded in 2010. The Happy Wives Club community has grown to include more than 1 million women in over 110 countries around the world. She's an investor in real estate, tech sector and lifestyle brands. When she's not writing or working, she's happily doting over her husband of twelve years, Keith (and sometimes manages to do all three simultaneously).
Latest posts by Fawn Weaver (see all)
Related Posts
4
By
Fawn WeaverFawn Weaver
November 12, 2017
Top 5 Regrets From the Dying: An Inspirational Article For Us All
43
By
Fawn WeaverFawn Weaver
October 19, 2017
How to Protect Your Marriage During Challenging Times
35
By
Fawn WeaverFawn Weaver
September 16, 2017
5 Unique Ways to Make Your Man Feel Special in 5 Minutes or Less
Recent Posts
By
Fawn Weaver
November 12, 2017
Top 5 Regrets From the Dying: An Inspirational Article For Us All
By
Fawn Weaver
October 19, 2017
How to Protect Your Marriage During Challenging Times
By
Fawn Weaver
September 16, 2017
5 Unique Ways to Make Your Man Feel Special in 5 Minutes or Less